Coronavirus cases in Turkey surge, experts call for new COVID-19 restrictions
As the number of COVID-19 cases continue to surge in Turkey, health experts say that the country is in desperate need of tougher restrictions, especially as the seasons change from summer to fall.
For weeks, Turkey maintained a weekly increase of just over 6,000 new coronavirus cases, but, in the last few weeks, that number has surged to over 11,000. With the total number of cases nearing 300,000, experts like Emrah Altindis are calling on Turkey to enact new restrictions to slow the spread of the virus.
Altindis, who is an assistant professor at Boston College and adjunct professor at Harvard Medical School but was born and raised in Turkey, explained that the cooler fall and winter seasons could spell disaster for Turkey as other respiratory diseases begin to emerge.
For more coronavirus news, visit our dedicated page.
Even in summer, in some cities, including the capital Ankara, doctors said there were times they couldn't find enough intensive care beds, Altindis said.
New season brings new challenges
"I think that there is a huge risk because we are in fall now," he told Al Arabiya English. "And, with winter, there will be other respiratory diseases, and the intensive care units will be filled not only by the COVID-19 patients, but some other patients [with other respiratory diseases]."
"There's a risk that we might see what we saw in Italy in March."
According to Altindis, Turkey needs to lockdown the hardest hit cities as well as limit travel from hot zones and increase testing if they really want to get a handle on the global pandemic.
Further, he called for a two-week lockdown in Turkish cities where infections are rising.
"We need to limit travel from these very infected states," he said.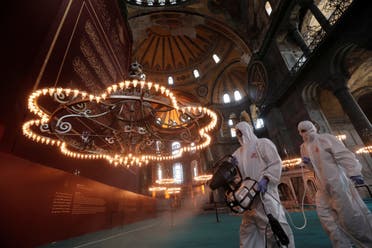 The Turkish government's response to the pandemic has been worrying, said Altendis. Where initially restrictions were strict and helped decrease virus transmission, they were soon lifted to establish a "new normal" and get the country going again.
Rather than gradually reopening the country to limit and better control the spread of the virus, Turkey opened up all at once. However, masks were required when outdoors, and stores and public transportation limited capacity and required people to social distance.
"In Turkey, we just opened everything on the first of June," Altindis said. "And, then, the numbers started to increase. Turkish society is very social. They touch each other, they kiss and give hugs. If someone dies, you go and visit their family and hundreds of people go."
Weddings, typically held in the summer, mean increased social interaction, which Altindis said is likely driving the spike.
Trying to attract tourists
On the other hand, the government is looking to bring in as many tourists as possible in a bid to revive its ailing economy. Once the tourism season began to die down, the government only implemented somewhat stricter restrictions.
This not only drew criticism from Altindis, but Turkish citizens alike who felt that the government was putting the economy above the public health.
"I think health is more important than anything else," Istanbul resident Sabri Ozman told Al-Arabiya English. "What makes a country a country is its nation [people]. If you don't have a nation, it cannot be independent. Without these, the economy will not matter."
Read more: Turkey's economy plunges as tourists stay away after Hagia Sophia, Chora conversions
The recent increase in cases also has Turkish citizens worried about the possibility of an uncontrolled surge.
"I am worried," Ozman stated. "As a result, people are dying from this virus and this is really sad."
Ozman believes that newer and tougher restrictions should be introduced.
Not everyone takes it seriously
While most Turks believe that the majority of its citizens are taking the pandemic seriously, they also acknowledge that there are those who do not and that adds to the growing problem.
"Most Turkish people take this situation seriously, but because there are those who do not take it seriously, our dead increased." Ozman said.
Ozman is all too aware of the risks that the virus poses since one of his family members recently tested positive for coronavirus and is currently being treated in a hospital.
Health care workers fatigued
Frontline health care workers becoming fatigues is another potential challenge on the horizon for Turkey.
Since the pandemic reached Turkey, medical staff have tested positive for coronavirus, and some of them have died as a result. A member of the Turkish Medical Association's COVID-19 monitoring board told Human Rights Watch that as many as 11,000 health workers have contracted the virus with at least 41 dying as a result.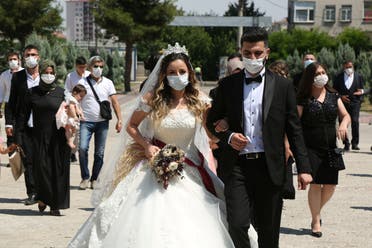 "Turkish medical professionals are extremely tired," Altindis explained. "They have been working and they were hoping that these numbers can go down, but they are increasing."
The fatigue coupled with their working conditions have also led people to resign from their positions at hospitals. In Antalya, several chest disease specialists resigned from their positions at a hospital that had received many coronavirus patients over the mismanagement of the pandemic response and their complaints being ignored.
"We see that many medical professionals are resigning form their positions, including several medical doctors." Altindis said. "I think that it is very difficult mentally to work in an intensive care unit for months when it is always full. There is always the risk that these medical professionals will not be able to do what they did in March and April."
Read more:
Turkish lira collapses to new low: 'Soon we will be like Syria or Libya'
Turkey arrests journalist for 'insulting' Turkish sultan on Twitter
The argument for tougher restrictions has also come up when discussing the coronavirus vaccine that is still being researched and developed globally. As it is unclear when a viable vaccine will be made available as well as how many doses will be given initially to each country, Altindis urges people to be careful because every country will be fighting to get as many doses as possible.
"We don't know how many doses of this new vaccine Turkey will be able to get from the first limited number of batches," Altindis emphasized. "So this will be a marathon and we, especially the people in risk, should be extremely careful [and] respect rules to control the disease."