US will deliver at least 100 million doses of coronavirus vaccine before 2021: Trump
US President Donald Trump voiced his belief Wednesday that a coronavirus vaccine could be ready to be distributed as soon as next month.
"We're on track to deliver and distribute the vaccine in a very, very safe and effective manner."
For more coronavirus news, visit our dedicated page.
Trump said the US would deliver at least 100 million doses of the vaccine by the end of the year.
"As soon as the FDA approves the vaccine ... we'll be able to distribute 100 million doses by the end of 2020 and a large number much sooner than that," Trump said during a news conference with reporters at the White House.
The US president said that there was an 85 percent fall in the fatality rate since April among those who caught the coronavirus.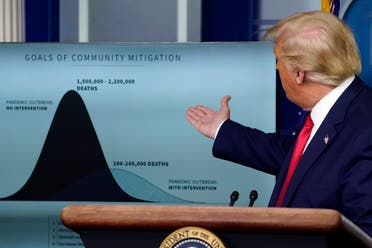 Read more: Coronavirus: White House adviser Dr. Fauci sticks with projection of vaccine in 2021
Saying that masks were not as important as the vaccine to combat coronavirus, Trump downplayed comments by Director of the Centers for Disease Control and Prevention, Dr. Robert Redfield, that the vaccine wouldn't be readily available until next summer.
For all the latest headlines, follow our Google News channel online or via the app.
Meanwhile, Trump confirmed that one member of the White House staff had tested positive for coronavirus.
However, the individual did not come into contact with any reporters or guests at Tuesday's ceremony where the UAE, Bahrain and Israel signed the Abraham Accords brokered by the US.
Read more: A 'couple' of positive coronavirus tests among White House staff, says correspondent
- With Reuters