Coronavirus: Lebanon to record its highest weekly COVID-19 count since pandemic
This week Lebanon will record its highest weekly new coronavirus case count since the pandemic started, the head of Rafik Hariri University Hospital wrote on Twitter.
Lebanon had managed the COVID-19 outbreak relatively well until cases began to spike after the August 4 explosion at the Port of Beirut.
Visit our dedicated coronavirus site here for all the latest updates.
1.6 Europe is witnessing a sharp rise in Covid cases. Despite containment efforts, the dreaded second wave apparently has arrived there. What is our current Covid status in 🇱🇧?Numbers are rising, but slowly. Challenges keep coming up, but the system is still holding. What next: pic.twitter.com/LOx1bc3Xur

— Firass Abiad (@firassabiad) September 18, 2020
Firass Abiad, the head of the Rafik Hariri hospital that treats a large number of the country's coronavirus patients, said that the country is still within capacity to handle the outbreak, but COVID-19 cases continue to rise.
"A slow rise may give us time to prepare, an outbreak does not. Ventilators can be bought, healthcare workers cannot. Luck favors the prepared," he wrote in a tweet.
Abiad also pointed to the recent outbreak in the country's largest prison, Roumieh, where over 200 coronavirus cases were recorded as of Thursday.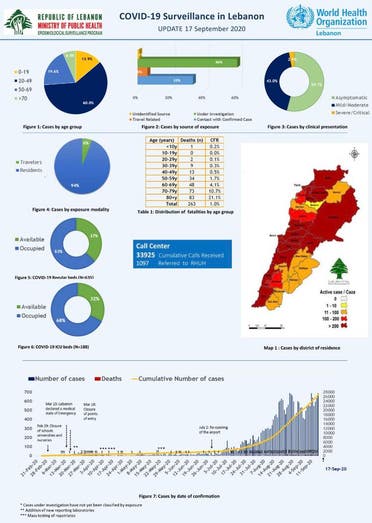 "The outbreak in Roumieh prison underscores the challenges to the Covid response. Any sharp rise in the number of cases can easily overwhelm our stretched hospital capacity. Yet, several hospitals delay their preparations and capacity building partly due to financial reasons," Abiad said.
Last week, 90 UN peacekeepers in south Lebanon working with UNIFIL tested positive for the novel coronavirus.
Read more:
Expecting the collapse: Meet Lebanon's young political party ready to take power
Experts discuss how coronavirus spreads through prisons to nearby communities
Who will be able to get a coronavirus vaccine and when will the US have it?