Iran's health ministry on Tuesday reported 3,712 new coronavirus infections in the previous 24 hours, the highest daily tally recorded since February, pushing the national cumulative total to 429,193.
On Feb. 19, the Iranian government publicly announced its first two cases of – and deaths from - the novel coronavirus.
Ministry spokeswoman Sima Sadat Lari told state TV that 178 people had died from the disease in the previous 24 hours, bringing the official death toll to 24,656 in Iran, one of the worst-hit countries in the Middle East.
Iranian health officials have warned about a third wave of the pandemic, while the government has blamed the spike in infections partly on decline in public adherence to health protocols.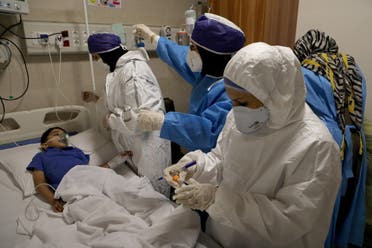 Despite concerns over the spread of the coronavirus, schools re-opened on Sept. 5 for 15 million students, although the education ministry said later that attending classes was not compulsory for children.
Read more:
Turkey sentences female politician to prison for calling Erdogan 'enemy of women'
Iranian protester Nader Mokhtari dies after months in coma: Opposition website
Pompeo says US imposes sanctions on Iran's defense ministry, Maduro