Saudi Arabia reported 359 new coronavirus cases on Saturday, with 21 COVID-19 related deaths.
Since 501 cases were recorded on Wednesday, the number of new infections in the Kingdom has steadily declined.
The Ministry of Health also announced on Saturday 370 new recoveries, taking the total number of recoveries to 328,165.
The total number of confirmed cases in the Kingdom since the pandemic broke out in February is now 341,854, with 8,524 active cases.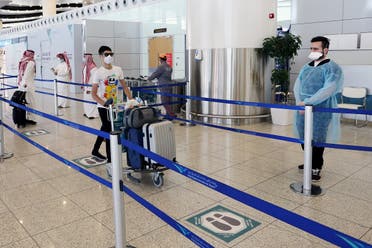 Saudi Arabia is recording lower daily case numbers than fellow Gulf states, the United Arab Emirates and Kuwait, which announced 1,538 and 739 new infections on Saturday, respectively.
The number of recorded coronavirus cases in the six Gulf Arab states - which have all lifted internal curfews and lockdowns - surpassed 800,000 on September 22, according to a Reuters tally.
Last month Saudi Arabia partially lifted a suspension of international flights to allow "exceptional categories" of citizens and residents to travel, and announced it will remove all air, land and sea travel restrictions for citizens on Jan. 1, 2021.
Read more:
Coronavirus: UAE FM latest official to receive COVID-19 vaccine
Coronavirus: COVID-19 case confirmed in pope's Vatican residence
Coronavirus: When will COVID-19 vaccines be generally available in the United States?