Coronavirus: Three tigers in quarantine after one tests positive at US zoo
Three tigers at a Tennessee zoo are in quarantine after one tested positive for the coronavirus, according to a Friday news release from Zoo Knoxville.
The US Department of Agriculture's national veterinary lab confirmed the positive test for Bashir, an 11-year-old male Malayan tiger, the Knoxville News Sentinel reported.
Read more: How much you are exposed to the coronavirus affects disease severity: Experts
Two other tigers, 11-year-old male Tanvir and 6-year-old female Arya, are presumed positive while their tests are being processed.
All three animals have experienced mild coughing, lethargy and decreased appetite.
In April, a tiger at another American zoo tested positive for coronavirus, becoming the first animal to be identified as having the virus in the US.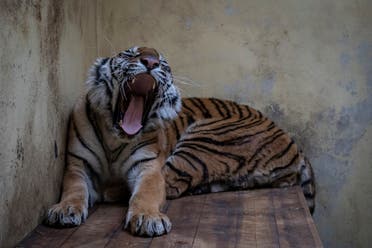 The tiger was tested after it fell ill alongside six other tigers and lions at the Bronx Zoo in New York.
The US Department of Agriculture (USDA), which is responsible for veterinary services, confirmed that the animal tested positive for the virus and suggested it had caught the virus from a human employee at the zoo.
Read more:
Two New York cats test positive for coronavirus
Watch: Saudi man arrested for crashing car into courtyard of Grand Mosque in Mecca
Australian academic Kylie Moore-Gilbert moved to Tehran's notorious Evin prison