Coronavirus: UAE records uptick in COVID-19 cases with 1,161 new infections
The United Arab Emirates reported an uptick in coronavirus cases on Wednesday, with 1,161 new infections compared to just over 1,000 cases on Tuesday.
The country conducted 116,083 COVID tests, according to state news agency WAM. Two COVID-19 related deaths were also recorded, along with 1,493 recoveries.
The total number of cases in the country is now at 137,310, with 134,983 recoveries.
Read more: Trump or Biden: Who is winning the US election? Here are the polls state by state
The UAE announced on Saturday a new national committee dedicated to managing the country's COVID-19 recovery, according to state news agency WAM.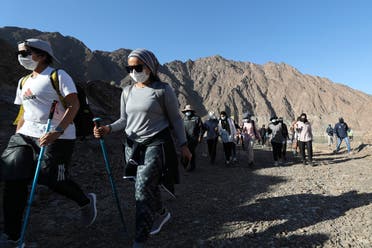 The National Committee for Management and Governance of the COVID-19 Pandemic Recovery Phrase will be headed by Minister of State Sultan Al Jaber. UAE representatives of ministries - including the Ministry of Presidential Affairs, Ministry of Defense, Ministry of Health and Prevention, and Ministry of Finance - will be involved.
Al Jaber, who is responsible for a number of economic, political, development and social files in the country, is also CEO of the Abu Dhabi National Oil Company.
The committee aims to achieve efficiency for the COVID-19 recovery phase by putting in place sustainability procedures for businesses and developing "proactive support programs for various establishments by identifying their roles, responsibilities and key strategic and operational performance indicators with a view to ensuring a safe return to normalcy across society," according to the statement.
Read more:
If elected, Biden to restore Palestinian aid, reopen PLO office in Washington: Harris
Coronavirus: Dubai ruler Sheikh Mohammed bin Rashid Al Maktoum receives vaccine
US Elections 2020: Where do Trump, Biden stand on China, Iran, troops in Middle East?