Coronavirus: US doctor suspended after anti-mask comment at pro-Trump rally
The Oregon Medical Board has suspended the medical license of a doctor who said at a pro-Trump rally that he doesn't wear a mask at his Dallas, Oregon, clinic.
KGW-TV reported Friday that Dr. Steven LaTulippe also said at the November rally that he also encourages others not to wear masks.
A state order requires health care workers to wear a mask in health care settings.
Read more: Worldwide coronavirus death toll hits 1,529,324, AFP tally shows
The medical board voted this week to suspend LaTulippe's license immediately due to concerns about patient safety.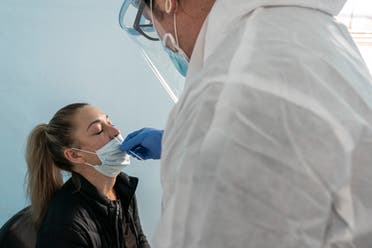 As Oregon reached a new record number for reported daily coronavirus cases and deaths, lawmakers, advocates and others continue to call on Democratic Gov. Kate Brown to declare a special legislative session.
The Oregon Health Authority on Friday reported 2,100 new cases and 30 deaths. The previous daily records have been 1,699 cases and 24 deaths. Oregon also surpassed 80,000 cases since the start of the pandemic in March.
Housing advocates in the state are asking the Legislature to act on a proposal to extend a statewide eviction moratorium until July 1.
The current eviction moratorium, which was ordered at the beginning of the pandemic, is scheduled to lapse on Dec. 31.
Read more:
Beirut Blast: Mystery over murder of two customs colonels killed three years apart
Saudi Arabia will be one of first countries to receive COVID-19 vaccine: Spokesman
Beirut experiences a historical hailstorm, leaving a white blanket for hours