Coronavirus
Coronavirus: More than 700,000 register to receive vaccine in Saudi Arabia
More than 700,000 people have registered to receive the coronavirus vaccine in Saudi Arabia, the Kingdom's Ministry of Health announced on Sunday.
For more coronavirus news, visit our dedicated page.
Registration for the vaccination campaign, which began on December 17, will be in stages, the ministry's spokesman Mohammed al-Abd al-Ali said, adding that it is open to all members of society.
Since Crown Prince Mohammed bin Salman received the vaccine on Friday, the number of people who have signed up for the COVID-19 vaccine increased five times more than it had been before in the hours following the Crown Prince's shot, Minister of Health Dr. Tawfiq al-Rabiah said on Saturday.
While the vaccine is available for all citizens and residents, some groups of people are being prioritized depending on their age, profession, and whether they have chronic illnesses.
Citizens and residents over the age of 65 and workers in the most vulnerable professions have been the first to receive the vaccine.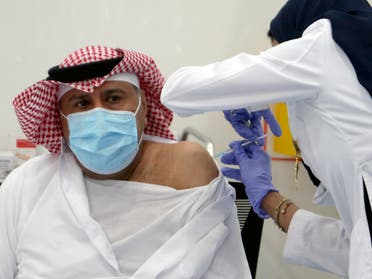 Those who have compromised immune systems and/or are taking immunosuppressive medication, those who suffer from chronic diseases (asthma, chronic heart disease, etc.), and obese people with a Body Mass Index (BMI) of over 40 have also been prioritized, the health ministry had said earlier.
Pregnant women or those who are breastfeeding, women who are planning on getting pregnant in the next two months, people with severe allergies, and those who have been infected with the virus in the past 90 days are not allowed to receive the vaccine, according to the ministry.
Read more:
Coronavirus vaccine volunteers not showing any side effects: Saudi Arabia's ministry
Coronavirus: Saudi Arabia's Crown Prince gets COVID-19 vaccine
Coronavirus: Saudi Arabia launches second center for COVID-19 vaccines in Jeddah