Coronavirus
UAE records 2,373 new COVID-19 cases, 10 deaths in the last 24 hours
The United Arab Emirates recorded 2,373 new COVID-19 cases, 1,784 recoveries and 10 deaths in the last 24 hours, state news agency WAM reported on Tuesday.
Tuesday's numbers show a one-day decrease in the number of deaths and new cases.
For more coronavirus news, visit our dedicated page.
There are currently 17,927 active COVID-19 cases in the UAE, and the death toll has gone up to 1,345, the UAE's Emergency Crisis and Disasters Management Authority NCEMA reported.
Over 6.2 million vaccine doses have already been administered and the country hopes to vaccinate its entire population by the end of the year. In an effort to achieve this target, the UAE has been actively bolstering its vaccination drive.
The country prioritized the high-risk group of people first, and started their inoculation program early, compared to other nations. They have also led one of the world's most efficient vaccination drives.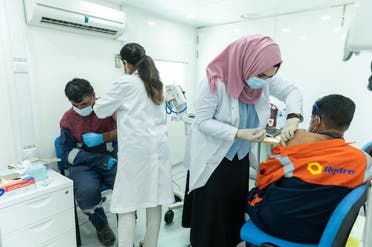 Dubai recently launched an initiative called 'Wellness on Wheels', a collaboration between Dubai Health Authority and the Mohammed Bin Rashid University of Medicine and Health Sciences, featuring mobile COVID-19 vaccination clinics. The initiative is one of the country's recent efforts to bolster its inoculation campaign, and has been successful with over 7,000 administered vaccine shots administered within one month.
Read more:
Abu Dhabi International Airport introduces free 90-minute PCR test
'Wellness on Wheels': Dubai's mobile clinics vaccinate over 7,000 against COVID-19
Abu Dhabi's Etihad Airways says '100 pct of our crew are vaccinated'