Coronavirus
Saudi Arabia administered over 20 mln doses of COVID-19 vaccine
Saudi Arabia has administered more than 20 million doses of the COVID-19 vaccine to its citizens and residents, the Ministry of Health announced on Monday.
For more coronavirus news, visit our dedicated page.
Over 587 inoculation centers have been set up across the Kingdom to ensure everyone in the country has access to vaccines, according to the ministry.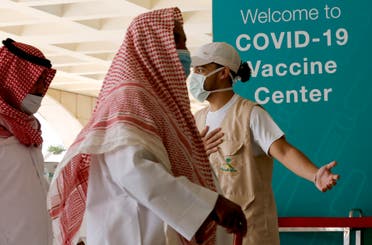 That number is expected to increase more rapidly in the coming weeks following the health ministry's announcement on Sunday that it will be administering the second dose of the approved coronavirus vaccines to all age groups.
The Kingdom had in April postponed all appointments for those who were waiting to receive their second vaccine dose as it focused on providing the first dose to those who had not been inoculated.
On Friday, Saudi Arabia's Food and Drugs Authority approved the use of Moderna's COVID-19 vaccine. In addition to the newly-approved jab, the Oxford-AstraZeneca vaccine, the Pfizer-BioNtech vaccine, and the Johnson & Johnson vaccine have all been approved.
Read more:
Saudi Arabia resumes providing second dose of COVID-19 vaccines to all age groups