Coronavirus
Saudi Arabia's COVID-19 measures helped reduce prevalence of MERS: WHO
Safety measures implemented by Saudi Arabia to reduce the spread of COVID-19 has helped reduce the number of cases of its predecessor Middle East Respiratory Syndrome Coronavirus (MERS-CoV), according to the World Health Organization (WHO).
In 2012, years before the first recorded case of COVID-19, its predecessor MERS – a coronavirus-type disease from the same viral family as COVID-19 or SARS – was first recorded in Saudi Arabia and led to hundreds of deaths across the Arab world.
For all the latest headlines follow our Google News channel online or via the app.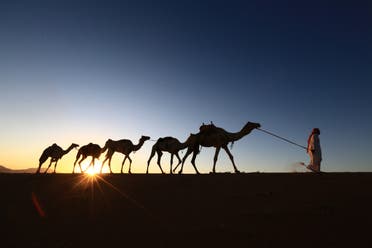 But the numbers of cases of MERS have been rapidly dwindling in since the onset of the COVID-19 pandemic, said the WHO.
"The number of MERS-CoV cases reported to WHO has substantially declined since the beginning of the ongoing COVID-19 pandemic," it said, in a statement. "This is likely the result of epidemiological surveillance activities for COVID-19 being prioritized, resulting in reduced testing and detection of MERS-CoV cases."
Measures including requiring masks, hand hygiene, social distancing, improving indoor ventilation, stay-at-home orders and other methods used during the pandemic "are also likely reduce opportunities for onward human-to-human transmission of MERS-CoV," the organization added.
Recently released figures show from December 29, 2021, to October 31, 2022, four laboratory-confirmed cases of MERS-CoV were reported to the WHO by the Ministry of Health in Saudi Arabia. Two cases were reported in Riyadh, one in Gassim and one in Mecca.
All the cases were non-health-care workers, who presented with fever, cough, and shortness of breath, and had comorbidities. Three of the cases had a history of contact with dromedary camels and consumption of their raw milk in the 14 days prior to the onset of symptoms. Three of the cases were male and the overall age range is 23 to 74-year-old.
No deaths were reported.
Household contacts for the four cases were followed-up by the Ministry of Health, and no secondary cases were identified.
Numbers have fallen dramatically since their peak in 2015, when there were 492 laboratory-confirmed cases of the disease.
Since the first report of MERS in 2012, a total of 2,600 cases with 935 associated deaths have been reported from 27 countries, in all six WHO regions.
But only a few dozen of those have been reported since the onset of the pandemic.
The WHO states that better hygiene and other virus control measures have helped to reduce the number of people infected with the virus passed on from camels. Person-to-person spread happens rarely and no recent cases were blamed on this. When it does happen, transmission is usually in a healthcare setting, the WHO says.
MERS infections range from showing no symptoms (asymptomatic) or mild respiratory symptoms to severe acute respiratory disease and death. A typical presentation of MERS disease is fever, cough, and shortness of breath.
Pneumonia is a common finding, but not always present. Gastrointestinal symptoms, including diarrhea, have also been reported. Severe illness can cause respiratory failure that requires mechanical ventilation and support in an intensive care unit.
The virus appears to cause more severe disease in older people, persons with weakened immune systems and those with comorbidities or chronic diseases such as renal disease, cancer, chronic lung disease, and diabetes.
The WHO recommends for people with these underlying medical conditions to avoid close contact with animals, particularly dromedaries, when visiting farms, markets, race tracks or slaughterhouses where the virus may be circulating.
General hygiene measures, such as regular hand washing before and after touching animals and avoiding contact with sick animals, should continue to be followed.
People should also avoid handling or consuming raw camel milk or camel urine or eating meat that has not been properly cooked.
Read more:
Lessons from MERS fight helped Saudi protect health workers during COVID-19: Study
As the world battles COVID-19, Middle East wins war on its virus predecessor: MERS
UAE scientists injecting 'immune' camels with COVID-19 to study virus antibodies