Radio news bulletin told me yesterday, that Malala Yosafazi will receive full medical treatment in London. Bless you Malala. Damn the bullet of ignorance and hatred that targeted your head. Most cursed the heads that plotted and the hands that fired those bullets.

Whatever is going through her injured head, I am quite sure – like, as I imagine, most mankind who are truly still humans – the ugly bullets will never manage to kill the beauty in Melala's mind. Hateful minds are the product of blind hearts. Both, can't understand how the glory of Allah who gives the living soul, blesses someone like Malala with beautiful mind, thinking brain, and, like many other intelligent kids all over the world, you became such a lovely, smart, and knowledge seeking child.
Even when the killers tried to find an excuse for the crime of October the 9th, 2012, they just added insult to injury. They claimed that Malala was targeted for her secular thoughts, not because she attended school. Of course that is not true. Yet, it's an honor to Malala to be considered a secular thinker in such an early age.

On a personal note, I wish if I can visit you, Malala, to pay my respect, to read you a short story of your choice, and to tell you about my own granddaughter, who is your age and, like you, purses knowledge, but never have the chance to confront the darkness of ignorance, with such a life threatening cost.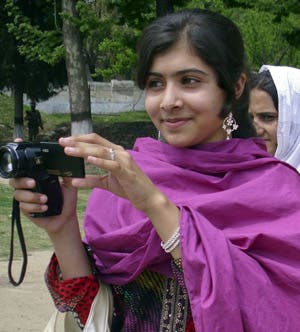 Malala Yousufzai, a 14-year-old schoolgirl, who was wounded in a gun attack. (Reuters)
Well, of course the difference is there. Yet, no matter what reason is employed to excuse harming a human by another human, there will never be a reason that can condone hurting a child.
Welcome to London, Malala, may God bless you, and every kid who had to endure any kind of "human" hate and hurt.
(The writer is a journalist who worked as Managing Editor, and wrote for several Arab publications based in London, England. He can be reached on bakir@hotmail.co.uk and bakir@darbakir.com. This article is written exclusively for Al Arabiya News Channel English site)
SHOW MORE
Last Update: Tuesday, 16 October 2012 KSA 21:04 - GMT 18:04