Senior Lebanese intelligence official Wissam al-Hassan, who led the investigation that implicated Syria and Hezbollah in the assassination of former prime minister Rafik al-Hariri, was killed by a huge car bomb in Beirut on Friday.



The bomb, which exploded in a busy street during rush hour, killed seven other people and wounded about 80, officials said. The attack prompted Sunni Muslims to take to the streets in areas across the country, burning tires in protest.

Protesters blocked the streets in Sunni strongholds of the eastern Bekaa valley region, the northern area of Akkar, neighborhoods of the capital Beirut and in the southern city of Sidon.
Hassan was the brain behind uncovering a recent bomb plot that led to the arrest of a pro-Syrian Lebanese politician.

Ambulances rushed to the scene of the blast near Sassine Square in Ashrafiyeh, a mostly Christian area, as smoke rose from the area. It occurred during rush hour, when many parents were picking up children from school, according to Reuters.

Health Minister Ali Hussein Khalil called on all hospitals to accept the wounded from this "terrorist bombing."

Several cars were destroyed by the explosion and the front of a multi-story building was badly damaged, with tangled wires and metal railings crashing to the ground.
Panic
Heightened tension
Who is Wissam al-Hassan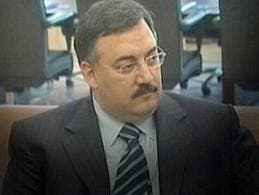 Wissam al-Hassan headed an investigation that led to the arrest of one of Syria's most loyal allies in Lebanon. (Al Arabiya)
Hassan, the official targeted Friday, had headed an investigation that led to the Aug. 9 arrest of former Information Minister Michel Samaha, one of Syria's most loyal allies in Lebanon who has long acted as an unofficial media adviser to Assad. According to a senior Lebanese police official, Samaha confessed to having personally transported explosives in his car from Syria to Lebanon with the purpose of killing Lebanese personalities at the behest of Syria.
A military court has since indicted Samaha and Syrian Brig. Gen. Ali Mamlouk of plotting to carry out terrorist attacks inside Lebanon. Mamlouk, who was appointed recently by Assad to head Syria's National Security Bureau, was indicted in absentia.
The war in neighboring Syria, which has killed 33,000 people so far, has pitted mostly Sunni insurgents against President Bashar al-Assad, who is from the Alawite sect linked to Shiite Islam.
Tension between Sunnis and Shiites has been rumbling in Lebanon ever since the end of the 1975-1990 civil war but reignited after the Syria conflict erupted.
It reached its peak when former Prime Minister Rafik al-Hariri, a Sunni, was killed in 2005. Hariri supporters accused Syria and then Hezbollah of killing him - a charge they both deny. An international tribunal accused several Hezbollah members of involvement in the murder.
Hezbollah's political opponents, who have for months accused it of aiding Assad's forces -- have warned that its involvement in Syria could ignite sectarian tension of the civil war.
The last bombing in Beirut was in 2008 when three people were killed in an explosion which damaged a U.S. diplomatic car.
However fighting had broken out this year between supporters and opponents of Assad in the northern city of Tripoli.
SHOW MORE
Last Update: Friday, 19 October 2012 KSA 19:04 - GMT 16:04