The European Union has welcomed Saudi King Abdullah's recent decree allowing women to be members of in the kingdom's Shura Council for the first time as a major development in the direction of women empowerment.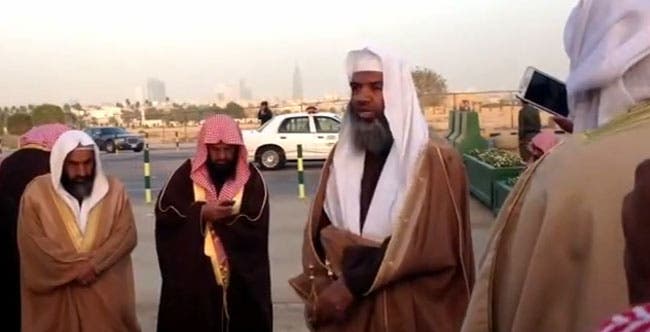 A snapshot of a Youtube video showing the clerics' protest in fornt of the Royal Court. (Courtesy of Youtube)
"We welcome the announcement made by King Abdullah of Saudi Arabia on Friday Jan. 11 to appoint 30 women to the country's previously all-male Shura Council," according to statement by Nabila Massrali, a spokesperson for the European Commission.
"Setting a level of 20 percent of women participation in the consultative body is a major development in the direction of women empowerment and participation in the political process in Saudi Arabia," Massrali added.
The royal decree amended two articles in the council's statute introducing a 20 percent quota for women in the country's 150-member Shura Council, and the king appointed 30 women to join the consultative assembly.
"This decision confirms a positive trend after the earlier decision of Saudi Arabian authorities to allow women to vote and run for office in the 2015 municipal elections," the EU statement said.
"These are welcome steps on the road towards gender equality. The EU encourages Saudi Arabia to go further on this road in order to tap the full potential that women empowerment and gender equality brings to the society," the statement added.
The assembly, whose members are appointed by the king, works as the formal advisory body of Saudi Arabia. It can propose draft laws following which it would present them to the king, who, in turn, would either pass or reject them.
Meanwhile, a number of Saudi clerics [protested in front of the Royal Court][http://www.youtube.com/watch?v=eajuy3eOk00&sns=em] King Abdullah's decision to appoint women in the kingdom's advisory body.
A Saudi activist in touch with the clerics confirmed the accuracy of photographs showing them standing in a group as they demanded a meeting with King Abdullah and his top aide Khaled al-Tuwaijri, seeking to offer them "advice."
"The clerics were in front of the royal court to address the king and Tuwaijri with regard to women in the Shura Council ... they waited for two hours but were denied access," Waleed Abu al-Khair told Reuters by phone.
A protesting cleric said that decision to appoint women in the council do not reflect the Islamic "good people."
"These changes, in fact, dear brothers, did not meet all the society's factions," he added.
A number of Saudi Tweeps users criticized the protest and the clerics' stance from women rights in the Kingdom.
"The Shura council suddenly became not pleasing to God and His messenger only after women joined it," said Twitter user Kholoud al-Fahd.
Another Twitter user, Talal Al Shammari, asked: "why didn't they [clerics] gather when women sat on sidewalks to sell clothes and food amid cold and hot [weather conditions] did they accept for them indignity and humiliation?"
SHOW MORE
Last Update: Wednesday, 16 January 2013 KSA 14:04 - GMT 11:04