In a speech given during his historic visit to Abu Dhabi, Pope Francis said that no violence can be justified in the name of religion and must be condemned without hesitation.

"We will either build the future together or there will not be a future. The time has come when religions should more actively exert themselves, with courage and audacity, and without pretense, to help the human family deepen the capacity for reconciliation, the vision of hope and the concrete paths of peace," the pope said on Monday as he attended the International Conference for Human Fraternity alongside the Grand Imam of al-Azhar al-Sharif Dr. Ahmad al-Tayyeb.

The head of the Catholic Church and the sovereign of the Vatican was accorded a state welcome to the UAE at a grand ceremony organized at the Presidential Palace in Abu Dhabi. His visit to the UAE is being billed as historic as he is the first pontiff to ever visit the Arabian Peninsula.

Over 700 attendees, including religious leaders representing 22 faiths, were in Abu Dhabi to mark the event. Radwan al-Sayed, a Lebanese public intellectual and authority on Sunni theology said that it should be up to scholars and intellectuals to deepen this capacity of reconciliation.

"We have lost a great battle that's been ongoing for 100 years, which is the West's view of us and our view of the West. We are fighting to prove that we are like them, and are partners in civilization not just history. We lost because of extremism and terrorism. Now, the intellectuals and scholars must work on this," al-Sayed said from the Global Conference of Human Fraternity on the sidelines of the Papal visit.

The Pontiff's speech, delivered at the Emirates' Founders' Memorial, capped a historic day that began when he arrived at the presidential palace for a welcome ceremony in a tiny Kia hatchback. He was greeted by an artillery salute and a flyover by military jets.
Pope visit to Abu Dhabi (Al Arabiya)

During his speech, the Pontiff added that human fraternity must be used to reject every notion of war.

"Human fraternity requires of us, as representatives of the world's religions, the duty to reject every nuance of approval from the word war. I am thinking in particular of Yemen, Syria, Iraq and Libya," he said.

The Pope also advised that investing in culture was a way to encourage a decrease in hatred and would help in fostering civility and prosperity. "Education and violence are inversely proportional. Catholic schools – well appreciated in this country and in the region – promote such education on behalf of peace and reciprocal knowledge in order to prevent violence," he said.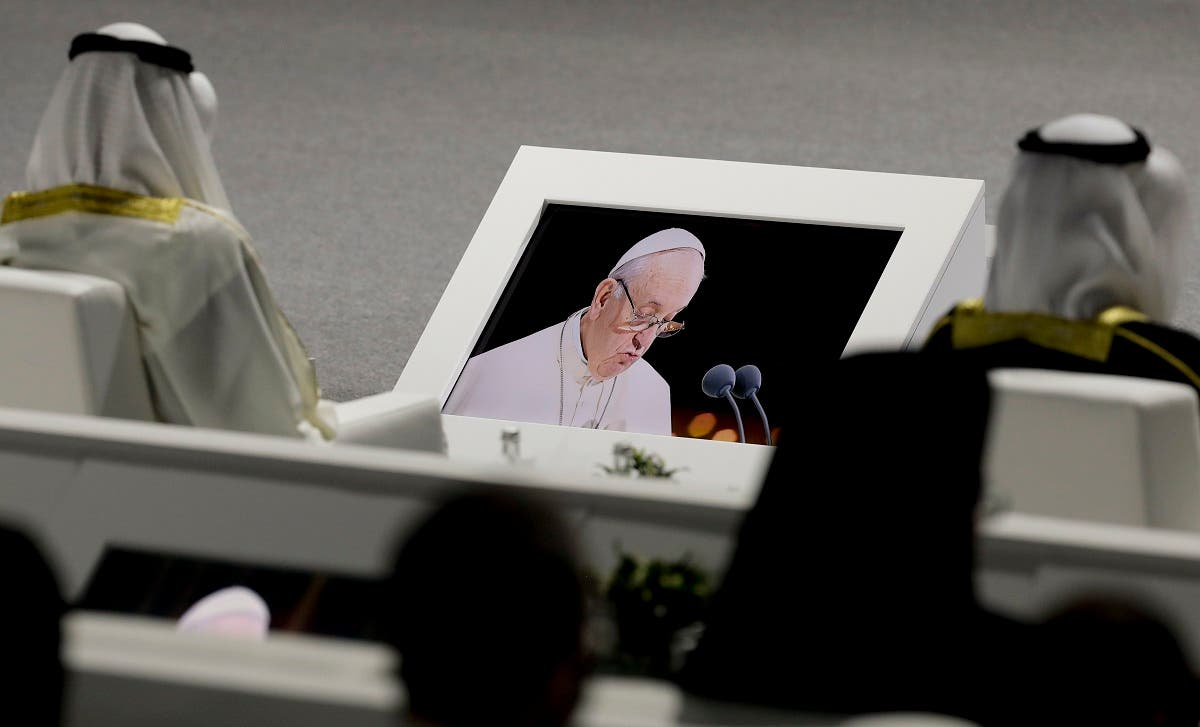 Pope Francis. (AP)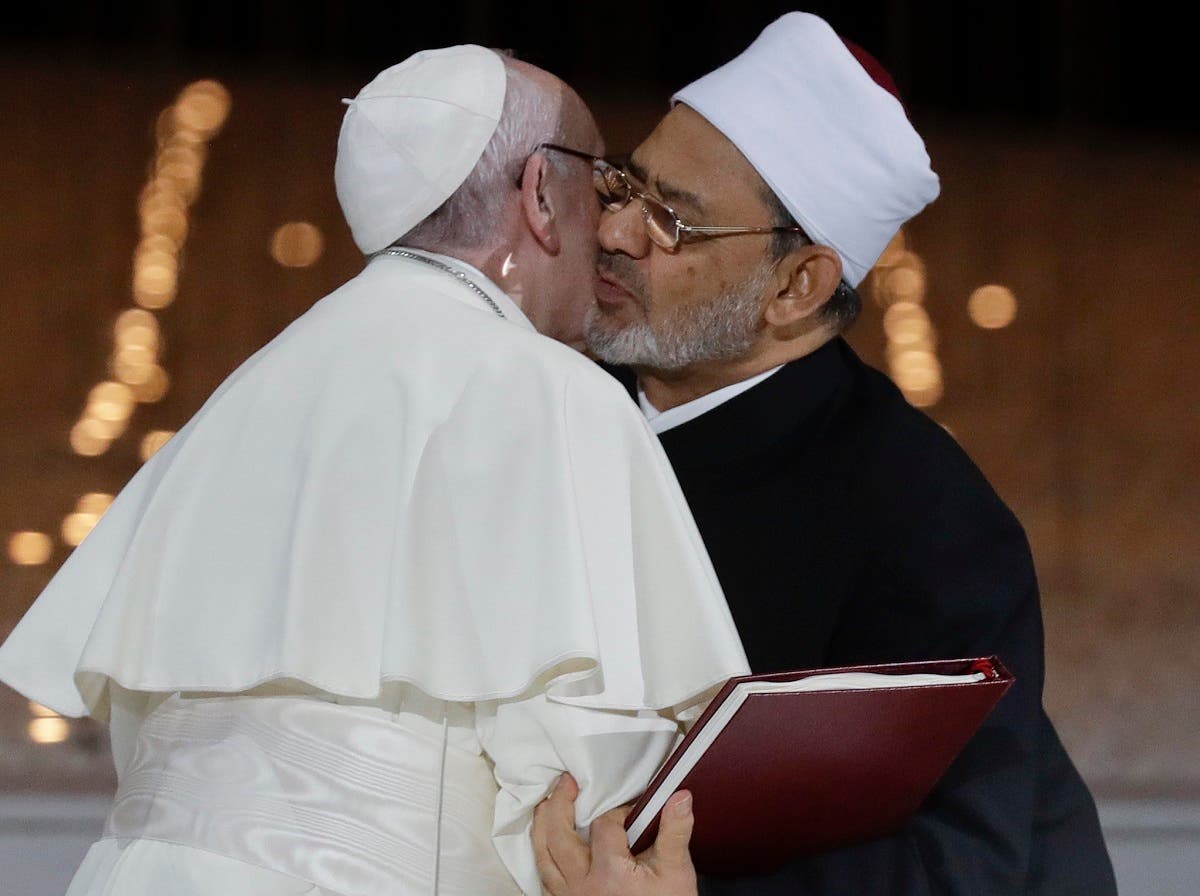 Pope Francis. (AP)


Pope Francis' visit, 800 years after his peace-loving namesake St. Francis of Assisi met with an Egyptian sultan, marked the culmination of years of efforts to improve relations with the Muslim world after they hit a low during the papacy of Pope Benedict XVI.

In his speech, Pope Francis had a message for young people, who he said were surrounded by negative messages, and needed to do away with the seductions of materialism, hatred and prejudice.

"They need to learn to object to injustice and also to the painful experiences of the past. They need to learn to defend the rights of others with the same energy with which they defend their own rights," he told the multi-faith conference in Abu Dhabi.

"This country, in which sand and skyscrapers meet, continues to be an important crossroads between the West and East, between the North and South of the planet: a place of development, where once inhospitable spaces supply jobs for people of various nations," Pope Francis said.
SHOW MORE
Last Update: Wednesday, 20 May 2020 KSA 09:58 - GMT 06:58