The Jeddah Health Affairs has postponed quarantining of Coronavirus patients in King Abdullah Medical Complex (KAMC), north of the city.
Dr. Sami Badawood, head of Jeddah Health Affairs, said in press statements published on Tuesday that the move was postponed until necessary arrangements were made at the complex.
"For the time being, Coronavirus patients will be quarantined at King Fahd General Hospital (KFH) in Jeddah, where 36 rooms have been set aside for the purpose," he said.
Infographic: How to prevent MERS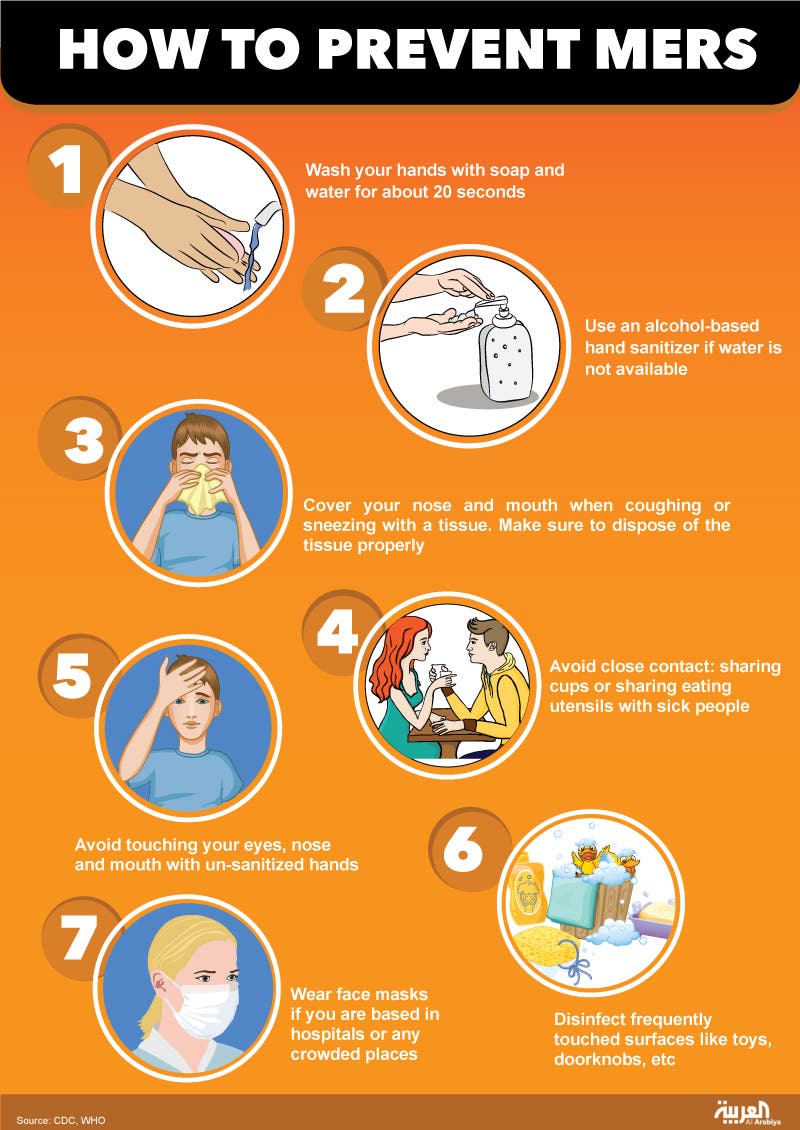 Infographic: How to prevent MERS
Acting Health Minister Adel Fakeih had announced about two weeks ago that Coronavirus patients would be secluded at the KAMC to receive better medical care.
Badawood denied reports that all patients in Jeddah would be grouped together at the KFH. "This move has not been considered at all," he said.
Makkah daily on Tuesday published eight wrong notions about causes and effects of the disease:
1) A treatment or a vaccination for the disease has been discovered.
So far, no treatment or vaccination has been discovered. Hospitals only provide patients with pain killers. The Ministry of Health has directed people to take necessary precautions to avoid contracting the contagious virus.
2) People from Saudi Arabia have been banned from traveling abroad. No decision has so far been issued to ban passengers from the Kingdom to travel to any country in the world.
The World Health Organization (WHO) has not issued any advisory in this regard. Travelers from the Kingdom have not faced any difficulties at any of the foreign airports.
3) Extra precautions are required to avoid infection.
Doctors advise healthy people not to mix with those infected with the virus, to wear masks and to clean their hands with soap and sanitizers.
4) Eating camel meat or drinking its milk may cause Coronavirus.
Doctors have advised people to cook camel meat very well and to boil the milk before drinking it.
5) Advising people to postpone their Umrah or Haj.
No instructions have been issued by the Health Ministry asking people to delay coming to the Kingdom for Umrah or Haj this year. However, doctors are unanimous that people above 65 years of age, young children under 12, pregnant women and people with chronic diseases should not come to the Kingdom for Umrah or Haj this year.
6) We are facing an epidemic.
According to the WHO, the current situation in the Kingdom is not considered an epidemic. The Health Ministry is, however, taking all precautions against the spread of the virus.
7) Camels, bats and rats are virus carriers.
Recent studies have confirmed that these three animal species are carriers of the virus, but did not specify how it could be transferred to humans. Most of the cases discovered consisted of people who had no direct contacts with the animals.
8) Coronavirus is SARS.
This is extremely false.
This article was published in the Saudi Gazette on Tuesday, May 6, 2014.
SHOW MORE
Last Update: Wednesday, 20 May 2020 KSA 09:42 - GMT 06:42