The United Nations refugee agency (UNHCR) said it would launch a major aid operation on Wednesday to get supplies to more than 500,000 people displaced by the fighting in northern Iraq, Reuters news agency reported.

Hundreds of thousands have fled their homes since fighters led by the militant Islamic State in Iraq and Syria (ISIS) group swept through the north and west of Iraq in June.

A four-day airlift of tents and other goods will begin Wednesday from Aqaba in Jordan to Erbil, Iraq, followed by road convoys from Turkey and Jordan and sea shipments from Dubai via Iran over the next 10 days, said UNHCR spokesman Adrian Edwards.

"This is a very, very significant aid push and certainly one of the largest I can recall in quite a while," he told a news briefing in Geneva.

1.2 million people across Iraq are estimated by the UNHCR to have fled their homes this year.
Infographic: Aid for displaced Iraqis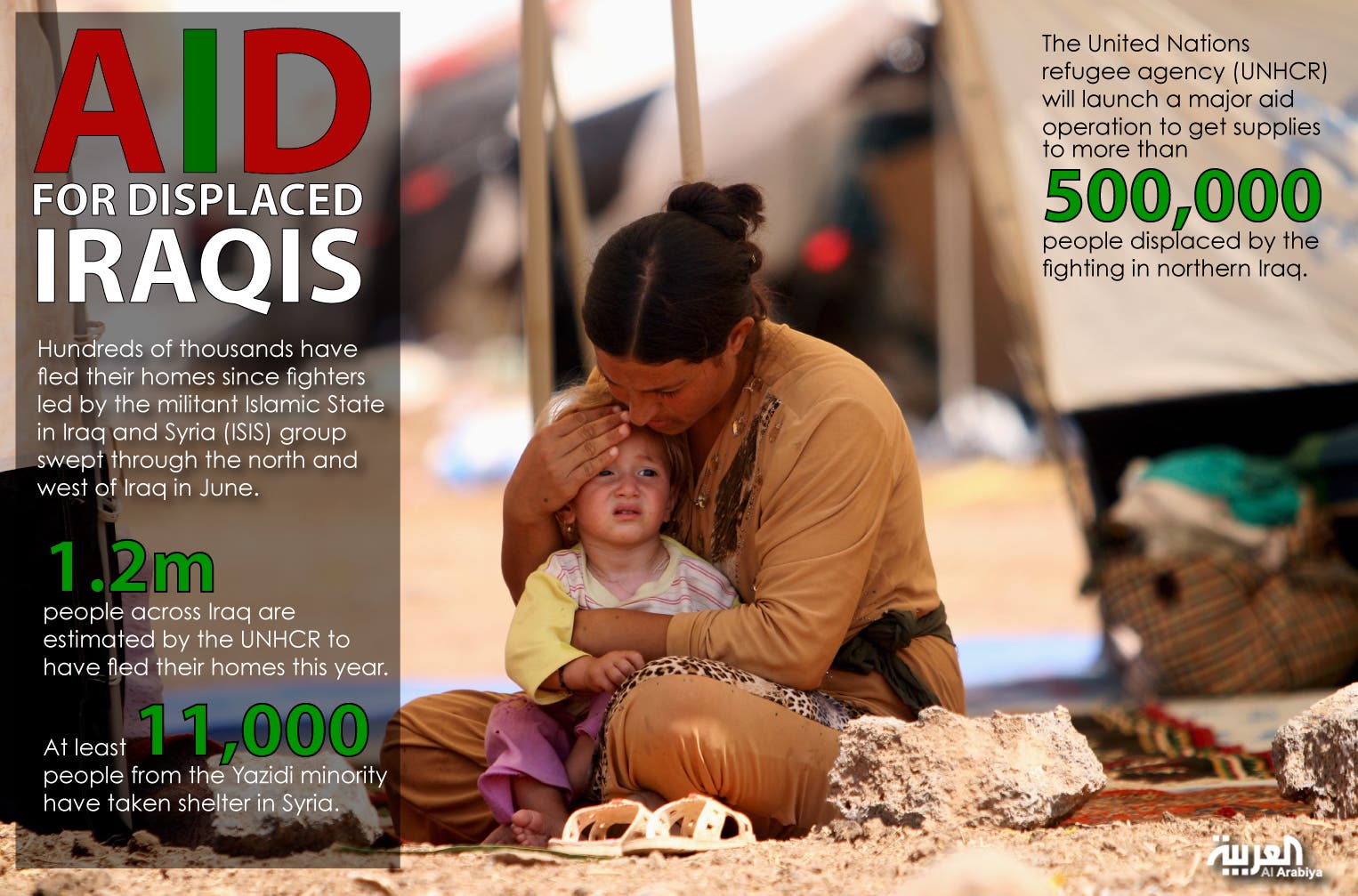 Infographic: Aid for displaced Iraqis


At least 11,000 people from the Yazidi minority have taken shelter inside Iraq's war-torn neighbor Syria, and about 300 more are crossing the Peshkabour border every day, it said.

"The fact that you see people fleeing via Syria to safety speaks very much to how desperate the situation is, particularly in Sinjar in the last few days," Edwards said.

The initial aid shipments will contain 3,300 tents and 20,000 plastic sheets for shelter, 18,500 kitchen sets and 16,500 jerry cans, he added.
International conference for Iraq
SHOW MORE
Last Update: Wednesday, 20 August 2014 KSA 12:03 - GMT 09:03