An air strike reportedly killed dozens of people in a rebel-held town in Syria on Saturday as a U.N. envoy visited Damascus to advance preparations for peace talks planned this month despite opposition misgivings.

Agreement was also reached for aid to be delivered on Monday to an opposition-held town besieged by pro-government forces where United Nations says there have been credible reports of people dying of starvation, sources said. Aid will be sent simultaneously to two villages blockaded by rebels.

The Syrian Observatory for Human Rights said at least 57 people were killed in the air strike, which hit a court house and prison in the town of Maarat al-Numan in Idlib province. It identified the jets as Russian, and said the court house was operated by the al-Qaeda-linked al-Nusra Front.
Infographic: Air strike kills dozens in Syria rebel-held town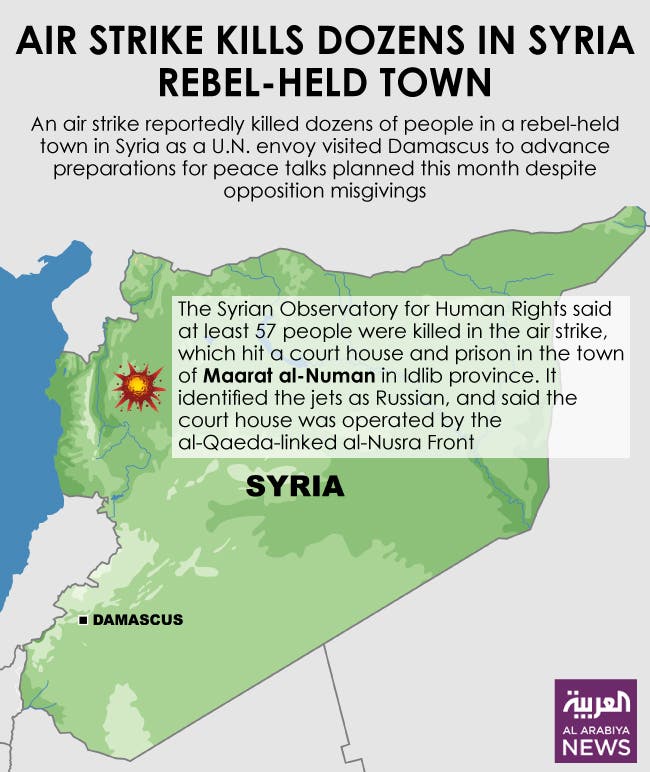 Infographic: Air strike kills dozens in Syria rebel-held town
Aid delivery agreed
SHOW MORE
Last Update: Wednesday, 20 May 2020 KSA 09:49 - GMT 06:49