Disclaimer: The views and opinions expressed in this article are those of the authors and do not reflect the viewpoint of Al Arabiya English.
The two missiles fired at Mecca and Riyadh Airport in late July and early November bore the trademark of the Iranian 'Shahid Bagheri Industries' which is already on the sanctions list of the United Nations.
Mohammad Ali Jafari, commander of Islamic Revolutionary Guard Corps (IRGC), has acknowledged that his forces played a significant role in the killing of former Yemeni president, Ali Abdullah Saleh.
"Today, Yemen is ruled by the Ansarullah (Houthi Movement), and Iran's assistance is confined to advisory missions and spiritual support, which Yemen needs most," he noted.
IRGC admits role in Yemen
Now it is crystal clear what Jafari means by "advisory" role. IRGC's role in Syria has been a mirror image of what the general means by "advisory role." It is hardly news after almost seven years of civil war in Syria that IRGC's external arm — the Quds Force — is involved up to its eyeballs in that conflict, which has left over 400,000 people dead and millions other homeless.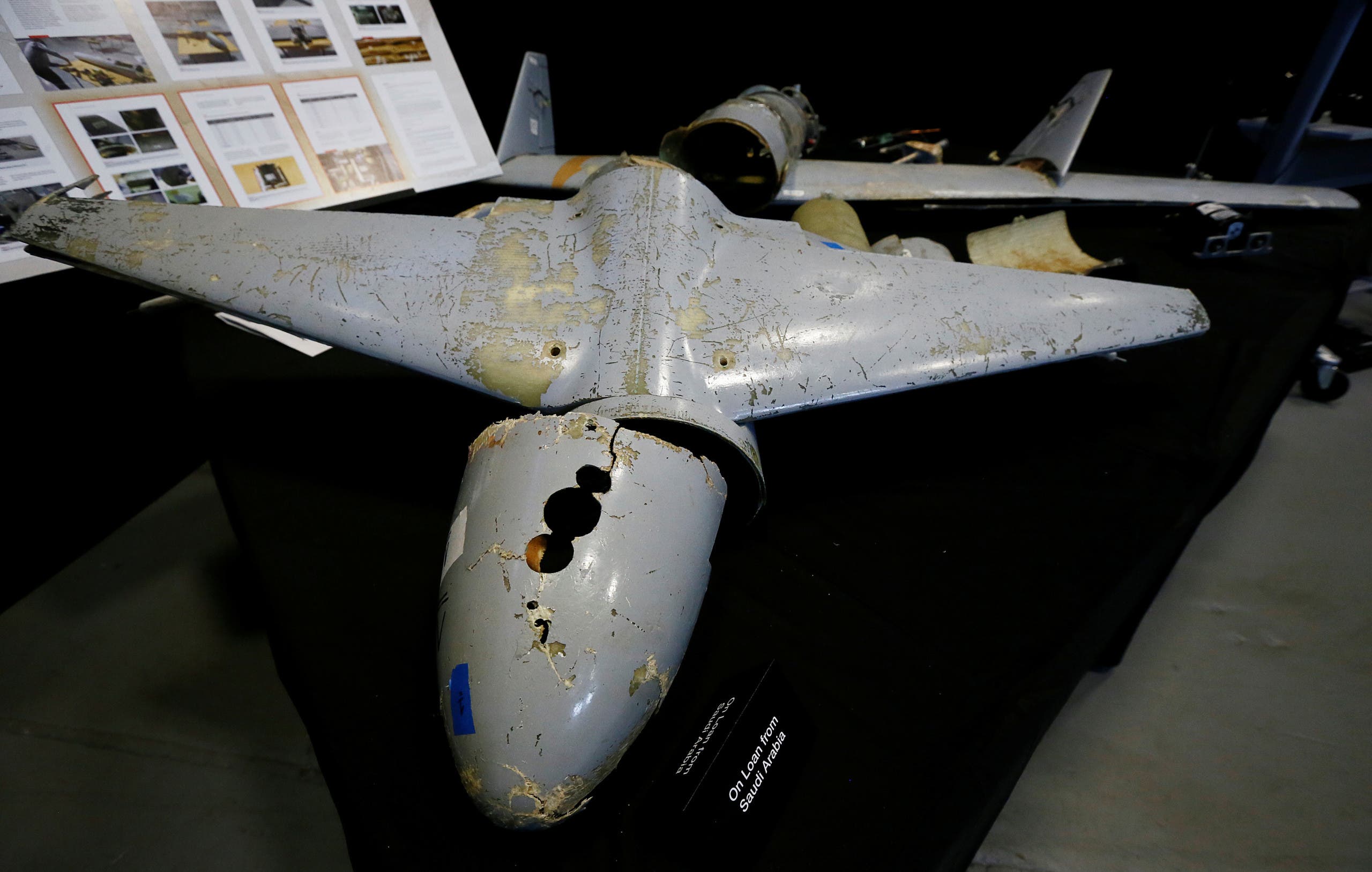 A U.S. Department of Defense exhibit shows a drone that the Pentagon says was manufactured in Iran but recovered in Yemen, as it sits on display at a military base in Washington, U.S., December 13, 2017.
IRGC's Quds Force chief, Maj. Gen.Qasem Soleimani has been frequently spotted on the fronts in Syria and Iraq. It is of course the first time that such a high ranking IRGC official openly has openly confirmed that Iran is involved in Yemen's prolonged and destructive war, despite the fact that there have been many indications that Iran is directly aiding Houthis.
The daily Vatan-e Emrouz, affiliated with Iran'sSupreme Leader Ali Khamenei, wrote, "The power (structure) has consolidated in favor of Ansarallah" and in this way "the resistance forces (i.e. the Iranian-backed militias) are going to get their orders from a single command room and will have a practical model and coherent strategy in the region. Today, they have extraterritorial missions… and have been able to merge their missile power and their power in the region and create a suitable blend."
Missiles with Iranian markings
At the same time, the fourth report by the UN Secretary General published on the implementation of UN sanctions on December 10 against the clerical regime in Iran, points out that the two missiles fired at Mecca and Riyadh Airport in late July and early November bore the trademark of the Iranian 'Shahid Bagheri Industries' which is already on the sanctions list of the United Nations.
According to a CNN report broadcast on December 8, evidence from the remains of the missile has convinced the US that it was fired under Iranian supervision:"Those remnants indicate the missile was provided by Iran, and the assessment is the launcher and missile training was also provided by Tehran."
Nikki Haley, US Ambassador to the UN is planning to showlater this week the remnants of the missile. She'is set to unveil components of a short-range ballistic missile that Houthi rebels fired into Saudi Arabia at Defense Intelligence Agency headquarters at Joint Base Anacostia-Bolling in Washington, D.C.'
EU cautions Iran
The National Security Advisor Gen. HR McMaster spoke at a security forum earlier this month about Iran's hideous intereference in Iraq and Syria. "What they (Iranians) are in the middle of doing now is using a sophisticated campaign of subversion in Iraq and a continued support for Assad. About 80 percent of Assad's fighters are Iranian proxies in Syria to establish this kind of land bridge over into the Mediterranean and so what we face is Iran having a proxy army on borders of Israel."
Iran's Rouhani gambled heavily on EU's support to make up for the mounting pressures from Washington over its "destabilizing" role in the region. The Iranian regime did not see it coming but the French made it all clear that they can no longer tolerate such behavior.
France's foreign minister, Jean-Yves Le Drian said on December 12: "Rather than pursue ambitions to expand its military presence in the region, Iran… should work with the United Nations to try to establish peace in war-torn Syria."
He said that Iran should stop creating an 'axis of military and political influence stretching from Tehran through Iraq, Syria and Lebanon to the Mediterranean Sea.' This is exactly what Iran has in mind.
Iran's menacing overreach
Iran's Foreign Minister Mohammad Javad Zarif on 30 November said: "The aim of the US administration is to get Iran out of Syria" as part of any Syrian peace settlement.
"The US and Russia cannot decide for Iran. We are there at the request of the Syrian government," Zarif said. "It's our region. It's the Persian Gulf, not the Gulf of Mexico. We are going nowhere".
Iranian regime's livelihood depends on wreaking havoc across the Middle East. The ruling mullahs' have never kept it as secret their dream of establishing an 'Islamic State' Shiite style. Maryam Rajavi, President of Iran's main opposition organization, the National Council of Resistance of Iran (NCRI) warned in her address in Paris in 2007 about what is to come and said: "Four years ago I warned the threat of the mullahs' meddling in Iraq is 100 times more dangerous than its nuclear ambitions." Today it is not just Iraq. It has spread like wildfire across the region. It is time to stop the Iranian regime by pushing them back and getting rid of the IRGC in the region.
______
Reza Shafiee (@shafiee_shafiee) is a member of the Foreign Affairs Committee of the National Council of Resistance of Iran (NCRI)

SHOW MORE
Last Update: Wednesday, 20 May 2020 KSA 09:50 - GMT 06:50