Walid Assi was cooking at a Beirut pizza joint on Tuesday night when a huge blast wave pushed him down. The ground beneath him shook. He saw a flash of white. The roof caved in.
Watch: The closest footage of the devastating blasts that rocked #Beirut a day earlier has emerged, according to live video shot by two Lebanese citizens living in an apartment opposite the port where the explosions erupted.#Lebanonhttps://t.co/9zqOn4zRCR pic.twitter.com/bzMv3Z9XzR

— Al Arabiya English (@AlArabiya_Eng) August 5, 2020

The explosion killed at least 135 people, injured 5,000 and pushed up to 250,000 out of their homes after the shockwaves ripped outdoors and shattered windows miles inland.

The death toll is expected to rise. Officials blamed the blast on a huge stockpile of highly explosive material stored for years in unsafe conditions at the port.

For many Lebanese, it was the latest blow they blamed on a clutch of sectarian political elites that have ruled for decades.

The government has vowed to hold those responsible for the explosion to account.

But for workers and residents sweeping up debris in the popular nightlife neighborhood of Gemmayze, clouds of dust swirling around them, it sounded just like the empty promises they were tired of.

Thousands of Lebanese have protested since October against state waste and corruption that pushed the country into financial ruin. The local currency has since crashed, sending prices soaring and leaving many poor.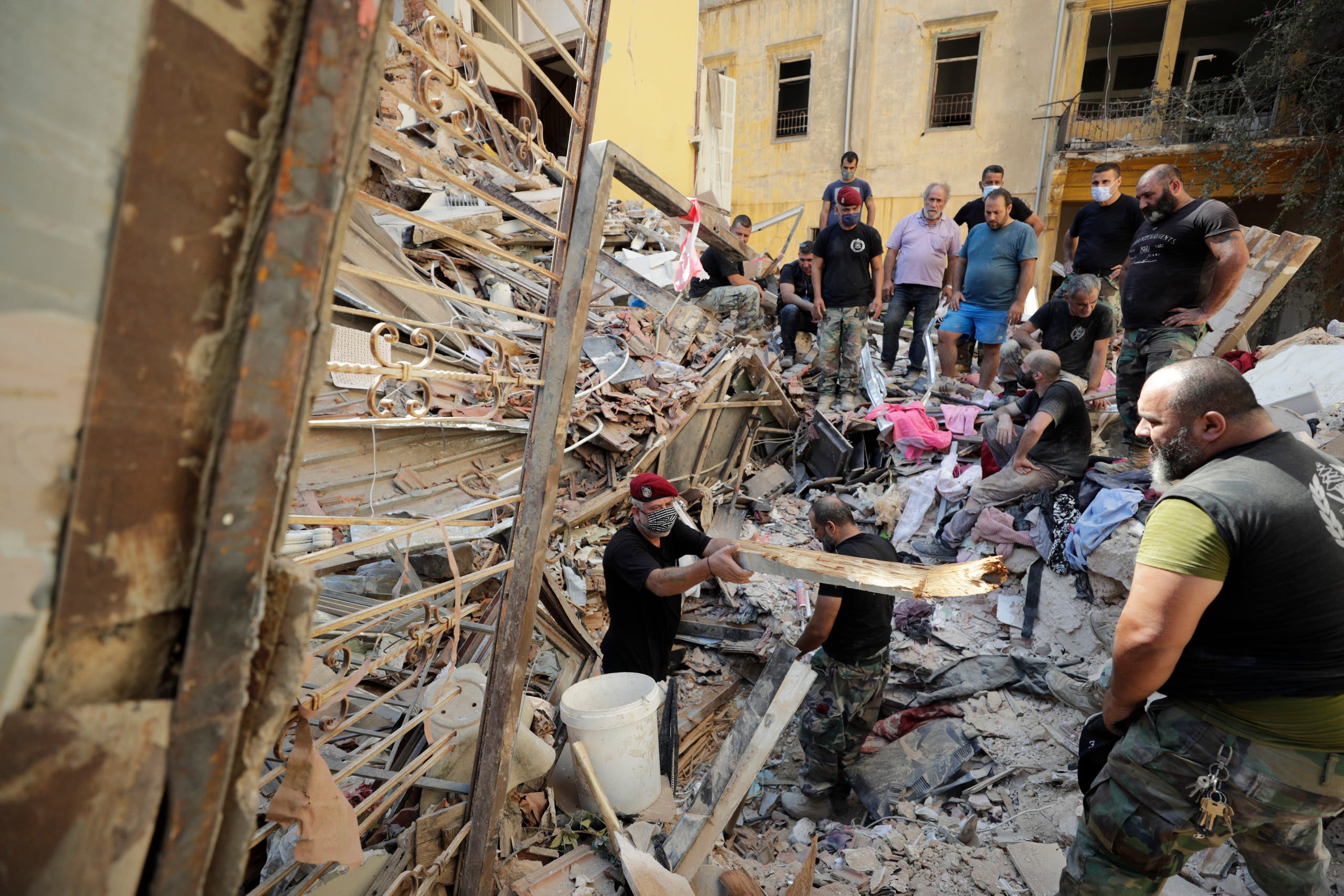 Lebanese soldiers search for survivors after a massive explosion in Beirut, Lebanon on Aug. 5, 2020. (AP)
It's as if rulers 'want us to die'
Watch: A woman plays piano in her heavily damaged house, reportedly one of the many buildings hit by the massive blast in #Beirut's port on Tuesday.https://t.co/1J6x9u8KuD pic.twitter.com/blCZF99bdD

— Al Arabiya English (@AlArabiya_Eng) August 5, 2020

"The worst part is this government and all those before it did nothing. Nobody cares. Did they know this warehouse was there, and they kept it there near our houses?" said Habib Medawar, 65, landlord of a building where two people had died.

He sat outside in a yellow plastic chair, staring out towards the sea. "I don't want to do anything; I can't even bring myself to go inside."

Nearby, Pierre Mrad, the medical director of a hospital in Gemmayze that was knocked out of service, held back tears. The blast had wounded staff and killed one of the nurses.

"We evacuated all the patients. The hospital will have to be rebuilt. There's nothing left, nothing to be done right now."
SHOW MORE
Last Update: Thursday, 06 August 2020 KSA 07:42 - GMT 04:42