ISIS has claimed responsibility for twin suicide bombings in the head offices of Libya's electoral commission in Tripoli, the group's AMAQ news agency said Wednesday.

At least 14 people were killed when attackers stormed the building and set fire to it.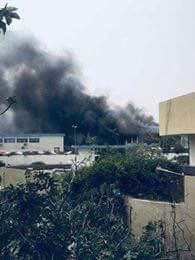 ليبيا

"We (the staff) are out of the building now while the security people deal with the incident."

Pictures posted on social media showed thick black smoke billowing from the commission's offices, in the Ghout al-Shaaldistrict west of central Tripoli.

The electoral commission has been registering voters ahead of new elections that the United Nations says it hopes can be held in Libya before the end of the year.
SHOW MORE
Last Update: Wednesday, 20 May 2020 KSA 09:56 - GMT 06:56