Tens of thousands of Americans gathered across the country on Saturday at March For Our Lives rallies to demand tighter gun laws, led by survivors of last month's Florida school massacre which reignited public anger over mass shootings.

Students from the Parkland, Florida, high school where 17 people were killed on Feb. 14 were set to speak at the biggest event, in Washington, where organizers said as many as 500,000 people were expected to demonstrate near the Capitol and call on Congress to fight gun violence.

The protests aim to break a legislative gridlock that has long stymied efforts to increase restrictions on firearms sales in a nation where mass shootings at schools and colleges have become a frighteningly frequent occurrence.

"I don't want any child to be seen as another statistic," said Ashley Schlaeger, an 18-year-old freshman at Ohio State University who drove to the Washington rally with friends.

In the Fort Lauderdale suburb of Parkland, thousands of people passed through police checkpoints to assemble in a park or a rally and march. Many held signs with slogans including "Am I Next?" "A Call To Arms For the Safety of Our Sons and Daughters" and "Congress = Killers."

Adam Buchwald, who survived the mass shooting at Marjory Stoneman Douglas High School, told the crowd he and his friends would stay focused on getting new legislation passed.

"Sadly, this could be repeated in your city or town. This stops now!" he said to loud cheers.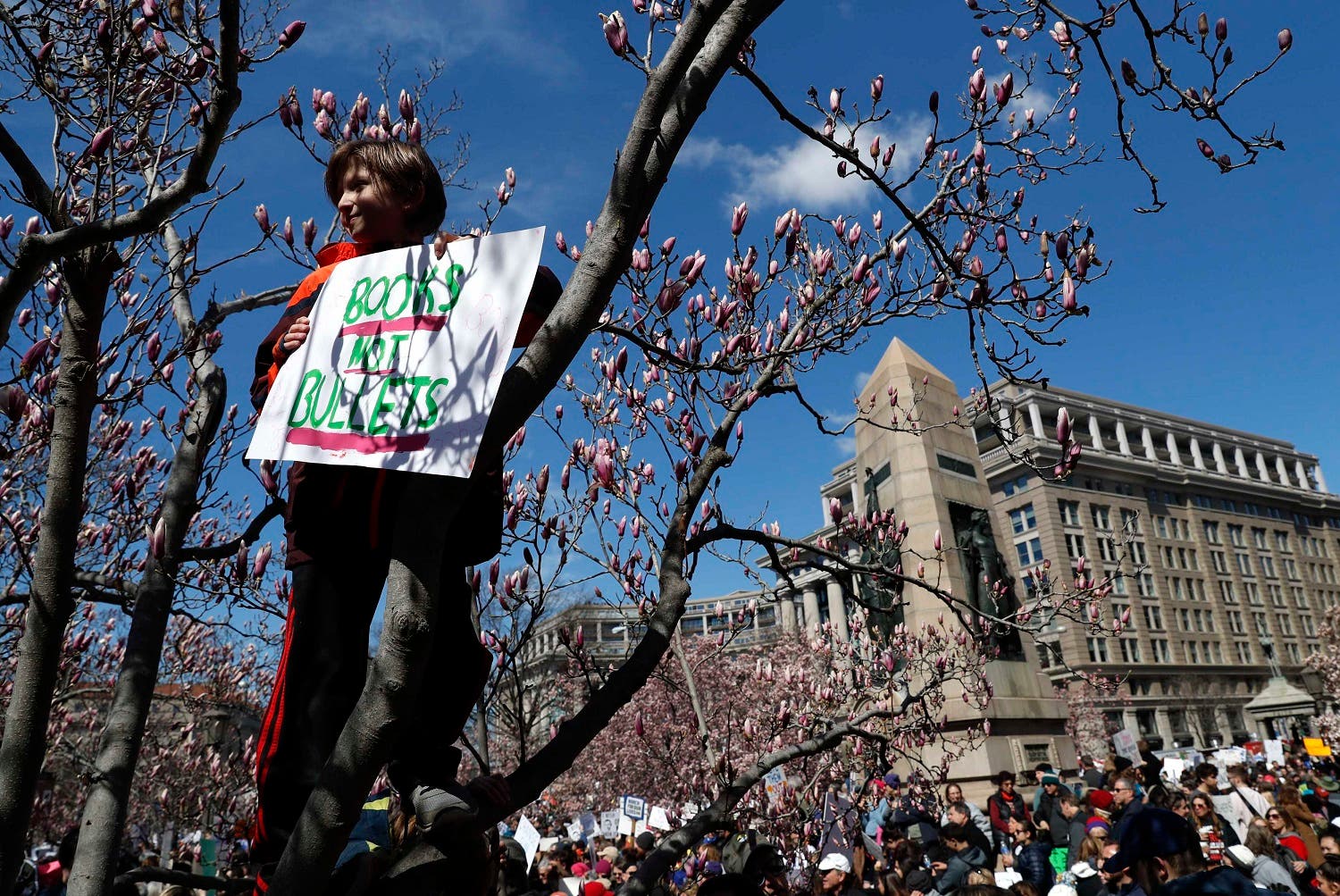 A participant perched on a tree holds up a sign as students and gun control advocates hold "March for Our Lives" event at a rally in Washington, on March 24, 2018. (Reuters)
Rallies worldwide
SHOW MORE
Last Update: 06:51 KSA 09:51 - GMT 06:51