President Donald Trump said on Saturday the release of US pastor Andrew Brunson after two years in Turkey's custody was a "tremendous step" toward improved relations with Turkey, but he denied cutting a deal with Ankara.

Trump, who met with Brunson at the White House on Saturday, did not pledge to lift the sanctions but said he welcomed an end to the "harsh relationship" the countries had over the past two months.

In front of US Secretary of State Mike Pompeo, Trump's national security adviser John Bolton, US lawmakers and Brunson's family, the pastor knelt beside Trump on the floor of the Oval Office, placed a hand on his shoulder, and prayed for God to give him "supernatural wisdom."

Brunson thanked President Trump for his efforts to facilitate his release after two years in detention in Turkey on terror-related charges, in a hero's welcome at the White House.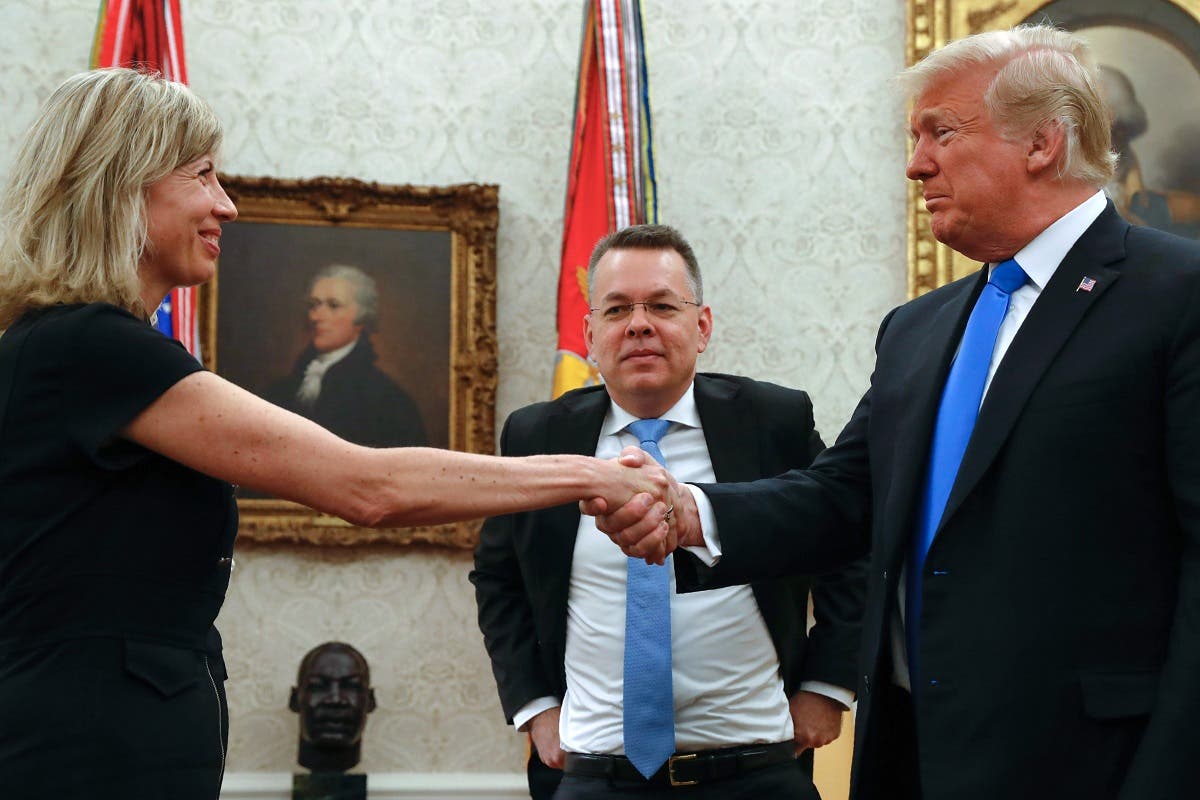 Freed American pastor Andrew Brunson (C) looks on as his wife shakes hands with US President Donald Trump after a meeting in the Oval Office at the White House. (AFP)


Earlier on Saturday Trump had thanked his Turkish counterpart Recep Tayyip Erdogan for his help in the case of American pastor Andrew Brunson, who was freed by a Turkish court after two years in detention.
Pastor Andrew Brunson, released by Turkey, will be with me in the Oval Office at 2:30 P.M. (this afternoon). It will be wonderful to see and meet him. He is a great Christian who has been through such a tough experience. I would like to thank President @RT_Erdogan for his help!

— Donald J. Trump (@realDonaldTrump) October 13, 2018


Brunson was flown out of Turkey after a court freed him from two years of detention, in a step that could improve US-Turkish ties strained by disputes over Syria and Iran.
There was NO DEAL made with Turkey for the release and return of Pastor Andrew Brunson. I don't make deals for hostages. There was, however, great appreciation on behalf of the United States, which will lead to good, perhaps great, relations between the United States & Turkey!

— Donald J. Trump (@realDonaldTrump) October 13, 2018
Erdogan to Trump: Court issued Brunson verdict 'independently'
SHOW MORE
Last Update: Wednesday, 20 May 2020 KSA 14:03 - GMT 11:03