The top US diplomat in Ukraine, testifying on Wednesday in the first televised hearing of the impeachment inquiry against President Donald Trump, linked the president more directly to a pressure campaign on Ukraine to conduct investigations that would benefit him politically.

William Taylor was one of two career diplomats who testified before the US House of Representatives Intelligence Committee as a crucial new phase began in the impeachment inquiry that threatens Trump's presidency even as he seeks re-election in 2020.

Both Taylor and George Kent testified about their concerns about pressure by Trump and allies to get Ukraine to investigate Democratic political rival Joe Biden in a dramatic hearing that pitted Democratic and Republican lawmakers against each other.
House Intelligence Committee Chairman Rep. Adam Schiff, D-California (left), and ranking member Rep. Devin Nunes, R-Calif., watch as top US diplomat in Ukraine William Taylor leaves after testifying at a hearing of the House Intelligence Committee on Capitol Hill in Washington, on November 13, 2019. (AP)


Taylor said a member of his staff overheard a July 26 phone call between Trump and Gordon Sondland, a former political donor appointed as a senior diplomat, in which the Republican president asked about those investigations and Sondland told him that the Ukrainians were ready to proceed.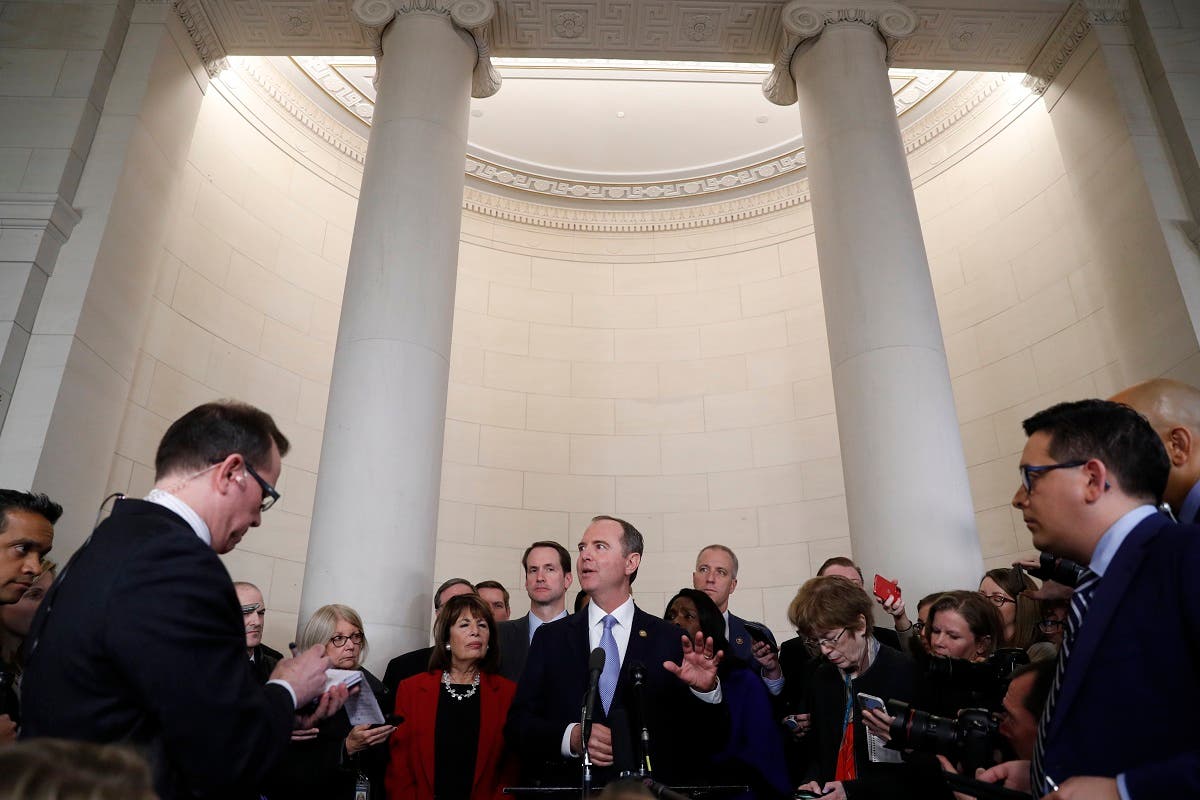 House Intelligence Committee Chairman Adam Schiff, D-Calif., talks to the media after a hearing with testimony on Capitol Hill in Washington, Wednesday, November 13, 2019. (AP)


At a White House news conference with Turkish President Tayyip Erdogan after the hearing ended, Trump said he knew "nothing" about the call with Sondland that Taylor said his aide overheard.

"It's the first time I heard it," Trump said.

David Holmes, a Taylor aide subpoenaed to testify behind closed doors on Friday in the impeachment inquiry, is the staffer who overheard the call that Sondland made to Trump from Ukraine, said a person familiar with the issue.

Republican lawmakers called Taylor's account hearsay and noted Ukraine's president has not said he felt pressured by Trump.
Historic session
'Star witness'
SHOW MORE
Last Update: Thursday, 14 November 2019 KSA 03:13 - GMT 00:13