An unprecedented spate of deadly wildfires raging across Oregon kept half a million people under evacuation alert on Friday even as weary firefighters took advantage of improved weather to go on the offensive against the blazes.

The fires have destroyed thousands of homes in days, making Oregon the latest epicenter in a larger summer outbreak of fires sweeping the western United States, collectively scorching a landscape the size of New Jersey and killing at least 25 people.

Although at least five lives were known to have been lost in Oregon this week, Governor Kate Brown has warned the death toll could grow far higher and said on Friday that dozens of people had been reported missing in three counties.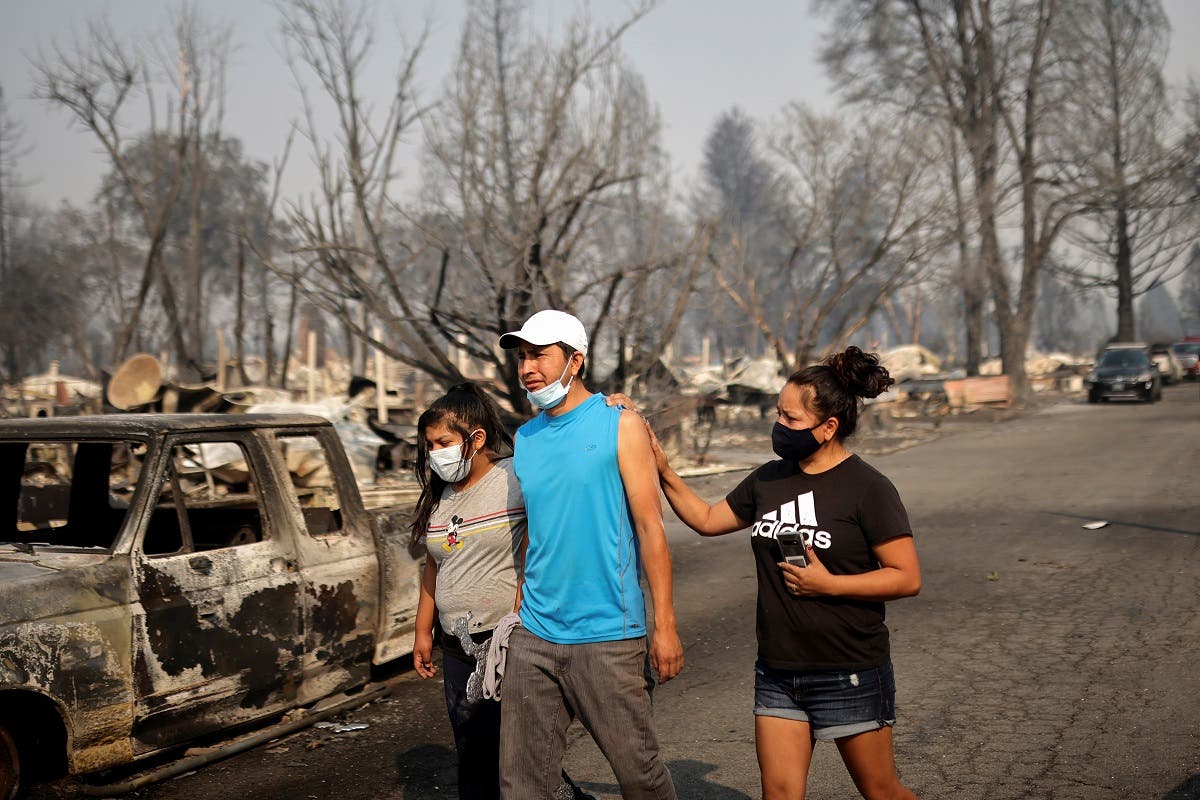 Sandra and Daniela Reyes comfort Isaias Reyes while visiting their damaged trailer home after the wildfires destroyed a neighborhood in Bear Creek, Phoenix, Oregon, U.S., September 10, 2020. REUTERS_168242335_RC24WI945JEW_RTRMADP_3_USA-WILDFIRES


Beatriz Gomez Bolanos, 41, told her four children to close their eyes while fires raged on both sides of their car during their escape from the Bear Creek Mobile Home Park south of Medford, even as embers rained rain down on their house.

"Everything is gone. We have to start again from nothing, but we are alive," Gomez Bolanos told Reuters by phone.

Authorities opened an arson investigation into that fire on Thursday.

Molalla, a community about 25 miles (40 km) south of downtown Portland, was an ash-covered ghost town after its more than 9,000 residents were told to evacuate, with only 30 refusing to leave, the city's fire department said.

The logging town was on the front line of a vast evacuation zone stretching north to within 3 miles (4.8 km) of downtown Portland. The sheriff in suburban Clackamas County set a 10 p.m. PDT (0500 on Saturday GMT) curfew to deter "possible increased criminal activity."

Governor Brown told a news conference that more than 500,000 people were under one of three evacuation alert levels, advising them to pack and be vigilant, to be ready to flee at a moment's notice, or to leave immediately. About 40,000 of those had already been ordered to leave.

In neighboring Washington state to the north, online video from the Tacoma area showed fires in a residential area setting homes ablaze and localsscurrying to warn neighbors.

"Everybody out, everybody out!" a man screamed as firefighters tried to douse the flames.

After four days of treacherously hot, windy weather, a glimmer of hope arrived in the form of calmer winds blowing in from the ocean, bringing cooler, moister conditions that helped firefighters make headway against blazes that had burned largely unchecked earlier in the week.

"The weather is going to be favorable for us," said Doug Grafe, fire protection chief for the Oregon Department of Forestry, adding that the break in the weather was forecast to continue into next week.
SHOW MORE
Last Update: Saturday, 12 September 2020 KSA 19:06 - GMT 16:06