A specialty of the Levant region, knafeh is a syrup-soaked cheese pastry dessert made of vermicelli or semolina dough. Traditionally, the shredded vermicelli is stuffed with white cheese, a thick syrup of sugar and a few drops of rose water is poured all over the pastry after it is cooked.
In 2009, a Palestinian pastry baker from Nablus set a Guinness World Record for baking the world's largest knafeh. The dessert reportedly 74 meters long, 1.05 meters wide, and weighed 1,756 kilograms. Around 600 kilograms of cheese, 300 kilograms of sugar, and 40 kilograms of pistachios were used in the making of the Arabic pastry. 170 bakers from different knafeh shops assisted in cooking the record-breaking dessert, which cost around $15,000 to make.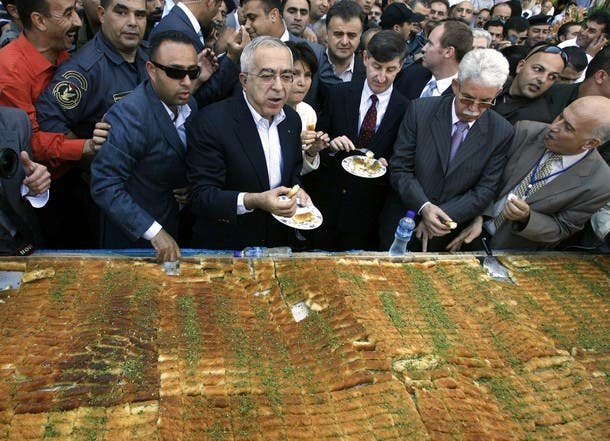 Former Palestinian Prime Minister Salam Fayyad (4th L) and former U.S. Consul-General in Jerusalem Jacob Walles (3rd R) eat from the largest knafeh. (File photo: Reuters)
In 1948, Palestinian Al-Haj Mahmoud Habibah immigrated from his hometown of Nablus to Amman, Jordan, where he quickly established "Habibah," one of the first knafeh and sweets joints in the country. Today, it has become one of the main stops for knafeh lovers.
SHOW MORE
Last Update: Wednesday, 20 May 2020 KSA 09:49 - GMT 06:49