Thanks to President Trump, the US Congress has more women representation now. Well, this is what some political commentators believe.
A few insist this surge is due to the ongoing feminist renaissance while others say these victorious women want better social reforms.
Reasons for record women entering the Congress varies from one political pundit to the next. However, many agree that 2018 is another "Year of the Woman", as it was in the 1992 elections. The number of women in Congress had almost doubled.
One factor could have been sexual assault claims against a Supreme Court nominee, similar to Kavanaugh's case this year.
According to CNN, the 2018 midterm stage was set when a record 256 women won House and Senate primaries.
Many of the women who entered Congress, have set historic precedence. In several firsts for the US Congress, two native American women Democrats Deb Haaland and Sharice Davids were elected.
The first Muslim women, Democrats Ilhan Omar and Rashida Tlaib were elected. Republican Marsha Blackburn became Tennessee's first female Senator and Republican Kristi Noem became South Dakota's first female Governor.
Michigan Democrats elected women to all state-wide offices i.e. Governor, US Senator, Attorney General and Secretary of State.
So, can this historic entry of women to the Congress be credited to Mr. Trump and his policies? Maybe. Or maybe not entirely.
The nationwide historic protest by women after his inauguration ceremony is on record. Just over 300 women filed to run for Congress in 2016. Two years into his Presidency, in 2018 the number of women candidates rose to 529.
Democrats vs Republicans
The Democrats saw a rise in female applicants post-2016, finalizing half as main candidates.
In a breakdown of women applicants for 2018 Congress, a BBC report mentioned 387 applicants as Democrats and 142 as Republicans.
Democrats chose 198 of these women as official nominees. Whereas, 59 women were nominated by the Republicans.
Out of the 110 plus women who won, more than 95 women are Democrats and 15 are Republicans.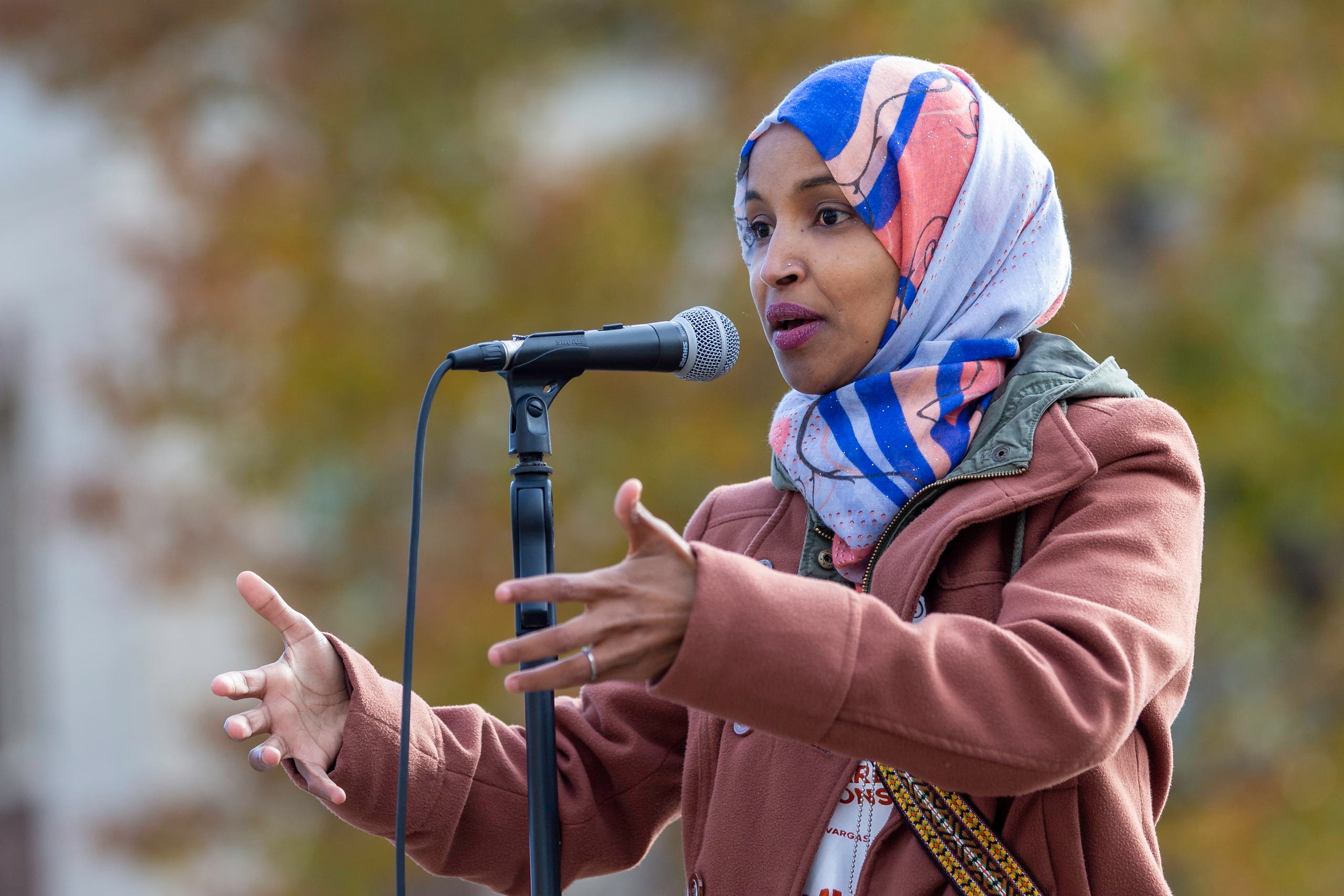 Ilhan Omar speaks to a group of supporters at University of Minnesota in Minneapolis, Minnesota, on November 2, 2018. (AFP)
First Muslim women:
Thirty Seven-year old Democrat Ilhan Omar became the first Somali-American Muslim in the US Congress, defeating Republican Jennifer Zielinski. Ironically, President Trump has banned Somalis from entering the US.
She was a teenager when she came to the US as a refugee while 42-year-old Democrat Rashida Tlaib is also one of the first Muslim women in Congress from Michigan. She was born to Palestinian migrants in Detroit.
Democrats Ayanna Pressley and Jahana Hayes are the first Black Congress women from Massachusetts and Connecticut respectively.
Interestingly, some women who dethroned male incumbents in Congress have a varied approach on feminism.
Democrat Sharice Davids is the first Native American woman who defeated four-term Republican incumbent Kevin Yoder, to become the first openly LGBT person from Kansas.
Republican Marsha Blackburn defeated former Democrat Governor Phil Bredsen, to become Tennessee's first female Senator. She prefers to be called "Congressman".
Analysts believe the agendas of this heterogeneous group of women is as diverse as them.
The cognizance of inequality faced by women and minorities has been a driving force for a few.
Movements such as MeToo, International Women's Strike, BlackLivesMatter raised awareness in a divergent American society.
Democrat Alexandria Ocasio-Cortez is the youngest Congress woman elected. She was waiting tables this time last year and her campaign also highlighted that people like her were not expected to be in politics. She is vocal against "immigration politics".
However, not all winning Democrats oppose "immigration laws". Kirsten Sinema defeated Republican Martha McSally to win the vacated Republican seat in Arizona. She is a moderate Democrat, opposing 'Medicare for All' and favors Trump's 'Immigration Enforcement Laws'.
An uphill task awaits zealous first-timers like Alexandria Ocasio-Cortez, Ilhan Omar, Deb Haaland who campaigned for progressive platforms 'Medicare for All' and a 'Green New Deal'.
They have two years to prove their grit, before The House elects new members.
Time and action will decide if their vision leads or looses its way inside Washington's powerful corridors.
______________________
Faeza Dawood is a broadcast journalist with a decade of experience covering news, making documentaries and anchoring at prominent Pakistani news channels. Pakistani by origin, and born and raised in Dubai, Faeza was a key member of the launch team of one of Pakistan's first news channels. She watches Pakistani politics closely through her program, Focus with Faeza, and has covered four national elections, conducting interviews with heads of government and leading politicians. She also likes sharing her work experience as guest lecturer. Faeza's on-camera interviews/reports are streamed on her website, www.focuswithfaeza.com and her twitter handle is @FaezaDawood.
SHOW MORE
Last Update: Wednesday, 20 May 2020 KSA 09:51 - GMT 06:51