United Continental Holdings Inc shares fell as much as 4.4 percent on Tuesday after a worldwide backlash erupted over a passenger who was dragged off one of the carrier's overbooked US flights.
Videos that showed a man who appeared to be Asian being dragged down the aisle on his back by his hands, body limp, bleeding from the mouth, glasses askew and shirt pulled up above his navel; sparked an outcry on Monday when the footage went viral.
On Chinese social media, the incident attracted the attention of more than 340 million users on the Weibo platform by Tuesday morning. United Continental got about 14 per cent of its 2016 revenue from flying Pacific routes.
In a letter circulated to employees on Monday and seen by Reuters, United Chief Executive Oscar Munoz declined to apologize for the rough manner in which the passenger was handled, instead expressing regret that "this situation arose" and telling staff that "there are lessons we can learn from this experience."
"While I deeply regret that this situation arose, I also emphatically stand behind all of you, and I want to commend you for continuing to go above and beyond to ensure we fly right."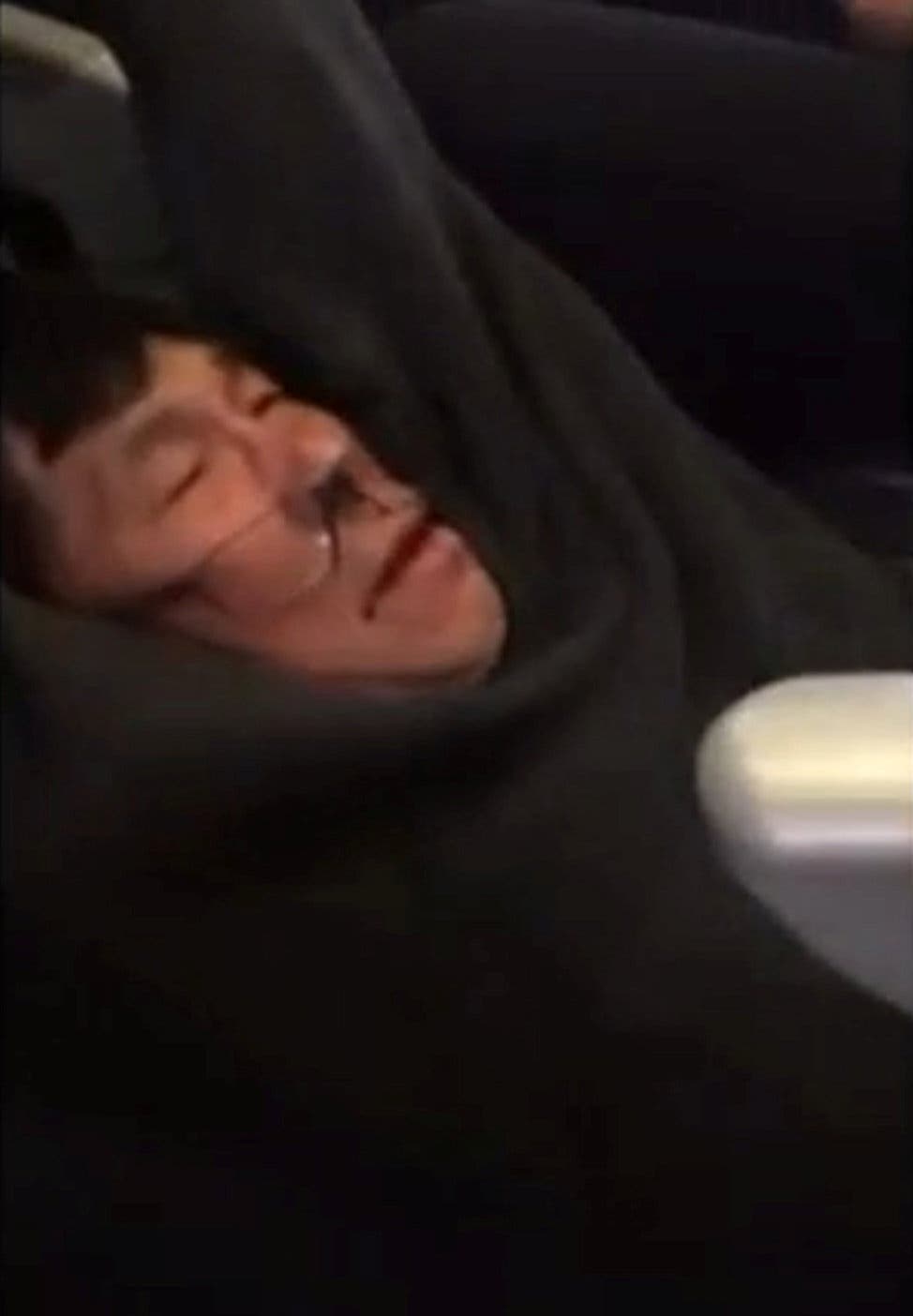 Videos that showed a man who appeared to be Asian being dragged off United Flight 3411. (Reuters)
Much of the adverse response centered on whether the man would have faced the same treatment if his ethnic background had been different.
According to Tyler Bridges, a passenger who was on board throughout the flight from Chicago to Louisville, Kentucky, the man who was dragged off the flight before takeoff said repeatedly that he was being discriminated against because he is Chinese.
"He said, 'I'm a doctor; I need to see patients," said Bridges, a civil engineer from Louisville who recorded much of the incident on his phone. Many Weibo users, including comedian Joe Wong and e-commerce company JD.com founder Liu Qiangdong, called for a boycott of United.
"This makes me recall the nightmare experiences I had the three times I flew with United Airlines," Liu told his over 3 million followers. "United's service is definitely the worst in the world!" In the United States, social media outrage continued, with the incident trending on Twitter for the second consecutive day.
Many users promoted hashtags #NewUnitedAirlinesMotto and #BoycottUnitedAirlines.
Twitter user Ethan @Warbot2003 wrote: "We Put The Hospital In Hospitality #NewUnitedAirlinesMottos."
Another Twitter user, Jim MacD @jim_macd tweeted: "We can re-accommodate you the easy way... or the hard way #NewUnitedAirlinesMotto."
In heavy trading, shares of United Continental pared losses at mid-afternoon to about 3 per cent at $69.42. The decline shaved about $600 million from the company's market value and made the stock among the biggest percentage decliners in the S&P 500.
Late on Monday, United Airlines had also reported its March operational results, saying that it expected first-quarter consolidated passenger unit revenue to be about flat with a year earlier. UBS analyst, Darryl Genovesi, said in a research note that the revenue projection "may be seen as a modest beat relative to investor expectations."
United plans to report quarterly results next week. The S&P composite 1500 airlines index was slightly changed after trading in negative territory earlier, while the broader S&P 500 declined 0.3 percent.
American Airlines Group shares rose 2.8 per cent after the company raised its quarterly forecast for a key revenue metric.
SHOW MORE
Last Update: Wednesday, 20 May 2020 KSA 09:53 - GMT 06:53