The consolidated balance sheet of Saudi banks for the month of June shows that total bank credit to private and public sectors (excluding T-bills and government bonds) reached SR1.32 billion, surging by an annualized 8.9%, the National Commercial Bank said it its August "Saudi Economic Review".
This rate of growth marks the largest deceleration since September 2011, and is due to a single-digit growth in private sector credit which accounts for 96.9% of total bank credit. Bank credit extended to the private sector rose by 9.8% Y/Y in June, standing at SR1.28 trillion, whereas public sector credit contracted by 9.2% in the same period.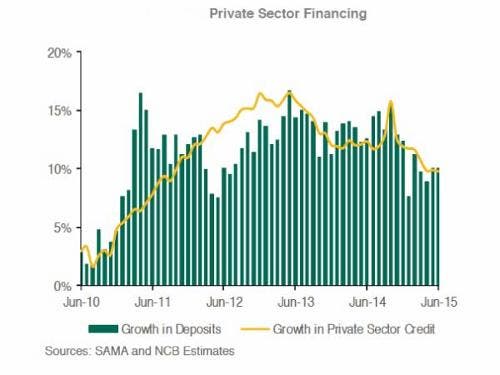 saudi gazette
The Kingdom is expected to pass a short-term moderation phase owing to the fiscal challenges stemming from lower oil returns. Internal dynamics related to household spending as indicated by the value of retail loans (excluding finance leasing and margin lending), credit card loans, and real estate loans register a moderation to 8.1% Y/Y in H12015, compared to 10.9% Y/Y over the same period last year.
Retail loans which include loans for renovation and home improvement, vehicles and transport means extended by Saudi banks in 2015 totaled SAR627.8 billion by the end of 2Q, up by 4.7% Y/Y.
Over the same period, total fresh consumer credit card loans reached SAR19.2 billion, surging by 10.8% Y/Y. On the other hand, new retail real estate loans by banks totaled SR193.7 billion by mid-2015, surging by 20.2%.
Bank credit classified by economic activity shows that 20.5% of credit in the first half of the year was commerce-related, while 12.5% was related to manufacturing and processing, and 7.2% went into building and construction.
In value terms, bank credit for commercial purposes was valued around SR532.5 billion, surging by 11.7%Y/Y. Credit for manufacturing and processing reached SR326.4 billion while credit for building and construction totaled SR182.7 billion, leading to annualized growth rates of 8.2% and 12.3%, respectively.
Banks loans portfolio continue to move in response to the expansion in their depositary base which has been in deceleration since the beginning of the year, falling to lower double-digit growth. The annual growth in deposits recorded a 10.1% Y/Y upturn in June, below last year's average of 13.7%.
Growth in deposits is largely influenced by growth in demand deposits, which account for 65.8% of deposits in Saudi banks, standing at SR1.1 trillion. The second largest deposit type is time and savings which constitute 22.7% of deposits at SR373 billion.
In June, demand deposits posted growth of 15.7% Y/Y, while time and savings rose 3.5% Y/Y. The drawdown of reserves and excess liquidity led to diminishing deposits of time and savings as the government rebalances its fiscal position.
Banks, however, maintain high liquidity levels as loan/deposit ratio is at a high 80.1%. Looking into loans by maturity, we note that short-term loans account for 51.7% of Saudi banks' portfolio, while medium and long-term loans account for 17.4% and 30.9%, respectively.
This high capacity utilization and long-term horizon indicate optimistic views on the Saudi monetary situation despite the turmoil in the oil market.
The interest rate environment remains low as the 3-month SAIBOR remains at 77 bps, which is lower than last year's average of 97 bps. However, we expect to see a rise in SAIBOR in the short term as lesser liquidity resulting from the development bond purchases may tighten credit availability for some banks.
This article was first published in the Saudi Gazette on September 5, 2015.
SHOW MORE
Last Update: Wednesday, 20 May 2020 KSA 09:46 - GMT 06:46