Most days, you can find Dayaram Kushwaha and his wife, Gyanvati, hauling bricks for stonemasons in a booming northern suburb of New Delhi. They bring their five-year-old son, who plays in the dirt while they work.

But now a hush has come over the clattering construction site, silenced by India's nationwide order to shelter in place to prevent the spread of the novel coronavirus. Site managers no longer come to the intersection where Dayaram and many others stand, hoping to pick up work.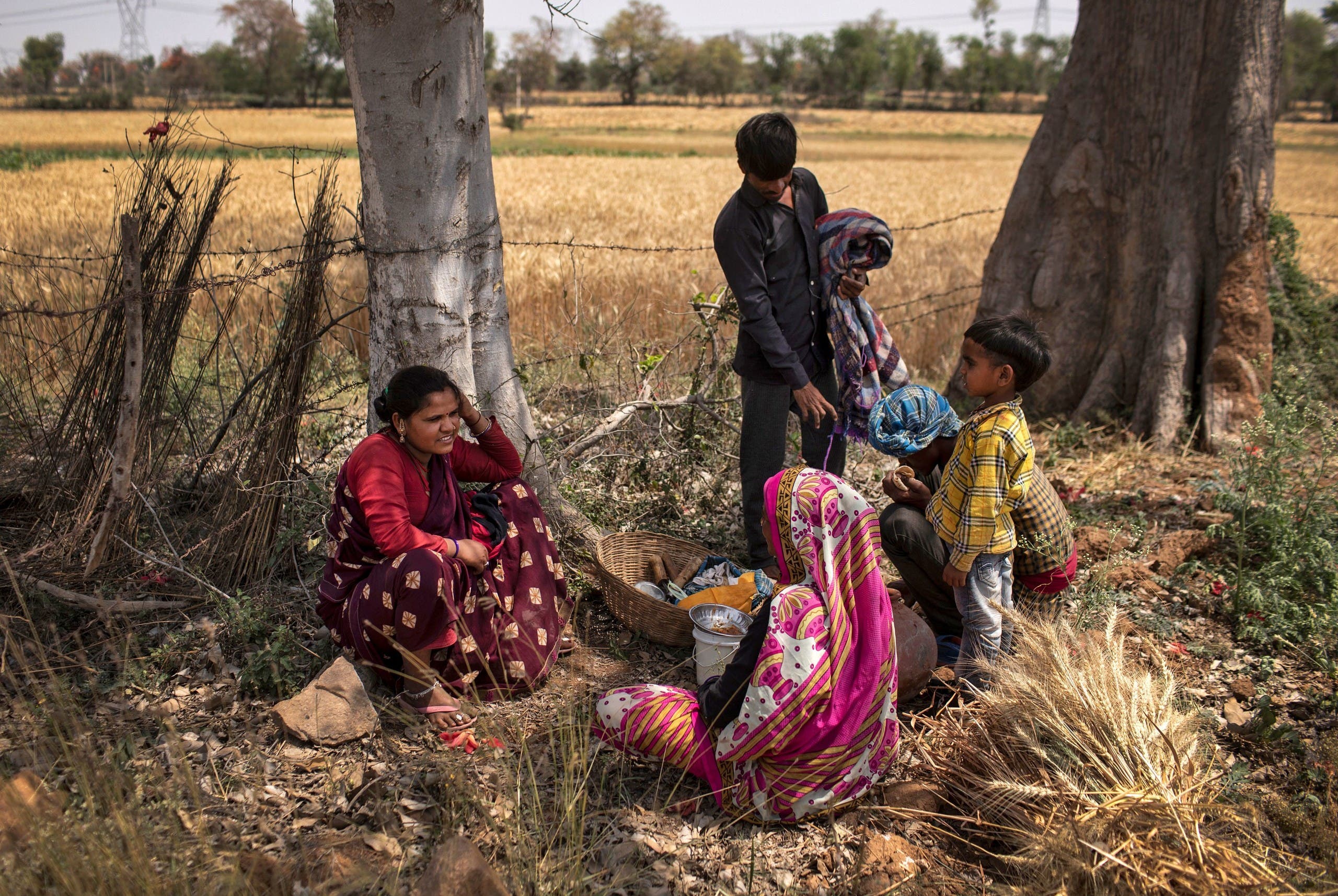 Dayaram Kushwaha eats lunch with his family as they take a break from harvesting wheat, during nationwide lockdown in India to slow the spread of the coronavirus, in Jugyai village in the central state of Madhya Pradesh, India, on April 8, 2020. (Reuters)
Dayaram, 28, looked around. Thousands of other migrant workers were doing the same thing, in one of the biggest mass movements of people in the country since the partition of India and Pakistan in 1947.

It began to rain. Dayaram's thoughts turned to his other son, 7-year-old Mangal, who had been left behind in the village with elderly relatives because it was too hard to care for two children while he and his wife worked. He missed him.

In the middle of a pandemic, there was one consolation: "At least I will be with him."

For decades, villages across India have been emptying out.

To many people, the decision is one of simple arithmetic: to earn $6 per day instead of $3 back home. In areas like the parched Bundelkhand region of Madhya Pradesh state, home to Dayaram's ancestral village, living off the land has become increasingly difficult as rainfall recedes.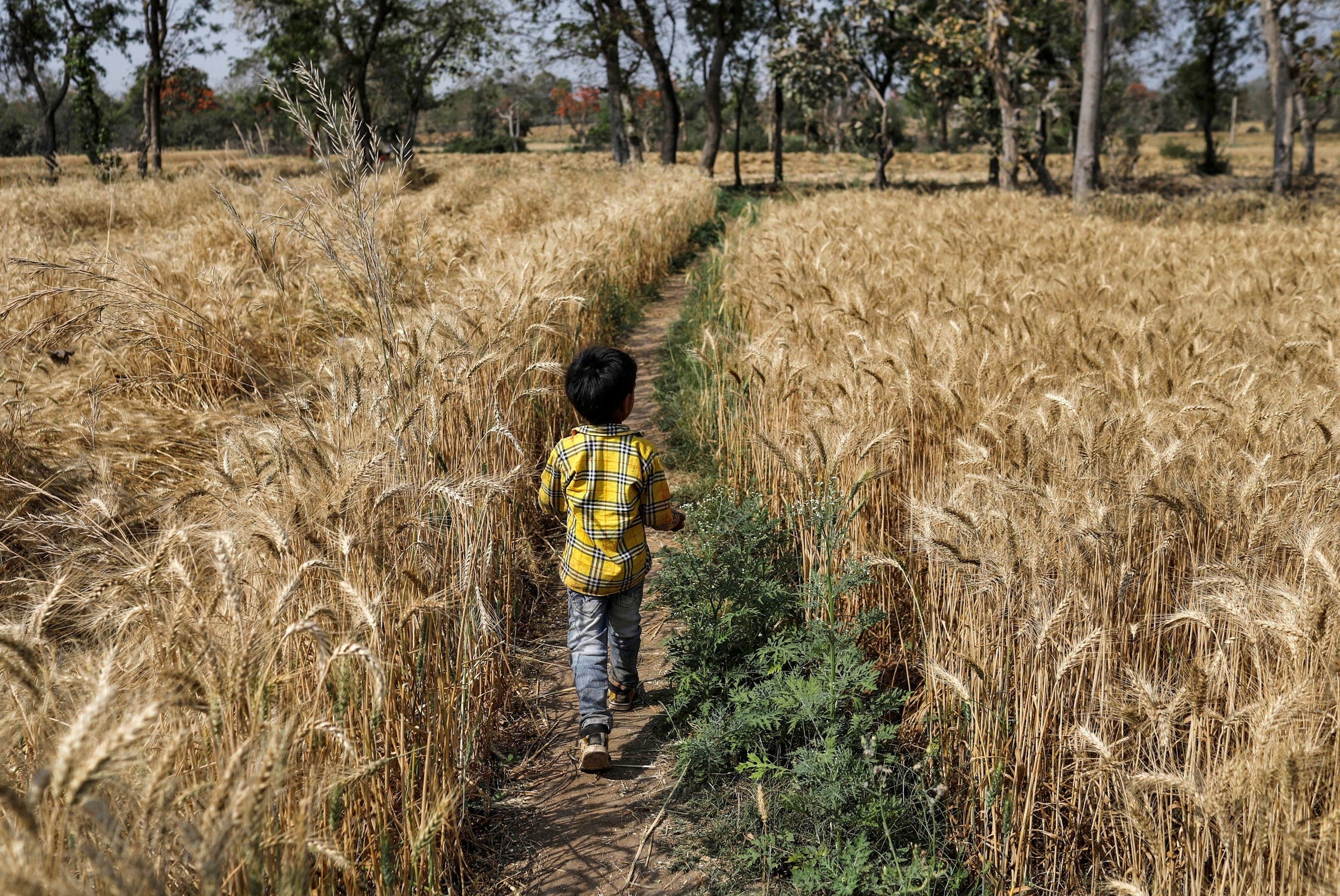 Shivam Kushwaha, son of Dayaram Kushwaha and Gyanvati, walks through a field during nationwide lockdown in India due to the coronavirus. (Reuters)
But after the shutdown, the cities themselves began to empty. Dayaram and his family were among the first to move. As the days went on, and the situation became more desperate, hundreds of thousands of migrants emerged from factories and workplaces in search of a way home. Indian officials say the shutdown is necessary to beat coronavirus in the densely populated country of 1.3 billion people, with a health infrastructure that can ill afford a widespread outbreak.

But for Dayaram and many of India's estimated 140 million migrant laborers, the epidemic is much more than a threat to their health – it endangers their very economic survival.

In the shutdown, India has banned domestic and international travel, and factories, schools, offices and all shops other than those supplying essential services have been shut. Taken together, the measures amount to one of the harshest lockdowns in the world.

Cases here have spiked to nearly 17,000, with more than 500 deaths. On April 14, the government extended the curbs until at least May 3, prompting clashes between police and migrants trying to leave India's financial capital, Mumbai.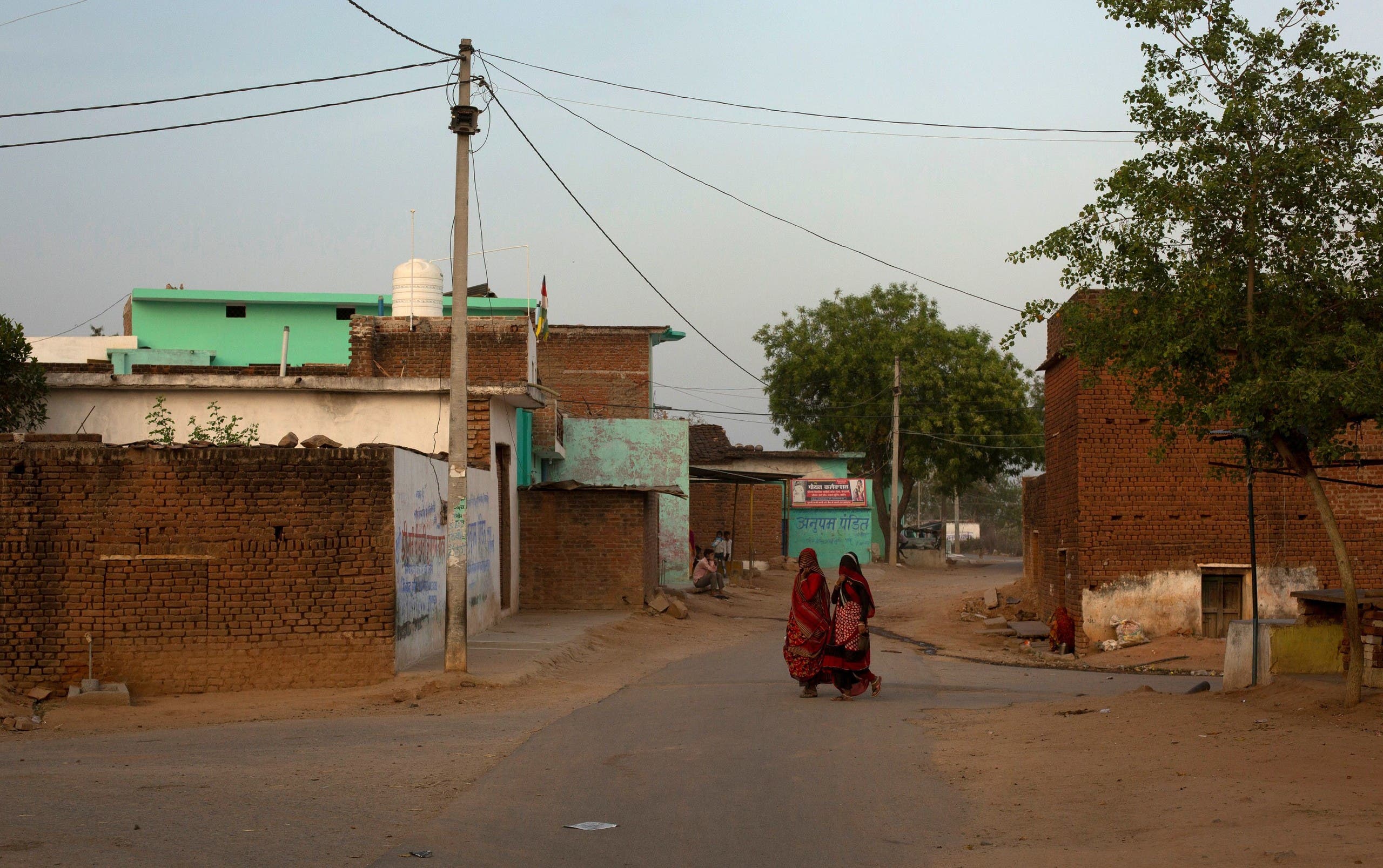 Women walk through an empty street during nationwide lockdown, in Jugyai village in the central state of Madhya Pradesh, India, on April 8, 2020. (Reuters)
Migrants are the backbone of the urban economy. Construction workers such as Dayaram are a necessity for India's rapidly expanding cities. Others clean toilets, drive taxis and deliver takeout. They predominantly earn daily wages, with no prospect of job security, and live in dirty, densely populated slums, saving money to send back home.

That money is essential to the young and elderly left behind in villages. Around $30 billion flows from urban to rural areas in India each year, according to government and academic estimates.

Now that infusion of money, transferred through rural banks or in worn stacks of rupees borne home on rare visits, has come to a halt.
Turn back time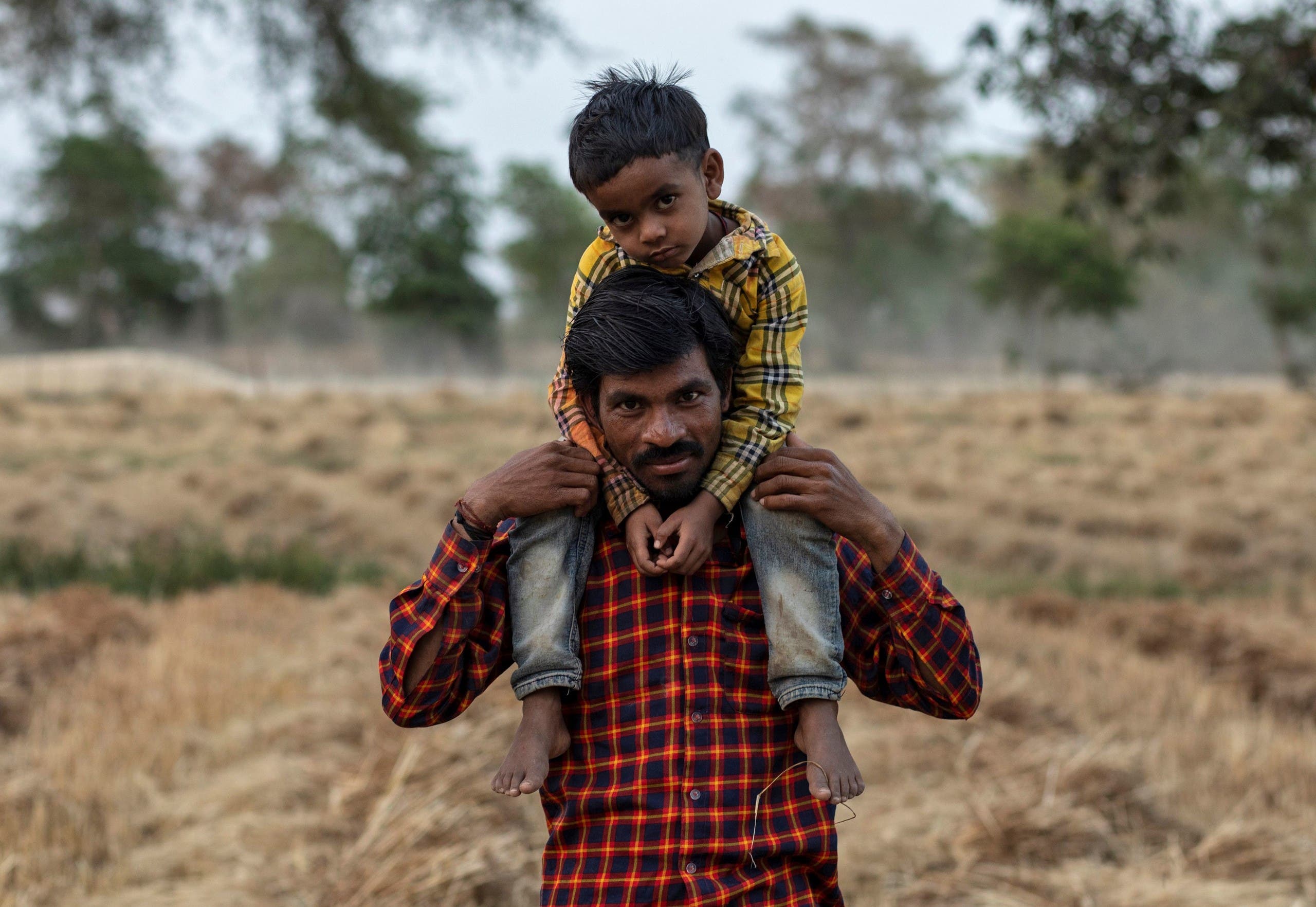 Dayaram Kushwaha poses for a portrait with his 5-year-old son, Shivam, after he returned to his home from New Delhi during nationwide lockdown in India due to coronavirus pandemic. (Reuters)
In a dingy room in the house filled with sacks of grain and clothes, an unframed poster hangs on the wall. It depicts a handsome red-roofed house on a lake, sun setting behind snow-capped mountains. A pair of mallard ducks fly overhead.
"We are like garbage"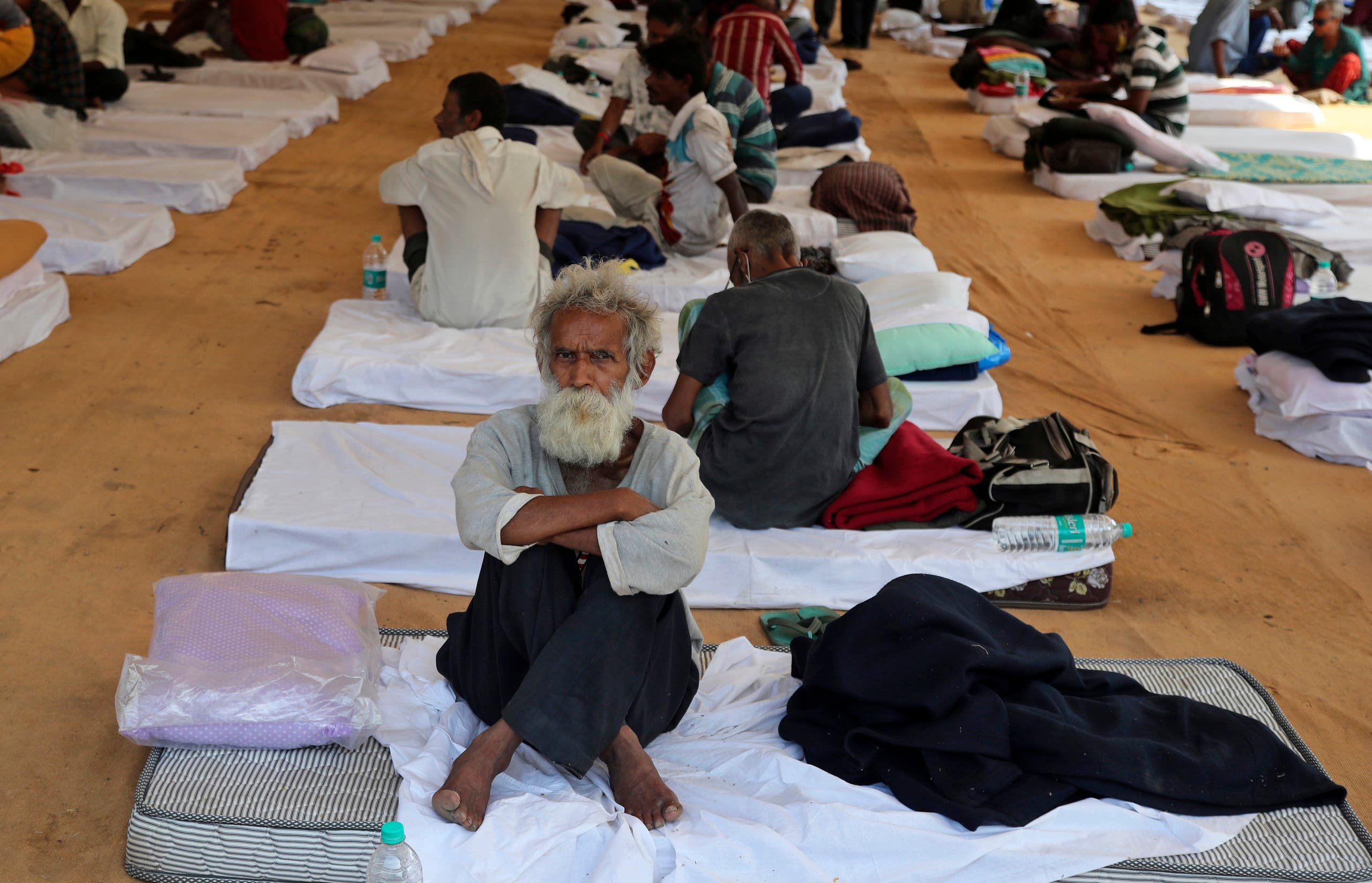 People rest at a shelter set up for migrant workers from other Indian states affected by the coronavirus lockdown in Mumbai, India, on Monday, April 6, 2020. (AP)
He's also the only one with a ration card, a sore point for those who migrated to Delhi. The Targeted Public Distribution Scheme allows India's poorest to purchase 5 kilograms of subsidized grains per month each. But because the migrant workers are no longer permanent residents, they're left without access to the food doled out from a nearby grain silo.
Many people in New Delhi would struggle to find Alipur, the Delhi suburb where they settled, on a map. It rarely makes the national news but for misfortune involving laborers: 25 children rescued by authorities in a series of warehouse raids; four men, including two brothers, crushed to death by sacks of rice.

Dayaram says his heart sank when he saw the crowded, tarpaulin-roofed slum where the family slept 12 to a room. His first thought was to run away back to the village.
But he stayed. What else could he do?
No alternative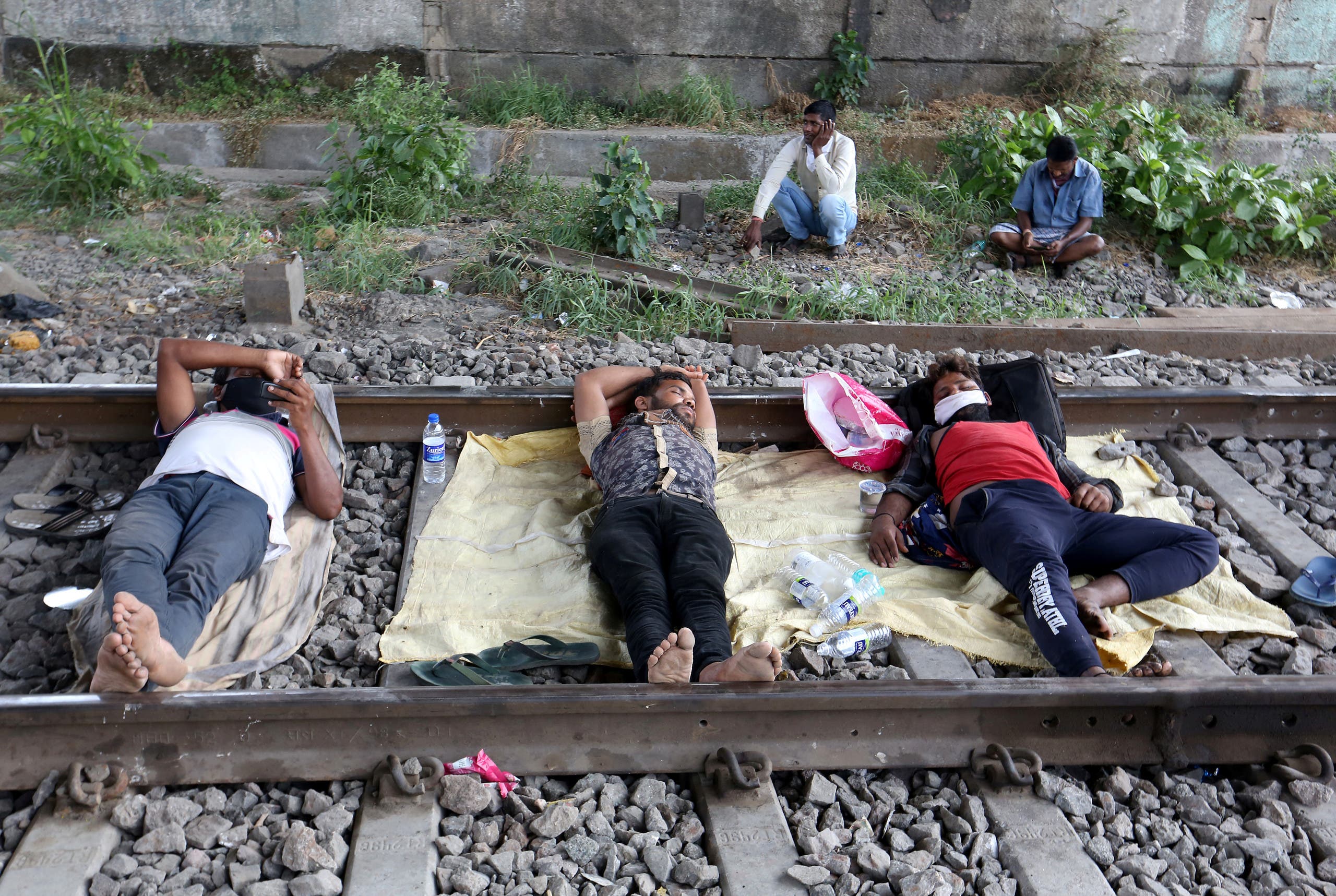 Migrant workers rest on a railway track during a 21-day nationwide lockdown to slow the spreading of coronavirus disease (COVID-19) in in Mumbai, India, on April 2, 2020. (Reuters)
But soon, Dayaram said, he would be forced to borrow again from local money lenders, charging interest at 3 percent a month – a rate that can quickly spiral into unpayable debts.
SHOW MORE
Last Update: Wednesday, 20 May 2020 KSA 09:57 - GMT 06:57