When doctors first confirmed Yemeni port official Saleh had contracted COVID-19, authorities raced to trace his movements to try and protect one of the world's most vulnerable countries.

But almost three weeks on, they still do not know whether Yemen's first laboratory-confirmed case is really the individual at the root of what could be an unusually devastating outbreak.

The information gap reflects Yemen's inability to detect, let alone repel, an infection humbling far wealthier nations.

Read the latest updates in our dedicated coronavirus section.

Split into rival power centres, its medical infrastructure shattered by war and seen by the United Nations as the world's worst humanitarian crisis, Yemen is handicapped by its own destitution in its fight against the new coronavirus.

Altaf Musani, the head of the World Health Organisation (WHO) Yemen mission, said transmission of the disease in Yemen could be in what he called a phase of "individual cases", a possible prelude to clusters of infection.

But it is proving impossible to identify so-called "patient zero", an important step in tracking and tracing all those potentially exposed to infection and containing an outbreak.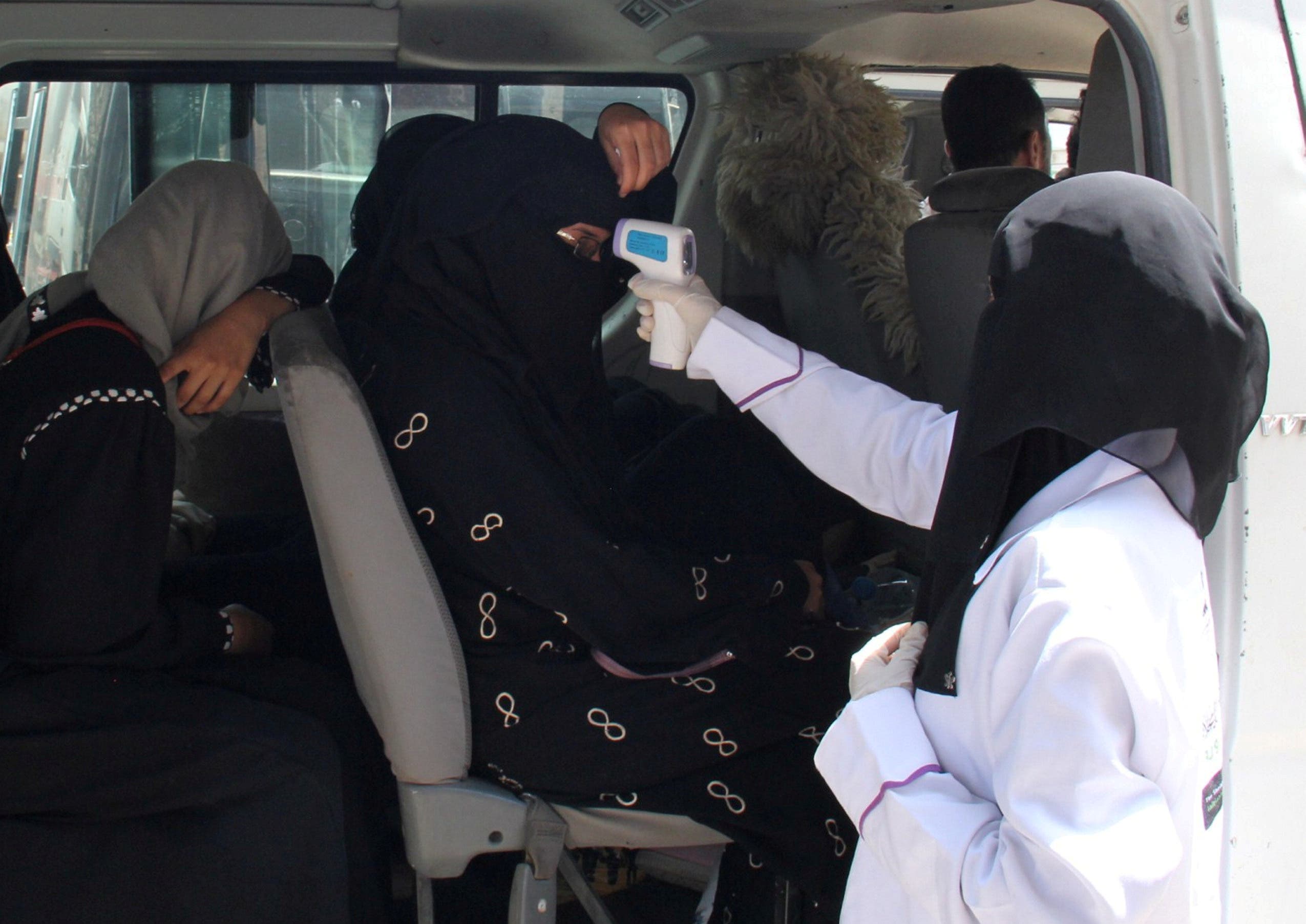 A health worker takes temperature of passengers of a van, amid fear of coronavirus disease, on the outskirts of Taiz, Yemen on April 12, 2020. (Reuters)
Saleh, a heavy smoker with heart problems whose condition has been described as stable, was tested on April 7 at a medical facility in the southern Ash Shihr port after showing symptoms. On April 10 he was tested again: Positive on both occasions.

Health officials then scrambled to identify more than 150 people in the southern Hadhramout region who had met and dealt with the 60-year-old in the two weeks before he was diagnosed, the head of the national coronavirus committee said.

"All the close contacts were monitored and some showed some symptoms but were negative when they were tested," Ali al-Walidi told Reuters. Instead, their coughs and fever were normal flu.

Read more: UN Envoy Martin Griffiths on developments, efforts in Yemen amid coronavirus crisis

Some 20 people including Saleh's family who were in close contact with him were ordered to self-isolate for two weeks.

Authorities concluded they could not say if Saleh, whose full name is withheld due to privacy reasons, was Yemen's first spreader of the infection due to inadequate testing capacity.

"We spent an hour-and-a-half with him in the ambulance to transfer him to an isolation room in another hospital, it felt like a year-and-a half," said nurse Majdi Baqhoum, worried to be dealing with a COVID-19 patient for the first time.

Ash Shihr port was shut for deep cleaning for a week and Hadhramout, Yemen's largest province, imposed a partial curfew and all its workers were ordered to self-isolate for two weeks.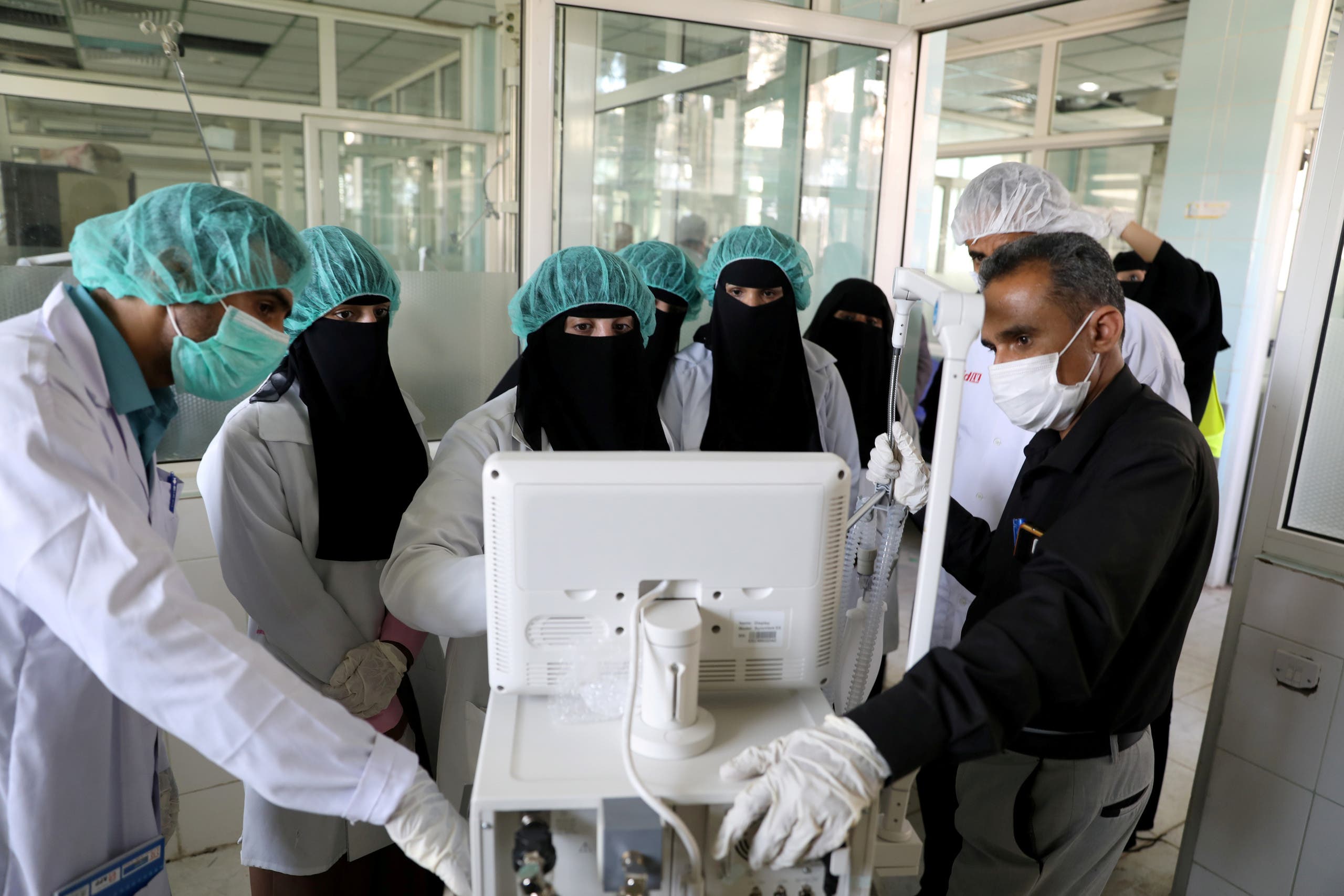 Nurses receive training on using ventilators, recently provided by the World Health Organization at the intensive care ward of a hospital allocated for coronavirus patients in preparation for any possible spread of the disease, in Sanaa, Yemen on April 8, 2020. (Reuters)
"We will keep investigating"
SHOW MORE
Last Update: 06:58 KSA 09:58 - GMT 06:58