UAE reported on Saturday 726 new coronavirus cases and two deaths, raising the total number of confirmed COVID-19 cases in the country up to 33,896 and the death toll up to 262.
آخر الإحصائيات حول إصابات فيروس كورونا المستجد (كوفيد 19) في الإمارات

The latest update of Coronavirus (Covid 19) in the UAE#خلك_في_البيت#ملتزمون_يا_وطن#فيروس_كورونا_المستجد #كوفيد19#وزارة_الصحة_ووقاية_المجتمع_الإمارات#stayhome#coronavirus#covid19#mohap_uae pic.twitter.com/4nl8zAU3eO

— وزارة الصحة ووقاية المجتمع الإماراتية - MOHAP UAE (@mohapuae) May 30, 2020
Al Hosani: It is too early and we cannot say that the spread of Covid-19 has been curbed. It all depends on our commitment to precautionary measures put in place and abiding to health instructions and practices particularly social distancing. #UAEGov.

— UAEGov (@uaegov) May 30, 2020
New lifestyle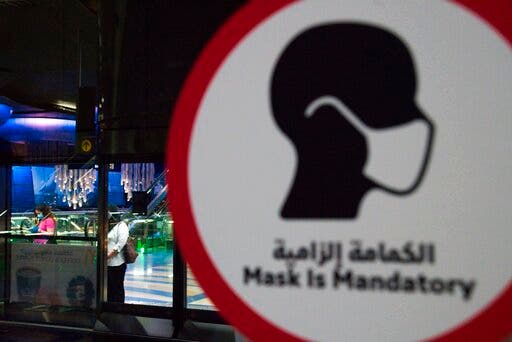 A commuter wearing a mask and disposable gloves due to the coronavirus pandemic waits for the driverless Metro at a station in Dubai, United Arab Emirates, Sunday, April 26, 2020. (AP)
Rise in cases with re-opening?
Al Hosani: With business activities resumed, we might see an increase in cases if the public doesn't act responsibly and continue to abide by measures in place. It is the responsibility of every one, citizens and residents, to cooperate and show their full commitment. #UAEGov.

— UAEGov (@uaegov) May 30, 2020
SHOW MORE
Last Update: Sunday, 31 May 2020 KSA 07:17 - GMT 04:17