The horrific twin bomb attacks in Turkish capital Ankara on Saturday that killed at least 95 people and injured about 246 once again triggered social fears about security for civilians in the country.
The blast, which rocked a peace rally organized by unions, some political parties and mainly Kurdish-affiliated civil society groups, is considered one of the bloodiest terrorist attacks in the country.
The body parts of victims, which were dispersed by the explosions, were covered with flags and banners. The impact of the bombs was felt in the nearby high-rise office buildings.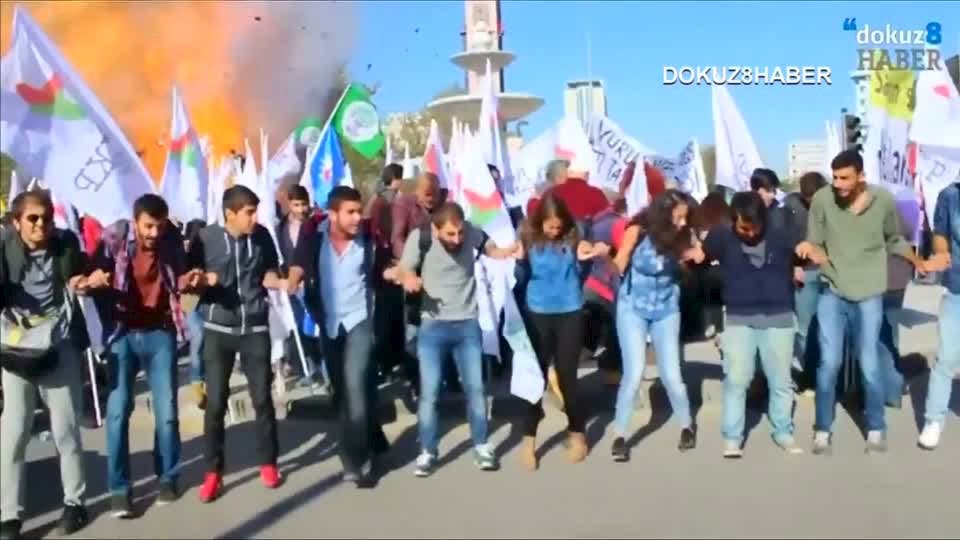 Still image taken from video shows protesters dancing during a peace rally as a blast goes off in Ankara. (Reuters)
The state media watchdog imposed a temporary broadcasting ban on images of the blast on social media to avoid panic spreading.
Government officials confirmed that it was a terrorist attack and announced that they were investigating the perpetrators.
Following this, the Turkish National Police announced that the suicide bomber may be linked to ISIS and warned about the presence of six ISIS suicide bombers within Turkish territories. But no terrorist group has yet claimed responsibility for the attacks.
However, as a reaction to the widespread calls for his resignation, the Turkish Minister of Interior denied any security weaknesses on the ground.
"Like other terror attacks, the one at the Ankara train station targets our unity, togetherness, brotherhood and future," President Tayyip Erdogan said in a statement, and called for solidarity and determination.
The government also declared three days of national mourning, which comes three weeks ahead of a critical parliamentary election in the country.
In June, a similar rally organized by the pro-Kurdish Democratic People's Party, or HDP, was bombed in southeastern province of Diyarbakir, again ahead of the general elections. The attack was allegedly carried out by a suspect close with links to ISIS.
'They died in front of my eyes'
Thousands gathered in many cities after the Ankara attacks to protest the ongoing bloodshed and interminable chaos.
Handan Akkaya, a Kurd, was one of the lucky ones who was present at the rally. She had traveled to Ankara by bus from Istanbul where she lives. She fortunately survived the attack just with light injuries although she saw the burnt flesh of many.
"Many of my friends died in front of my eyes. One of the bombs exploded just behind the place we were standing at for the final preparations of the rally," Akkaya told Al Arabiya News.
An injured man hugs an injured woman after an explosion during a peace march in Ankara. (Reuters)
Akkaya, who was angered by what she described as scarce security measures, said that she saw no body searches being carried out by police on those entering the rally venue – a serious security gap which was also confirmed by other witnesses.
"We only saw the police forces after the attack when they were pouring tear gas and water canons toward us instead of helping people flee from that hell", Akkaya said.
"I have always supported peace and democracy for this country. I will continue with this despite all these inhumane attacks," she added.
Cenap Cakmak, Professor of international law and politics at Eskisehir Osmangazi University, criticized those who blamed the attack on "big powers seeking to destabilize Turkey."
"Everything happens for a reason; and we [the state] and our decisions are the reason for this. This is the result of our previous indifference to radicalism, extremism, blatant cases and examples of racism and indiscrimination," Cakmak told Al Arabiya News.
Internal upheaval
Cakmak said it is the whole nation that is affected by this; and "if Turks do not have a sense of nationhood, then we have a huge problem."
"All of us, but particularly the politicians, need to realize that we are moving fast towards an internal upheaval, perhaps eventually ending up a civil war," he noted.
"Those who are in charge also have to realize that Turkey has become extremely susceptible to mass violence. This is not a country that the EU would like to accept as a member, this is not a country that Middle East countries would like to emulate and this is not a country that can inspire others," Cakmak added.
Litmus test
Metin Gurcan, a security analyst and a former special-forces officer, said that the bombs exploded near the main train station in Ankara; a strategic location 5 km away from the country's intelligence agency and 3 km away from the Turkish National Assembly building.
"This blast is a litmus test to prove the willingness and capacity of the Turkish state in revealing not only the perpetrators but also instigators of this attack. There was a huge intelligence weakness here," Gurcan told Al Arabiya News.
"And it should do it in a transparent and accountable manner to give the society necessary safeguards that the state takes care of people's security. Otherwise, the state will lose its legitimacy," he added.
According to Gurcan, one of the ways to decrease the increased social trauma in the country is to declare the victims of the blast as "martyrs" and give their families an indemnity.
"We should not neglect civilian security for the sake of state security. There is a need for a re-prioritization of security measures in the country. Such a blast would probably not have occurred if the rally had involved high-level officials from the government," he added.

SHOW MORE
Last Update: Wednesday, 20 May 2020 KSA 12:05 - GMT 09:05