Pop singer and former first lady of France Carla Bruni has a new English language album out, and is using the UK and American media to try and sell it.

As usual, unchallenged publicity lines for her eccentric covers of songs by groups such as Abba and AC/DC center on Bruni's diminutive husband, Nicolas Sarkozy, or "my man" as she always calls him.

Bruni projects the one-term conservative president as a pocket dynamo, "cycling 50 miles" whenever he can, learning English ("Completely fluent at 62, unbelievable") and as a mentor who "saved me from being an alcoholic". She says that "the only politician I look up to is my man", and, with the despairing vulgarity of an ageing rock chick wannabe, boasts about how the couple have "fantastic sex".
Lucrative windfall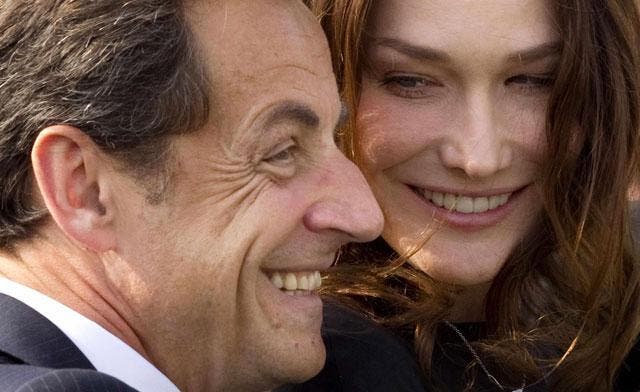 Former French president, Nicolas Sarkozy and his wife Carla Bruni, accompanied by their daughter Julia are expected to open their a palace that he has newly bought in Marrakech. (AFP)
The Sarkozy package
SHOW MORE
Last Update: Wednesday, 20 May 2020 KSA 09:52 - GMT 06:52