Educated Rohingya Muslims living in Europe are standing by their long-suffering brethren – aptly labeled by the United Nations as the world's most persecuted community - as they wage a grim battle for survival in Myanmar and neighboring Bangladesh which is sheltering over a million Rohingyas driven out virtually at gun-point.

The diaspora's support is critical for molding international public opinion as two nuclear-armed powers who dominate the region - China and India – are backing the Myanmar government, turning a blind eye to the genocide and rape of Rohingya Muslims sanctioned by the military junta in the Buddhist-majority nation which has led to their exodus.

Beijing's and New Delhi's absolute backing is emboldening the generals to brazenly deny citizenship to Rohingyas and block their return from Bangladesh to their ancestral home in Rakhine state, despite the United States and European Union taking up cudgels on behalf of beleaguered refugees counting their days in Cox's Bazar camps.

In this bleak scenario, many Rohingyas who fled Myanmar or camps in Bangladesh to start life afresh from a scratch either in Western countries or Malaysia, are doing everything they can for their compatriots in distress.
Highlighting rights violations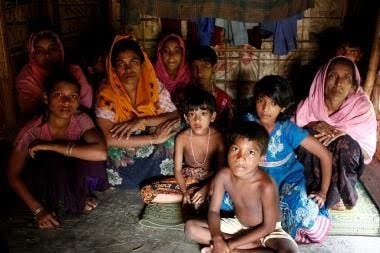 A picture circulated by European Rohingya Council to highlight the plight of children and women in refugee camps. (Supplied)
Campaign for self-sufficiency
SHOW MORE
Last Update: Wednesday, 20 May 2020 KSA 09:52 - GMT 06:52