A day after the Prime minister of Norway Erna Solberg said her country was willing to mediate between India and Pakistan on the Kashmir issue, Hurriyat conference in the disputed state of Jammu and Kashmir has welcomed the offer.
"Welcome Prime Minister of Norway Erna Solberg's statement with regards to the resolution of the Kashmir dispute. We also welcome their offer of mediation to facilitate peace in the region," said Chairman of Hurriyat Conference Mirwaiz Umar Farooq.
On Monday, Prime minister of Norway while speaking at the inauguration of the new "green" Norwegian embassy in New Delhi said that her country was willing to mediate with between India and Pakistan, provided both the countries agree to such mediation.
"Nobody from outside can create peace or make changes. It has to come from inside. If there is a movement between India and Pakistan for greater talks, we and other countries can say that we can help mediating if there is a possibility," she said.
ALSO READ: Kashmir on edge after Indian troops kill seven civilians
Solberg is on a three-day visit to India. She met Prime Minister Narendra Modi and Foreign Minister Sushma Swaraj yesterday to and discussed host of bilateral and global issues.
"Norway has done a lot of work for the cause of peaceful settlements through mediation, we will intervene only if both parties, India and Pakistan, want it," she added.
Talks in Kashmir
Earlier in November 2018, former Prime Minister of Norway Kjell Magne Bondevik visited Kashmir and met with Hurriyat leaders Syed Ali Geelani and Mirwaiz Umar Farooq and discussed the situation in Kashmir. He also visited the capital of Pakistan-occupied Kashmir-Muzaffarabad--and met PoK President Sardar Masood Khan.
While clarifying former PM's visit, Solberg said 'his actions didn't have Norwegian government's blessings'.
"He went as a private citizen. He has an institute for peace and security. It's a private institute in Norway. There isn't any government plan to start any negotiation. Our policy is clear. If we are going to help someone, they have to ask for it," she said.
Despite the recent hostilities between India and Pakistan, and the border skirmish along the line of Control, the Norwegian PM said she believes that "military" solutions cannot bring "long-lasting" peace.
"Personally, I don't believe that military solutions solve problem. I believe in peaceful solutions. Participation of women and youth. You can have victory through military activity but you will always have underlying activity. It's not just in Kashmir, but all places. We see it in Syria too. If there is a solution, it won't be long-standing."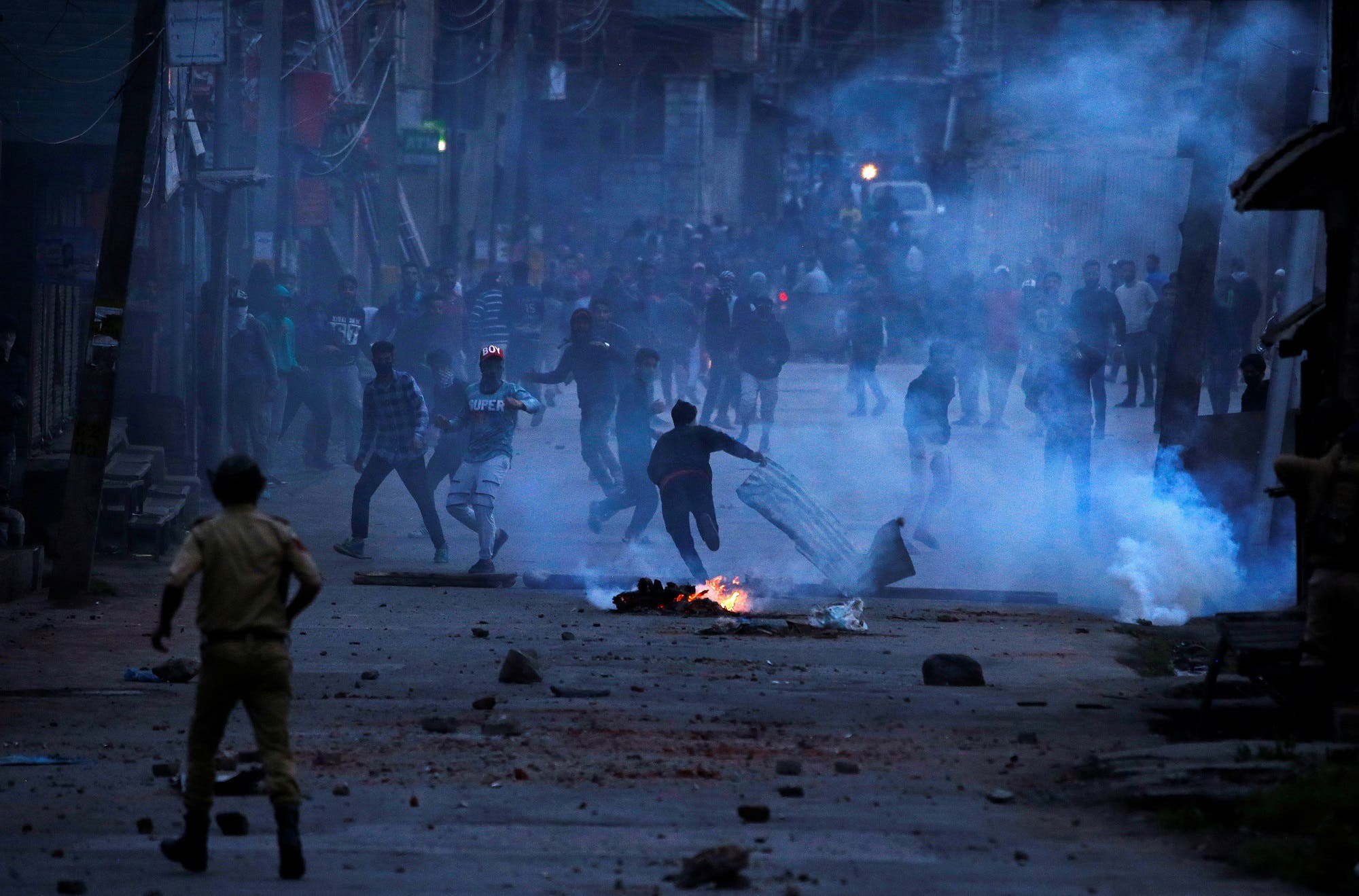 Demonstrators throw stones towards the Indian police during a protest against the recent killings in Kashmir, in Srinagar, on May 8, 2018. (Reuters)
Meanwhile, she also pushed for bilateral talks between India and Pakistan. "Pakistan and India will have to find the time about when they want to start the talks."
However, stakeholders in Kashmir, though welcome the offer, but want continuous push for the India-Pakistan talks over Kashmir.
"Many countries have offered mediation over Kashmir issue so far, but nothing has been done. It is up to India and Pakistan to either reject the offer or accept it," said Imran Nabi Dar, provincial spokesperson of National Conference.
Dar added: "Our party is keen to see political resolution of Kashmir issue without violence and both India and Pakistan have to talk to end the deadlock".
Third party mediation
"Any third party mediation on Kashmir is a welcome step. Kashmiris are suffering a lot and want this crisis to end once and for all," said Advocate Farooq Ganai, political analyst based in South Kashmir.
Ganai added that there should be continuous push for talks between India and Pakistan, not the occasional rhetoric.
"What Norway says seems more as a diplomatic interest rather a sincere effort. Knee jerk pushes are not the process of peace but a continuous and systematic method is, which is missing in Norway's efforts," he added.
Meanwhile Gowhar Geelani, Srinagar-based political analyst, says there is some international persuasion going on to bring India and Pakistan on the negotiation table.
ALSO READ: Is Modi's BJP aiming for the moon in India's Muslim-majority Jammu & Kashmir?
"Off late, there has been intervention from external forces pushing India and Pakistan to talk about Kashmir and other issues. Countries like United States too have tried many times to bring New Delhi and Islamabad on the negotiation table to find solution for Kashmir issue," he said.
"Earlier allowing former Norwegian Prime Minister to meet Hurriyat leaders in Kashmir by India clearly shows that some internal efforts are going and now the statement for Solberg validates that something is cooking behind the scenes between India and Pakistan", said Geelani.
Kashmir issue
Jammu and Kashmir is one of the core issues between India and Pakistan with both claiming its territorial rights. However, people on both sides of the Line of Control has been pushing for resolution through vote with independence from both India and Pakistan as options.
Since 1989, India's Kashmir has witnessed violence with India blaming Pakistan for spreading terror in the state while Pakistan blames India for massive human rights violations in the region.
SHOW MORE
Last Update: Wednesday, 20 May 2020 KSA 09:52 - GMT 06:52