Global food security concerns are mounting as some governments contemplate restricting the flow of staple foods with around a fifth of the world's population under lockdown to fight the widening coronavirus pandemic.

Panic buying of household items and store cupboard staples such as rice and flour has occurred in nearly every country hit by the virus, which has infected over 470,000 people across 200 countries. Empty shelves in supermarkets have been common.

The erratic nature of consumer buying is stoking concern that some governments are moving to stem the flow of food staples to ensure their own populations have enough while supply chains are disrupted by the pandemic.

"If major exporters start keeping grains at home, it will have the buyers really worried," said Phin Ziebell, agribusiness economist at National Australia Bank. "It is panicking and not rational, as fundamentally the world is well supplied with food."

For more coronavirus news, visit our dedicated page.
Wheat market on edge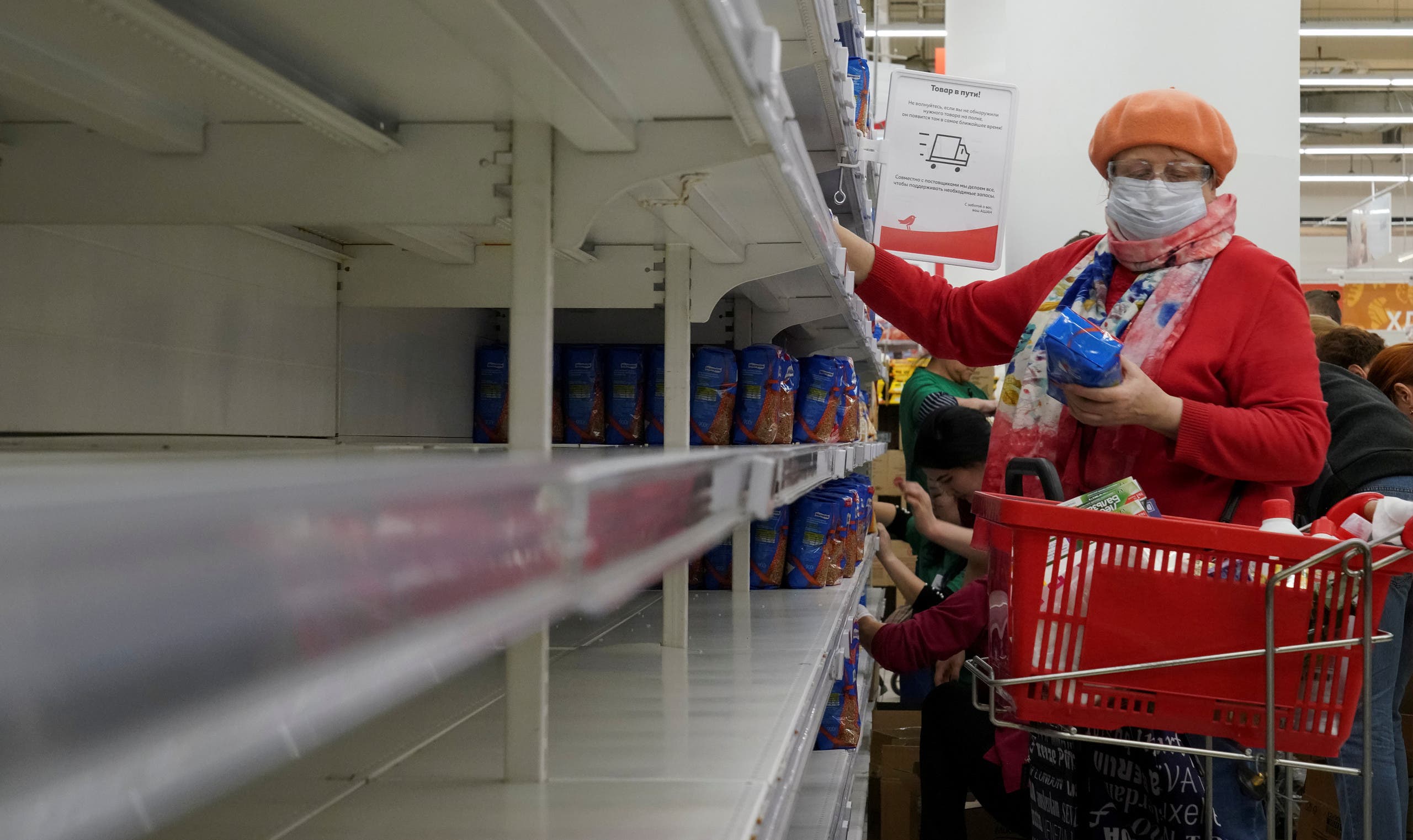 A woman, wearing a protective mask, holds a pack of buckwheat from a new delivery, next to empty shelves in a section for cereals and groats, in a supermarket in Moscow, Russia on March 19, 2020. (Reuters)
No shortage

The market topped $1,000 a tonne during the food crisis of 2008, when export restrictions and panic buying buoyed prices.

"We are unlikely to see a repeat of 2008," the Singapore rice trader said. "One thing is that the world has enough supplies, especially in India where inventories are very large."

Global rice stocks are estimated to surpass 180 million tons for the first time this year, up 28 percent since the 2015-16 season.

But those inventories are not distributed evenly, with more than 153 million tons in China and India alone.

That means big rice buyers such as the Philippines, the top importer, and others in Asia and Africa could be vulnerable if crop movements are curtailed for long.

"Our rice inventory is good for 65 days. We have enough rice for the next two months," said the Philippines Agriculture Secretary William Dar, adding that with additional supply coming from the dry season harvest, there would be enough for the next four months.
SHOW MORE
Last Update: Friday, 27 March 2020 KSA 23:10 - GMT 20:10