A truck pulled up to a bank that had been set on fire in central Tripoli, Lebanon, and the team of four men quickly set to work loading a number of steel rods left in the entrance of the building into the back of the truck, even as the smoke became thicker and blacker and began to belch from the bottom of the building.
Watch: Protests in #Lebanon's Tripoli kick off again, and banks are largely the target amid a failing economy, rising unemployment, and poverty.https://t.co/sXGYOL2VfJ pic.twitter.com/pWJI0ZhmJA

— Al Arabiya English (@AlArabiya_Eng) April 28, 2020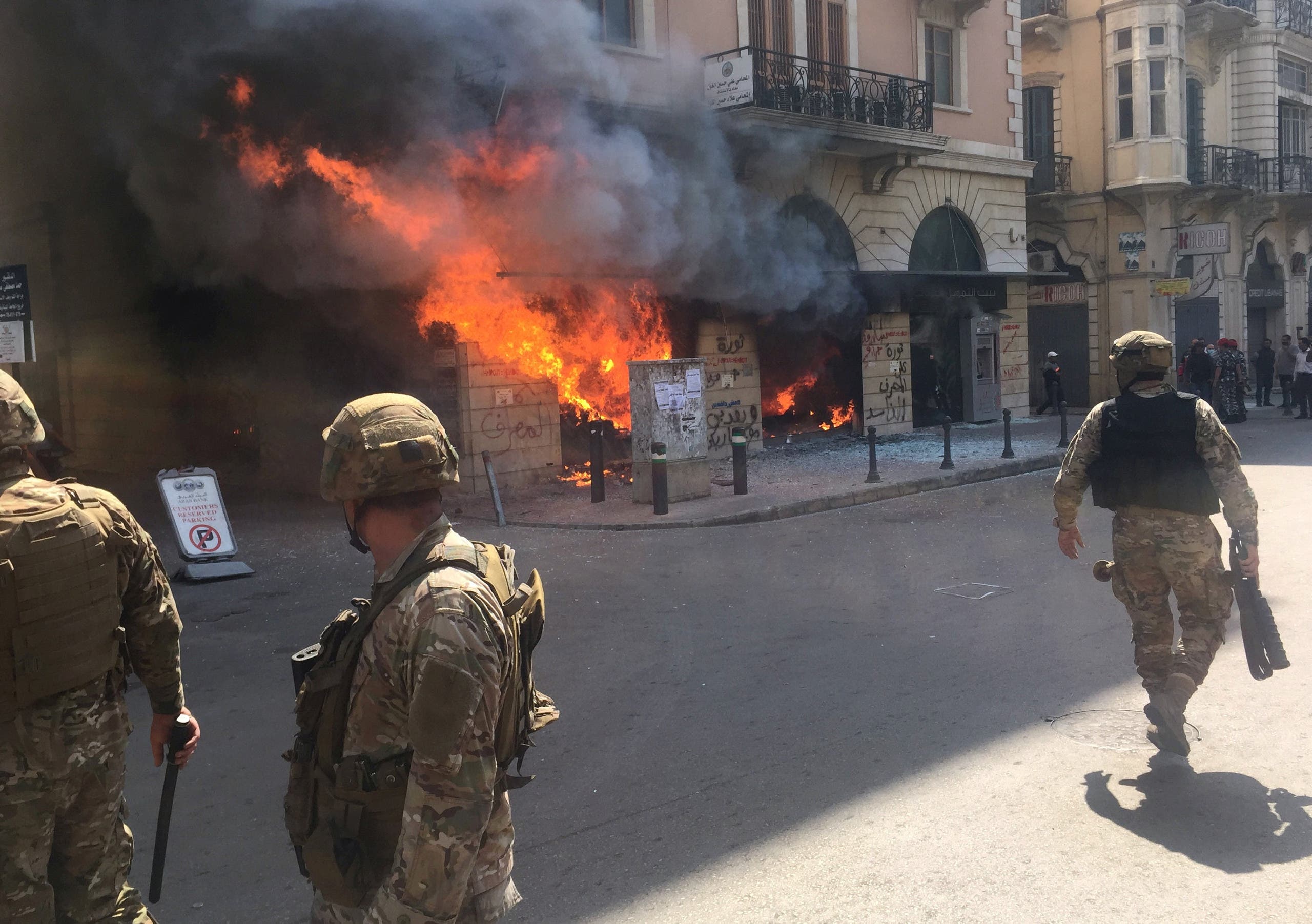 Lebanese soldiers are seen near a bank on fire during unrest, as an economic crisis brings demonstrations back onto the streets in Tripoli, Lebanon April 28, 2020. (File photo: Reuters)
Video: Live footage shows clashes between Lebanese armed forces and demonstrators in #Tripoli after protests erupted in the city and other areas in #Lebanon over the dire economic conditions in the county.https://t.co/6gEwad1yh6 pic.twitter.com/poM9TsuFuP

— Al Arabiya English (@AlArabiya_Eng) April 28, 2020
After the victim's body was driven through the city's streets on the way to his funeral, protesters began to target banks, tearing down lamp posts and street furniture to smash their way into what have become symbols of the rapidly widening inequality in the country.
Tense stand-off between army and protestors on the corner of al-Tell Square in Tripoli #Lebanon #لبنان__ينتفض #LebanonProtests pic.twitter.com/SO0lhrdFbq

— Finbar Anderson (@andfinbar) April 28, 2020
SHOW MORE
Last Update: Wednesday, 20 May 2020 KSA 09:58 - GMT 06:58