For some it may just be a huge, free standing mountain in Africa, but as Suzanne Al Houby locked her gaze on the gigantic Mount Kilimanjaro (5,895 meters) during a holiday trip, she knew it was a well defining moment. She vowed to come back in a year's time to embark on the expedition to climb Kilimanjaro and all the highest mountains in the world.

With 16 climbing expeditions, her recent trekking in Papua New Guinea led the mountaineer to the peak of Carstensz(4,884 meters) – the highest mountain in the continent of Oceania, making her the first Arab woman to do so.

Taking "one step at a time" to reach her goal and having already accomplished six out of seven summits, al-Houby set up her gear for the big grand slam, next stop being in Alaska.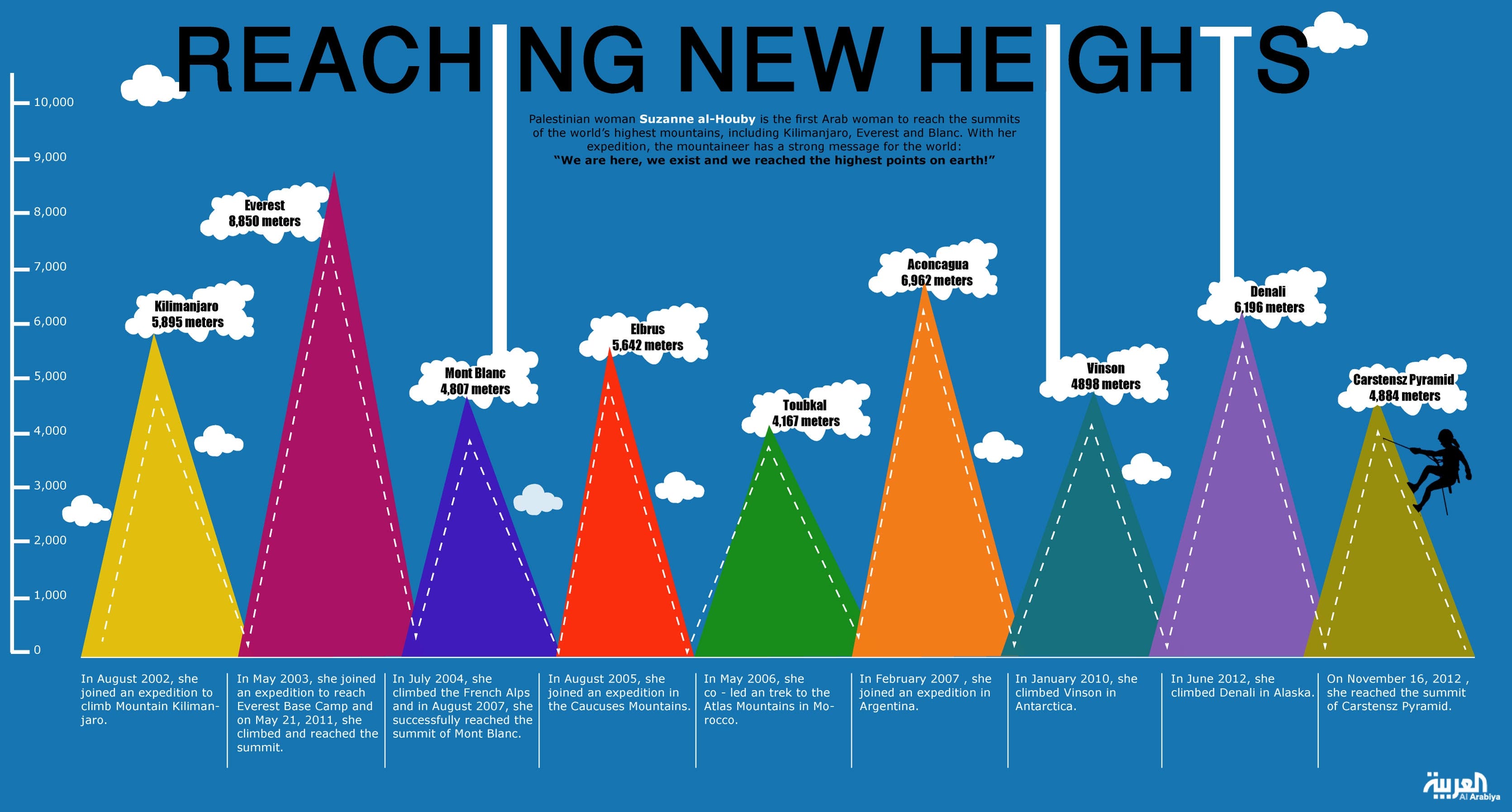 Info-graphic: Al Houby, Palestinian mountaineer: "Reaching New Heights" (Design by Farwa Rizwan/ Al Arabiya English)
The mountaineer's summit includes Mont Blanc (the tallest mountain in Western Europe), Elbruz (Europe), Aconcagua (South America), Vinson Massif (Antarctica) and first Palestinian woman to climb Africa's highest mountain, Kilimanjaro. But the cream of the crop was her paramount climb on Mount Everest (8,850 meters)-the highest point on Earth.
Describing her passion for nature, al-Houby told Al Arabiya that there is nothing more beautiful, and humbling than mountains and to be able to enjoy the serene landscape from the creation of God.
"I go to unite with the mountain and push myself through with respect, understanding that eventually the mountain will decide whether to let me go higher or not," she said.
Climbing vertical altitudes is a larger than life experience, which echoes human capacity to withstand the impossible that beams a source of liberation and power in her, she added.
Her thirst for mountains grew even more when she met Zed Al Refai in 2002, who narrated his exuberant adventure in faraway lands.
First Arab man to climb Everest, Refai gave al-Houby a vital lesson as a mountaineer, to focus on the journey itself rather than leaving one's imprint on the summit.
Feeling a breeze of fulfillment from her adventure, al-Houby, a Palestinian and UAE-based mother of two said that she was annoyed by the devouring spirit amongst Arabs as explorers in recent times.
The soul of traveling the plains across the world was fading away amongst Arabs and therefore "I wanted to put back that sense of exploration … to open a door for others," she added.
However, to be the first Arab woman on the tip of the highest peaks was never the driving force, al-Houby added that she wanted to climb for those who would "follow the steps and start climbing their own mountain metaphorically."
With her exuberant courage and hiking she hopes to inspire women from all walks of life, she added that "nothing is impossible really!"
In May 2003, al-Houby trekked to Nepal to climb Everest Base Camp and became the first Palestinian Arab Woman to reach it and climb Kala Pattar (5624 Meters). The expedition raised funds for breast cancer to buy mobile screening units for rural areas in the UAE.
In 2006, al-Houby co-led an expedition to the Atlas Mountains in Morocco, North Africa, climbing the summit of Toubkal, the highest mountain in North Africa and Arabia. The trek was titled "Reaching New Heights" that aimed to take Arab women to the highest point in Arabia as a symbolic act of empowering women. The expedition raised funds to support Palestinian Refugee camps in Lebanon.
"One needs to continue being grounded as if you lose that, you lose yourself," she said, adding that Arab women have pivotal roles in shaping future generations and designing the cultural identity.
However, nothing in life comes easy because if it is easy then why bother, al-Houby added.
When the going gets tough, the tough gets going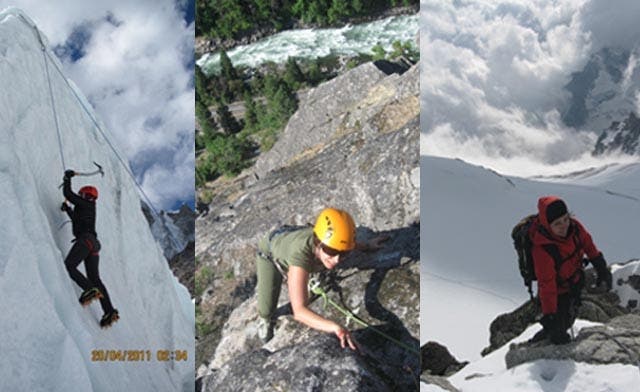 Al Houby treks the world's highest mountain summits on each continent as a "proud Arab, a proud woman, a proud Muslim and mother." (Al Arabiya)
Originally from Yaffa, al-Houby's trekking stems from sorrow of Palestinians trapped in Gaza conflict, the relentless loss of lives and fruits of hard work, but Palestinians must patiently persevere, she noted.
"I am learning from our heroic Palestinian women every day," people in Gaza should be resilient against occupation, poverty, and horrendous causalities. "Since I can only be a Palestinian to the bone and a humanitarian globally, I express my love, my passion, and my messages in different ways," she said.
Having an appetite for wilderness and comprehending the bitter predicaments the mountains placed before her, al-Houby overcame the challenges by "maximizing courage and minimizing fear. If we are griped by fear then we do nothing. But one has to have a sound and wise personality in order to do so."
Noticing the small community of Arab explorer and that women mountaineers were still far less in the region, al-Houby ignited the concept of 'Rahhalah, 'a travel firm based in UAE.
It is for people to be in the skin of adventurous travellers; al-Houby sowed a "payback promise in 'Rahhalah'" that germinates funds to selected charitable organizations in the lands the team visits.
As she sails across the mountains she visions herself as "a proud Arab, a proud woman, a proud Muslim and mother and I am just comfortable in my skin," and she aims to "…continue raising my beloved flag and what it means on the highest places on earth with a strong message: we are here, we exist and we reached the highest points on earth!"
She also urges people to follow her footsteps to "live life, aim high, follow your dreams and don't just sit there watching others live your dream," al-Houby said.
SHOW MORE
Last Update: Thursday, 06 December 2012 KSA 12:04 - GMT 09:04