K-pop boyband BTS kicked off the much-anticipated Riyadh Season on Friday with a performance that wowed the group's Saudi Arabian fans.
Ethereal Jungkook flying over the beautiful ARMYs ✨ What a sight 😍😘#BTSinSaudiArabia#BTSRiyadh @BTS_twtpic.twitter.com/4JidFxsXtR

— DO YOU KNOW BTS? ✨💜 (@radz08) October 11, 2019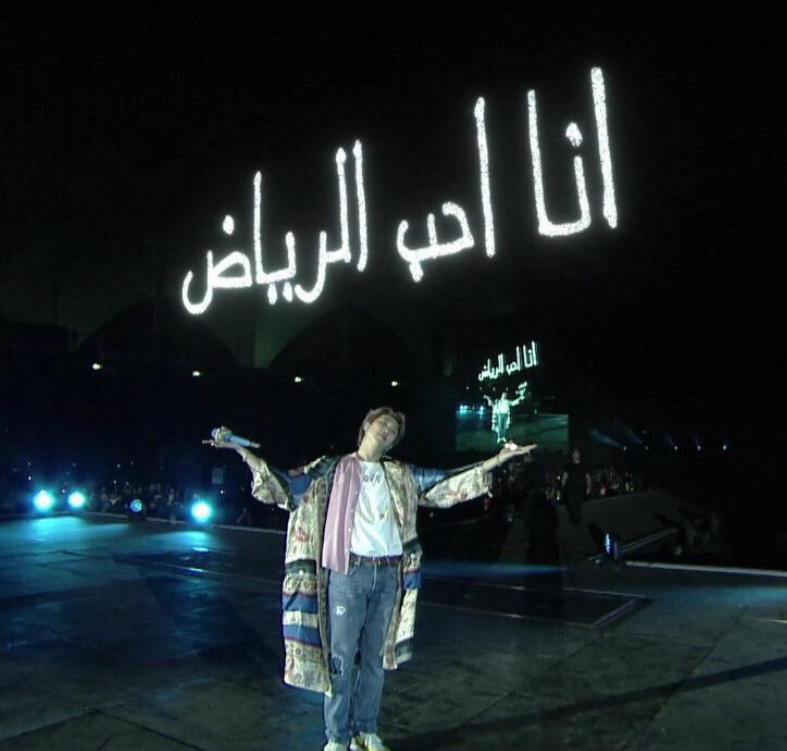 All the lights are shining for #BTS in #Riyadh #BTSinSaudiArabia@bts_bighit @BTS_twt @BTS_ARMY
📷@Mahchild_96 pic.twitter.com/tfOAPQ1zIP

— SAPRAC (@SapracOrg) October 11, 2019
thank you @BTS_twt for the best day in my entire life😢💘 I will remember this day forever💜 #BTSInSaudiArabia #BTSRiyadh pic.twitter.com/wep3K7mmO2

— Amirah♛ (@Amirah_Alrefai) October 11, 2019

The boyband, along with their fans, serenaded one of the group's members with the Arabic version of "Happy Birthday" to celebrate his 24th birthday.
Look at that pure reaction from Jimin when he realized @BTS_twt was singing him a birthday song in Arabic.

Please 🥺💜#BTSinSaudiArabia pic.twitter.com/BcxDgrLXSh

— Gail misses BTS 🥺💜 (@illegirlcypher) October 11, 2019

Skyscrapers in Riyadh lit up with purple lights – the band's signature color – ahead of the sold out show.
#Riyadh turns purple to welcome @bts_bighit to #KSA. @RiyadhSeason @BTS_ARMY
📷 @RiyadhConnect pic.twitter.com/axVBaKbukd

— SAPRAC (@SapracOrg) October 10, 2019
Rising fame
Riyadh Season
SHOW MORE
Last Update: Saturday, 12 October 2019 KSA 09:52 - GMT 06:52