Kirk Douglas, the cleft-chinned movie star who fought gladiators, cowboys and boxers on the screen and the Hollywood establishment, died on Wednesday at the age of 103, his son Michael Douglas said.

"It is with tremendous sadness that my brothers and I announce that Kirk Douglas left us today at the age of 103," Michael Douglas said in a statement to People magazine and on his Facebook page."

To the world, he was a legend, an actor from the golden age of movies who lived well into his golden years, a humanitarian whose commitment to justice and the causes he believed in set a standard for all of us to aspire to," Douglas added.

"Kirk's life was well lived, and he leaves a legacy in film that will endure for generations to come, and a history as a renowned philanthropist who worked to aid the public and bring peace to the planet," Michael added, saying he was "so proud" to be his father's son.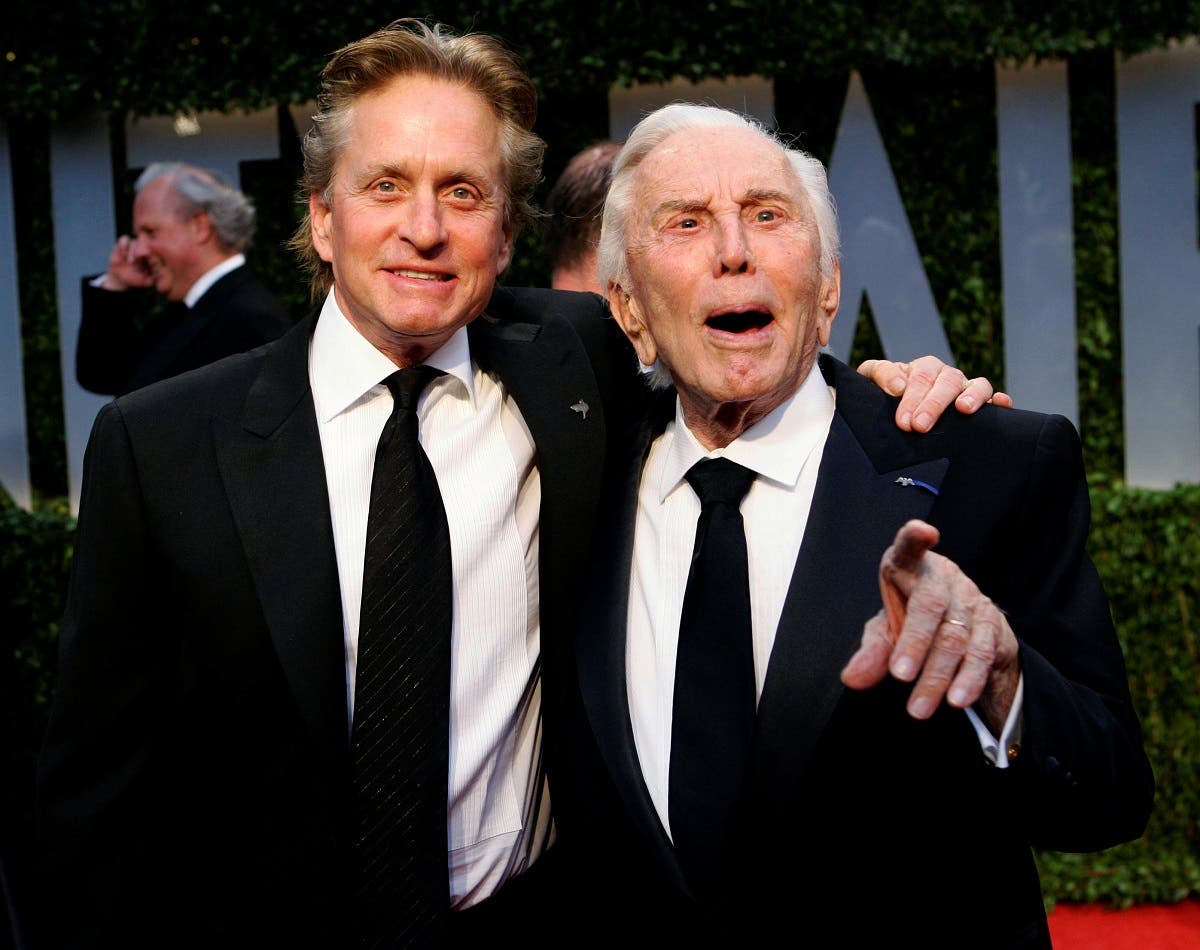 Actor Michael Douglas (L) and his father, actor Kirk Douglas, arrive together at the 2009 Vanity Fair Oscar Party in West Hollywood, California, on February 22, 2009. (Reuters)


Douglas made more than 90 movies in a career that stretched across seven decades and films such as "Spartacus" and "The Vikings" made him one of the biggest box-office stars of the 1950s and '60s.

He also played a major role in breaking the Hollywood blacklist - actors, directors and writers who were shunned professionally because of links to the communist movement in the 1950s.

Douglas said he was more proud of that than any film he made.

A stroke in 1996 at age 80 left Douglas with slurred speech and damaged facial nerves. But two weeks later he showed his spirit by attending the Academy Awards ceremony to receive a Lifetime Achievement Award. He also continued to take small acting roles through 2008 but said the stroke left him suicidal.

"Humor saved me," Douglas told Parade magazine in 2014. "At first, I thought my life was at an end. But when I put the gun in my mouth, it hit a tooth. Ow! And that struck me funny. A toothache was stopping me from committing suicide?"

In one of his last public appearances, Douglas was frail and barely audible in a wheelchair as he helped daughter-in-law Catherine Zeta-Jones present the Oscar for best screenplay in January 2018. In November of that year he joined his son Michael as the younger Douglas was honored with a star on the Hollywood Walk of Fame.

Douglas had a distinctive chin, razor-sharp cheekbones and a jutting jaw - looks that he passed along to Michael - and that made him a natural for playing all manner of rugged characters.

He also had a demanding nature that earned him a reputation in his prime as the actor who directed directors. Long-time friend and sometime co-star Burt Lancaster loved to introduce him by saying, "Kirk would be the first to admit he is a difficult person. (Pause) I would be the second."

"I make my own way," Douglas once told an interviewer. "Nobody's my boss. Nobody's ever been my boss ... I've been a maverick."

Douglas said playing Vincent van Gogh in "Lust for Life" (1956) was his favorite role but "Spartacus" (1960) was his favorite film because, as producer, he took a big step toward breaking the Hollywood blacklist.

The lifetime Oscar was Douglas' only Academy Award even though he was nominated for playing ruthless boxer Midge Kelly in "Champion" (1949), a movie executive in "The Bad and the Beautiful" (1952) and van Gogh in "Lust for Life."

Douglas' first movie was "The Strange Love of Martha Ivers," in 1946 after being suggested for the part by acting school classmate Betty Joan Perske, who became famous after changing her name to Lauren Bacall.
SHOW MORE
Last Update: Wednesday, 20 May 2020 KSA 10:05 - GMT 07:05