For many people, adventure travel means spending a few weeks in novel surroundings accruing enough images to flood social media accounts.
But the Anonbys of Canada are not your garden variety tourists. From 2007, Christina, Erik and their three young children lived for almost two years in the remote fishing village of Kumzar, at the tip of Oman's Musandam Peninsula.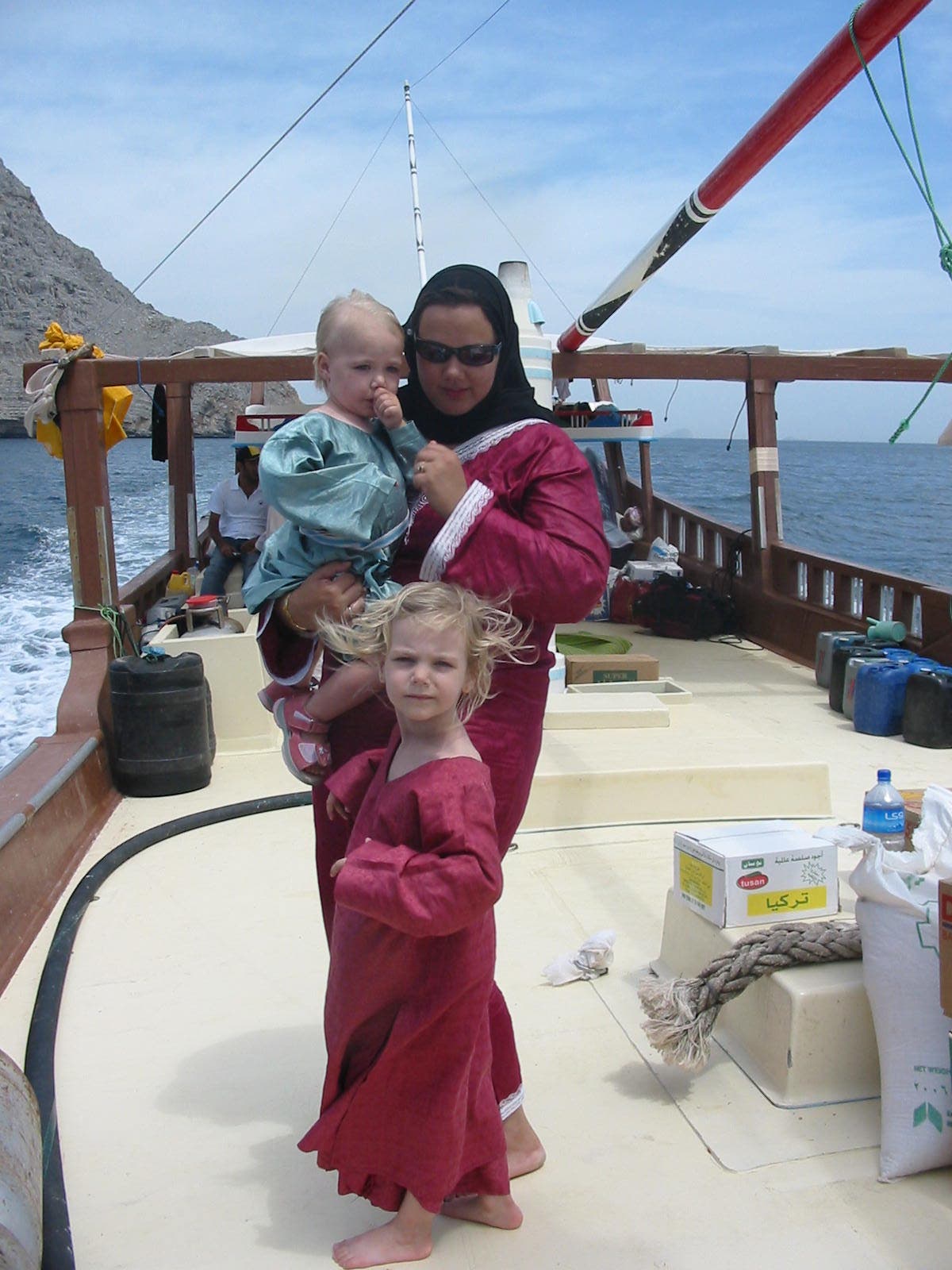 (Photo courtesy: Amanda Fisher)
The village of several thousand is accessible only by boat, has no roads, limited water and the residents speak their own language, Kumzari. But this was the challenge for the family of linguists, who have since done what hadn't been done in the centuries-long history of Kumzari: created a written counterpart to this hitherto oral language.
Far from being an academic exercise, linguist and anthropologist Christina Anonby says after getting government permission the family-of-five became part of the community in Kumzar and experienced the highs and lows of life alongside their neighbors.
"We shared happiness and we also struggled together; we had difficulties finding enough fresh water just as Kumzaris do, and being limited to clinic care and the capriciousness of the sea for boat travel."
Baby food was replaced with hummus, table and chairs with the floor, and the family became well-acquainted with the village's thriving goat population.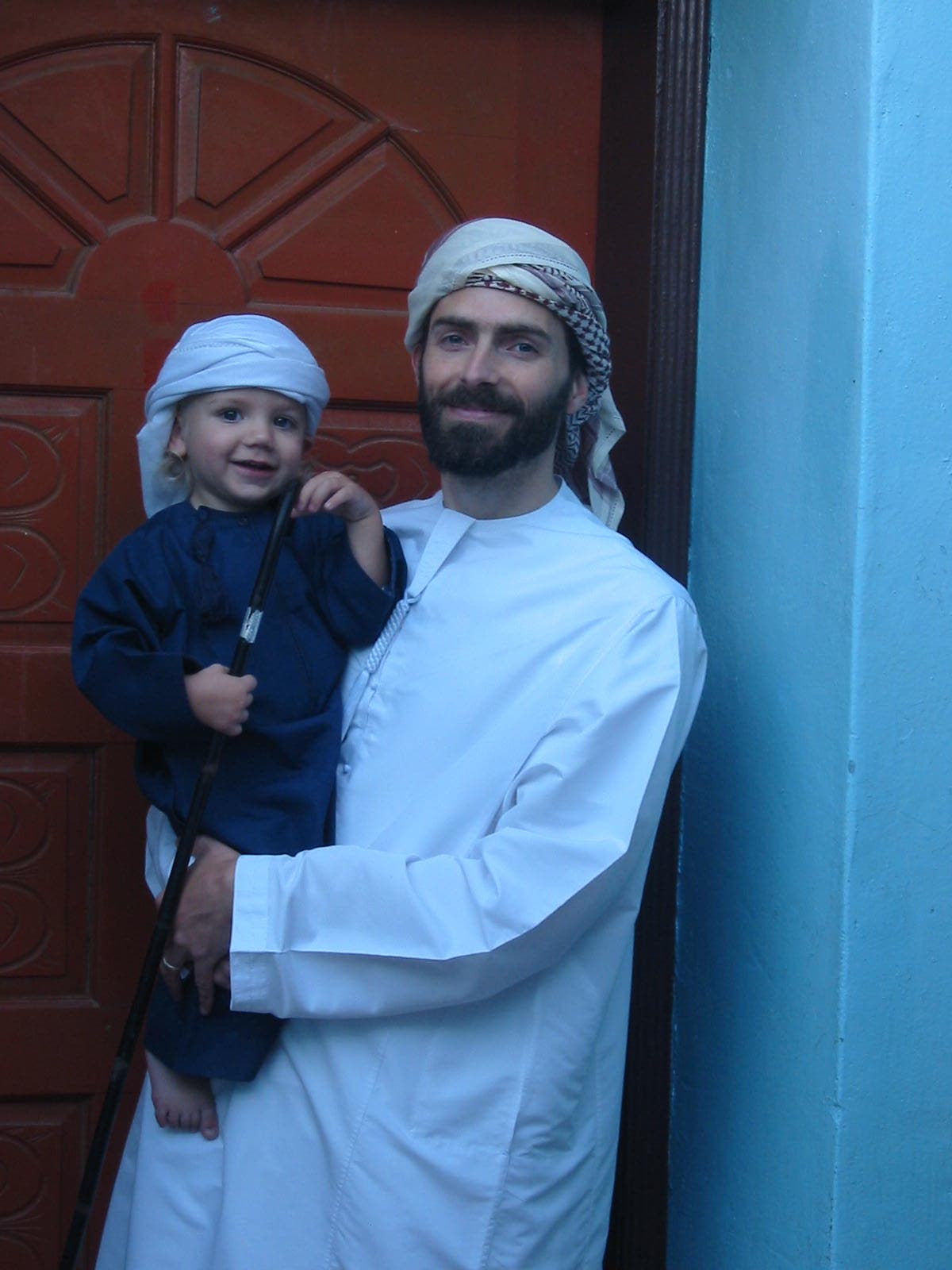 (Photo courtesy: Amanda Fisher)
"When we would bring groceries on the boat to Kumzar, and unload them onto the beach, freely wandering goats would get into them and nibble or make off with whatever they could find – even the cardboard boxes themselves."

The couple's youngest son, who was just eight months when he arrived, was greeted everywhere the family went by his Kumzari name 'Eliko' – his middle name which means 'heights of the mountains'.
"We feel extremely fortunate to have lived in such a special place with such hospitable people," Anonby says.
Kumzar is comprised of two clusters of houses flanking the main gravel road up to an ancient well was once famous amongst passing seafarers. There is a small school with an even smaller playground, a one-room health clinic, a few shoebox restaurants, a tailor's shop, police station and not much more. But Anonby says her children, who were too young to go to school at the time, aged 5, 3 and eight months when they arrived, had everything they needed.
The Anonbys were treated as locals, she says, in the spirit of the typical Kumzari emphasis on community. In the mornings Kumzar's women head out to visit each other over breakfast; while the men get together after work.
"They have always been characterized for their distinct identity but they are realizing its uniqueness much more in the information age," Anonby says.
In the face of an influx of things like television and schooling in Oman's official language Arabic, Anonby says Kumzaris are "even more determined" to hold on to their identity and language.
Which is where the Anonbys come in.
Erik wrote a "linguistically-accurate writing system and alphabet" approved by the community leaders to teach people to read and write Kumzari – which has its roots in Arabian and Persian – and another book on a different variety of Kumzari spoken on nearby Larak Island; the pair are currently working on a "proper dictionary" for Kumzari; and Christina will soon publish a 400-page academic book on Kumzari language and culture for Holland's Leiden University, whom she is a researcher for, after completing her PhD on the topic last year.
The book identifies about 4000 vocabulary terms as well as Kumzari folk tales that are heavy with real world themes like their dependency on the sea and the unusual longheld Kumzari tradition of leaving the village for summer. For three months, almost the entire town collectively migrates by boat to the nearby major oasis of Khasab on the mainland, 40 minutes away, to oversee the harvest on date plantations and escape the heat of the village.
"The idea of travel away for work and mixing with the wider world, and then eventually finding one's way home again is a theme in Kumzari folklore," Anonby says.
She says she and Erik, a linguistics associate professor at Ottawa's Carleton University, were just conduits of the villagers' knowledge – many of whom helped research by "taking word lists, letting us record and translate folklore, and answering endless questions about the grammar."

While the traditions of the past persist, Anonby says there are "new challenges to identity" with a permanent diaspora of Kumzaris moving to Khasab in search of better work or education opportunities.

But despite any threats to the Kumzaris' peaceful existence, Anonby says the fact they have kept their language and culture intact in the modern age is cause for optimism.
"[Kumzar] is extraordinary. It is in the middle of everything, between Arabia and Iran, and facing the Strait [of Hormuz] with all its traffic, and yet still very isolated. Just a few hours' drive from bustling Dubai, and only reachable by boat.
"Most amazing of all is they have kept their language thriving, despite being surrounded by other languages. I would say the fact they have lived in this location for so many centuries, retaining their culture yet encountering worlds of foreigners passing through the Strait bodes well for their future."
SHOW MORE
Last Update: Wednesday, 20 May 2020 KSA 09:48 - GMT 06:48