U.S. President Barack Obama wades through murky waters as 2013 comes to an end, with eyebrows raised over his "drone wars" in Afghanistan, Pakistan and Yemen, as well as his treatment of conflicts in the region.
'The need for war'
Obama had presented his vision of a nuclear-free world, he had come out as a spokesman for democracy and human rights.

Geir Lundestad, permanent secretary of the Norwegian Nobel Committee
The Prize is right?
I think Obama harbors grave private concerns about the secret wars, but is afraid of the repercussions if another 9/11 happens on his watch

- David Maraniss, author of "Barack Obama: The Story"
Obama's drone wars
Rise of the drones
Just about everything the Bush administration did was in the public eye. You didn't like it, but you could see it.

Former Republican Congressman Michael P. Flanagan
Infographic: U.S. drone wars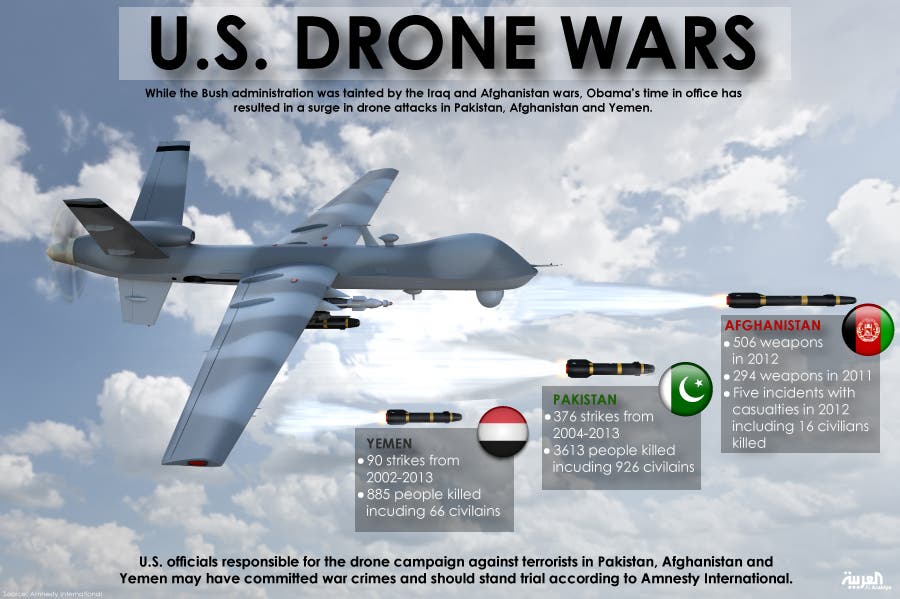 Infographic: U.S. drone wars
'Inherited' wars
Obama is an extraordinarily effective wartime commander who inherited two wars - ending one [Iraq], and responsibly downsizing another [Afghanistan]

Senior U.S. military official
Obama's promises
SHOW MORE
Last Update: Wednesday, 20 May 2020 KSA 09:41 - GMT 06:41