From cookies to burgers to dates, it's been gimmicks galore for Egyptians incessantly searching for new ways to shower their army leader with compliments.

Egypt's army chief, General Abdel Fattah al-Sisi, has emerged as one of the most powerful people in the country after he deposed Islamist President Mohammad Mursi on July 3, sparking nationalist fervor and widespread resentment of the Islamists.

But, along with his surge in popularity, has the obsession with the general turned into a branding game, all part of an attempt to propagate "Brand Sisi" across the country?
A top fast food chain has now introduced a "Sisi sandwich," following in the footsteps of the makers of "C-C cookies," shaped in two Cs and baked last month during the Islamic holiday of Eid.

During Ramadan, the Muslim month of fasting which ended last August, "Sisi dates" were on sale in markets across the country, sparking a trend perfect for Sisi fans fancying a sweet treat. Chocolates and cupcakes decorated with iced images of the general went on sale at a Cairo confectionary store this week.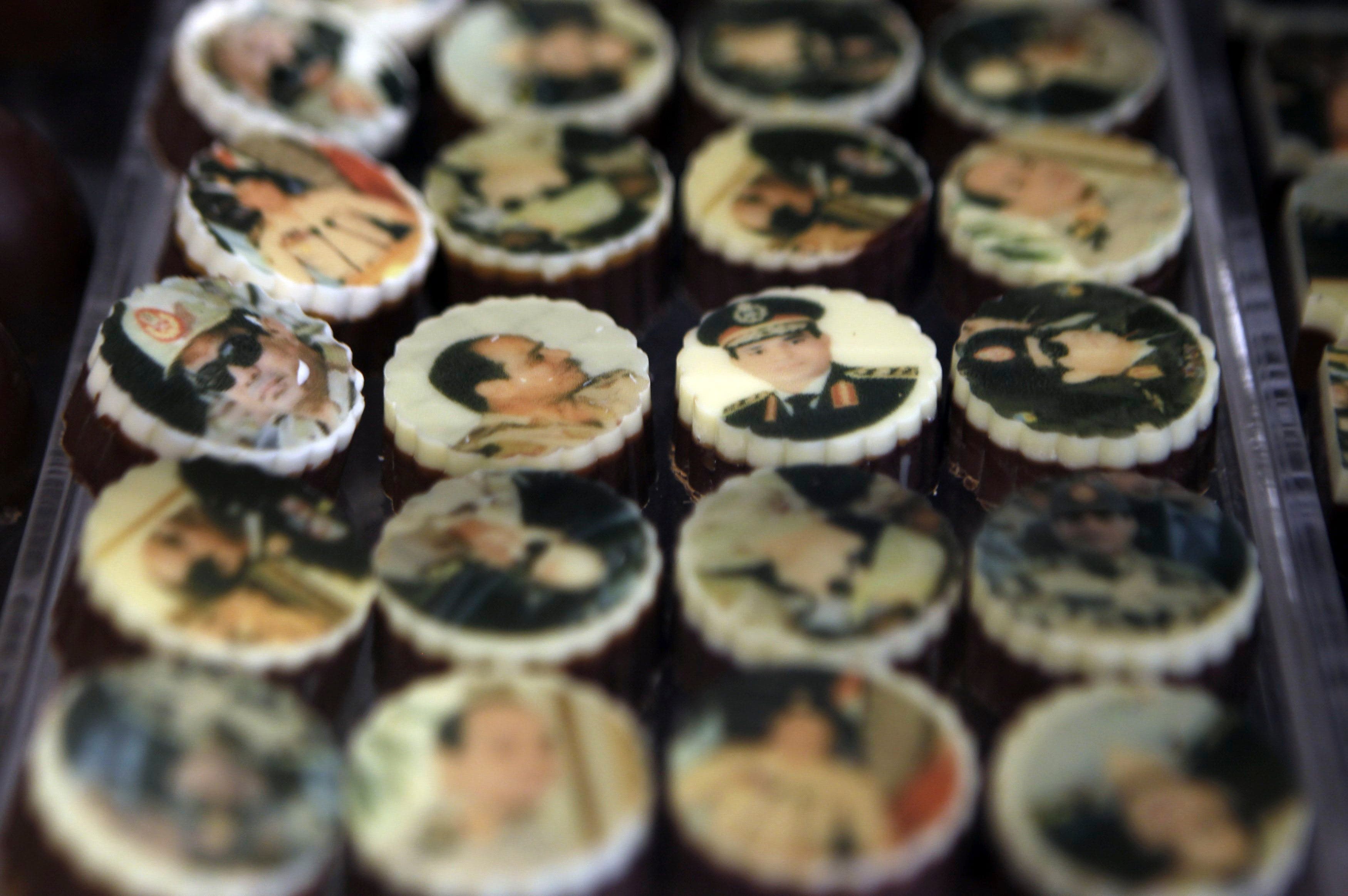 A sweet tooth for Sisi
All the while, fans on Facebook have created hundreds of pages obtaining millions of "likes" from those who want to pledge their allegiance to the top brass. Among the pictures being circulated on social media are images of a saluting Sisi superimposed with a lion or an eagle, with captions boastful of his "lion heart."
It's Sisi, but lionized
"What comes up on social media in terms of pictures, logos, jokes and catchphrases are all a fruit of user generated content (UGC); from the people, to the people.
Some local media outlets continue to represent the general as the new face of Egypt, despite lingering violent clashes between supporters of Mursi and those who support the military.
Can Sisi live up to the iconic Nasser?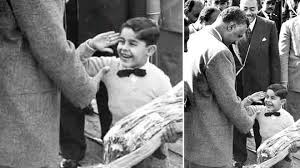 Image circulating on social media alleging to show a young Sisi with former President Nasser. (Photo courtesy: Facebook)
On social media, an image has recently been doing the rounds claiming to show Sisi as young boy giving flowers to late pan-Arab nationalist President Gamal Abd el-Nasser. Although the image has not been verified by any official source, it appears to suggest a palpable link insinuated by Sisi's supporters.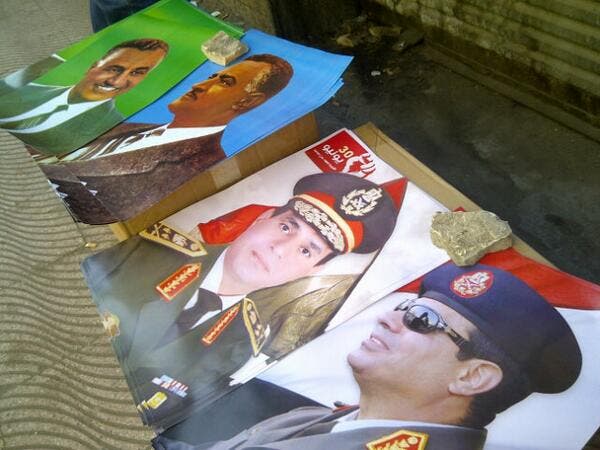 Sisi comparisons with Nasser have been seen across Egypt. (Photo courtesy: Twitter)
In a report published in The Guardian last month, reporter Marin Chulov in Cairo wrote: "The two men [Nasser and Sisi] can be seen together all over central Cairo, on banners, flags and on posters on sale to tourists and locals."
Another Pharaoh?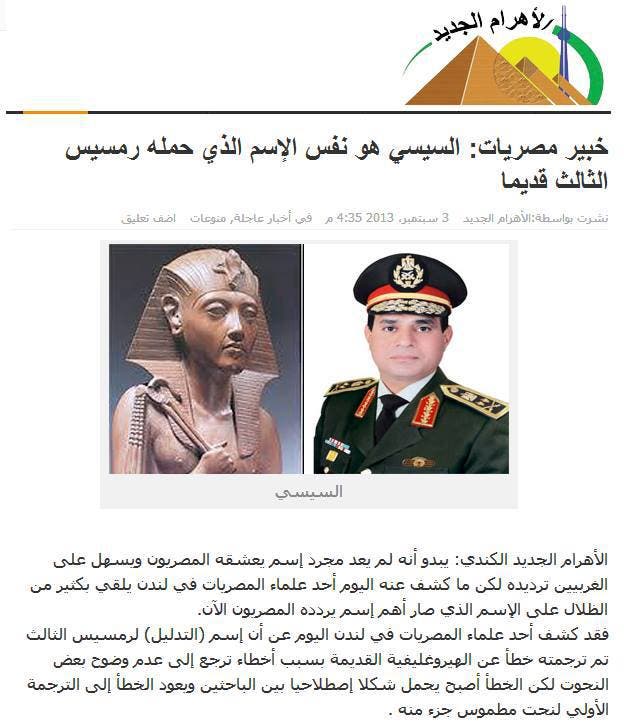 An article questioning comparing Sisi's name to an Ancient Egyptian Pharaoh. (Photo courtesy: Egyptian news media)
In an interview with a private Egyptian TV channel on Sunday, Shafiq – former President Hosni Mubarak's last prime minister – said that he will not run presidency in the upcoming elections if Sisi enters the presidential race, adding that he would be the first to back him.
'Sucking up'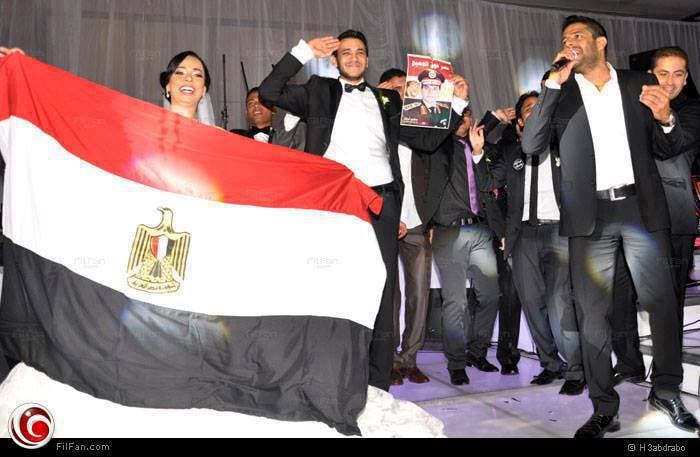 An Egyptian couple celebrate their wedding, saluting Sisi. (Photo courtesy: Facebook)
Such products are "trying to capitalize on the popularity of Sisi among some segments of the Egyptian society," says Ashour.

But when it comes to a burger chain creating the "Sisi sandwich," Ashour says that such businesses are "trying to align their products with the new ruling patron."
SHOW MORE
Last Update: Wednesday, 20 May 2020 KSA 09:41 - GMT 06:41