Al Arabiya English Editor-in-Chief Faisal J. Abbas is publishing a book which aims to combat misconceptions and stereotypes between Arabs and the West; he announced during a panel discussion during the closing day of the Emirates Airlines Literature Festival.
Whilst in London Abbas also obtained a Master's degree from the University of Westminster, and was granted a prestigious "Cutting Edge Award" from International Media Council in 2009. The award was presented for his "continuing efforts both through his blogging and in the press to encourage standards of excellence and counter the dissembling that would otherwise increase levels of misunderstanding".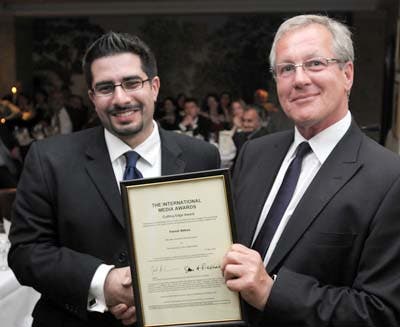 Faisal J. Abbas receives the Cutting Edge Award in 2009. (International Media Council)
"The book is a humble attempt to try and say things the way they are. One of the definitions of experience is an accumulations of mistakes and this is a book about mistakes. Everybody makes mistakes and we can relate to each other's as well," Abbas added.
SHOW MORE
Last Update: 10:57 KSA 13:57 - GMT 10:57