As the West, Arab Gulf states, Russia and China intently watch the Islamic Republic of Iran's 2013 presidential elections – to be held in less than two weeks on June 14 – speculations have been raised surrounding Iran's prospective president and the current six candidates who have are running for the 2013 election.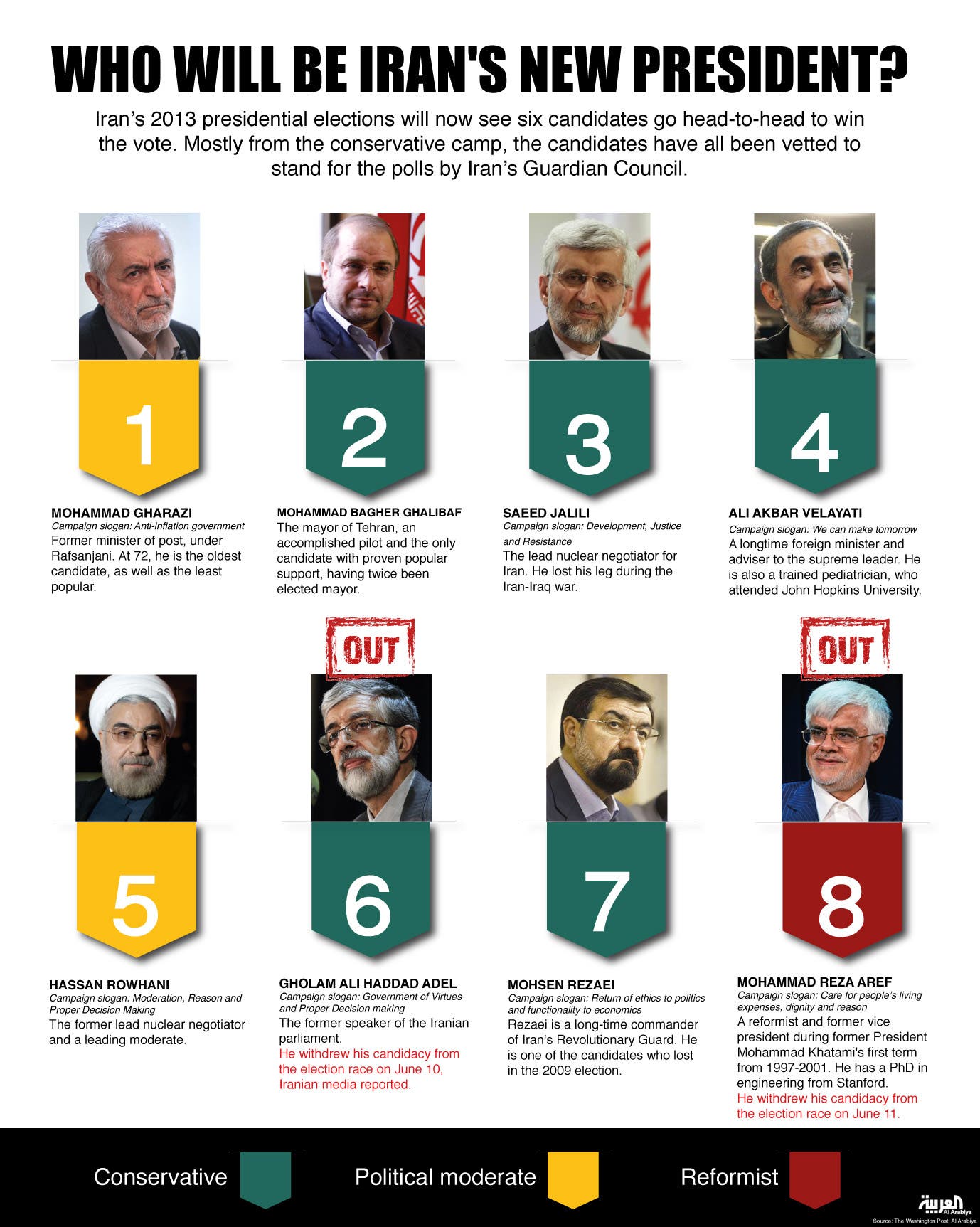 Infographic: Who will be Iran's new president? (Design by Farwa Rizwan/Al Arabiya English)
First of all, it is crucial to note that the Islamic Republic of Iran's political spectrum significantly shrunk after the Guardian Council whittled down the 686 registered presidential candidates to a mere eight, before two candidates dropped out earlier this week. More fundamentally, this political spectrum was heavily impacted when the most powerful candidates from the reformist and moderate camps were banned from running. The approved presidential candidates are carefully handpicked by the country's Guardian Council, the members of which are appointed by the Supreme Leader, Ayatollah Ali Khamenei. This illustrates the character of Iran's presidential election: a closely guided circle created by the religious leaders of the country.
Unpredictability
Among the other candidates, there are two that hold the greatest odds in securing the conservative vote: Mohammad Bagher Ghalibaf and Saeed Jalili.

Dr. Majid Rafizadeh
This has served as a challenge to the hardliners, Iran's Revolutionary Guards, and the Supreme Leader. As a result, the conservative ruling clerics became determined to remove the risk by banning the politically-undesirable candidates from the outset through their veto power and constitutionally-mandated authority of the Guardian Council members. This guarantees that the next president of Iran would possess the qualities favored by the hardliners, Iran's Revolutionary Guards, and the Supreme Leader's establishments.
Attracting reformist votes
SHOW MORE
Last Update: Wednesday, 20 May 2020 KSA 09:40 - GMT 06:40