Once Toni Kroos left the building for Real Madrid there was little room for compromise. Kroos would have been a metronome in midfield for Pep's team and he needed a replacement. Bayern's board of directors delivered.
Three years on, Thiago Alcantara is approaching a critical juncture in his Bayern career. With Bastian Schweinsteiger's move to Manchester United now complete, the cracks have opened in the pavement: Bayern need a leader.
Schweinsteiger had 13 hugely successful years in Bayern's first-team, the heir to the club's DNA from the greats of Ottmar Hitzfeld's team of the early noughties. But that is precisely what the German champions appear to have lost this summer - the winning mindset that typifies this great club.
Between 2010 and 2015, Schweinsteiger's importance multiplied ten-fold when he took the reins in central-midfield - a decision taken by his new coach, Louis van Gaal.
Replacing the player isn't so much of a problem, admits Guardiola. Replacing the leader, the winner and the Bavarian icon is something on a grander scale. For the moment, the last characteristic is unlikely to be filled. It's merely semantics - where the potential successors emerge from matters very little.
Over his demons, Thiago returns
Thiago Alcantara presents one of the myriad of solutions. The former Barcelona academy graduate will crucially complete his first pre-season since joining Bayern Munich for 20 million euros in 2013. "Thiago or nothing," shows just how much Pep rated the Spanish international. He is everything the coach has come to represent in modern football.
Such is the nature of late transfer business, Thiago had barely any time to settle before being thrown into a testing encounter with Borussia Dortmund where he and his teammates were given a rolling over. Since then, his knee ligaments have been shattered twice, meaning Thiago has spent most of his time in Germany in rehabilitation.
Nonetheless, the sacred minutes - 38 competitive games since 2013 - that Thiago has spent on the pitch have been wonderful viewing. There's the creative ingenuity of the overhead kick in stoppage time at VfB Stuttgart - the game-changing cameo appearance at Borussia Dortmund in Autumn 2013, whilst the performance he delivered in the 6-1 win over FC Porto in the Champions League last season was simply outstanding.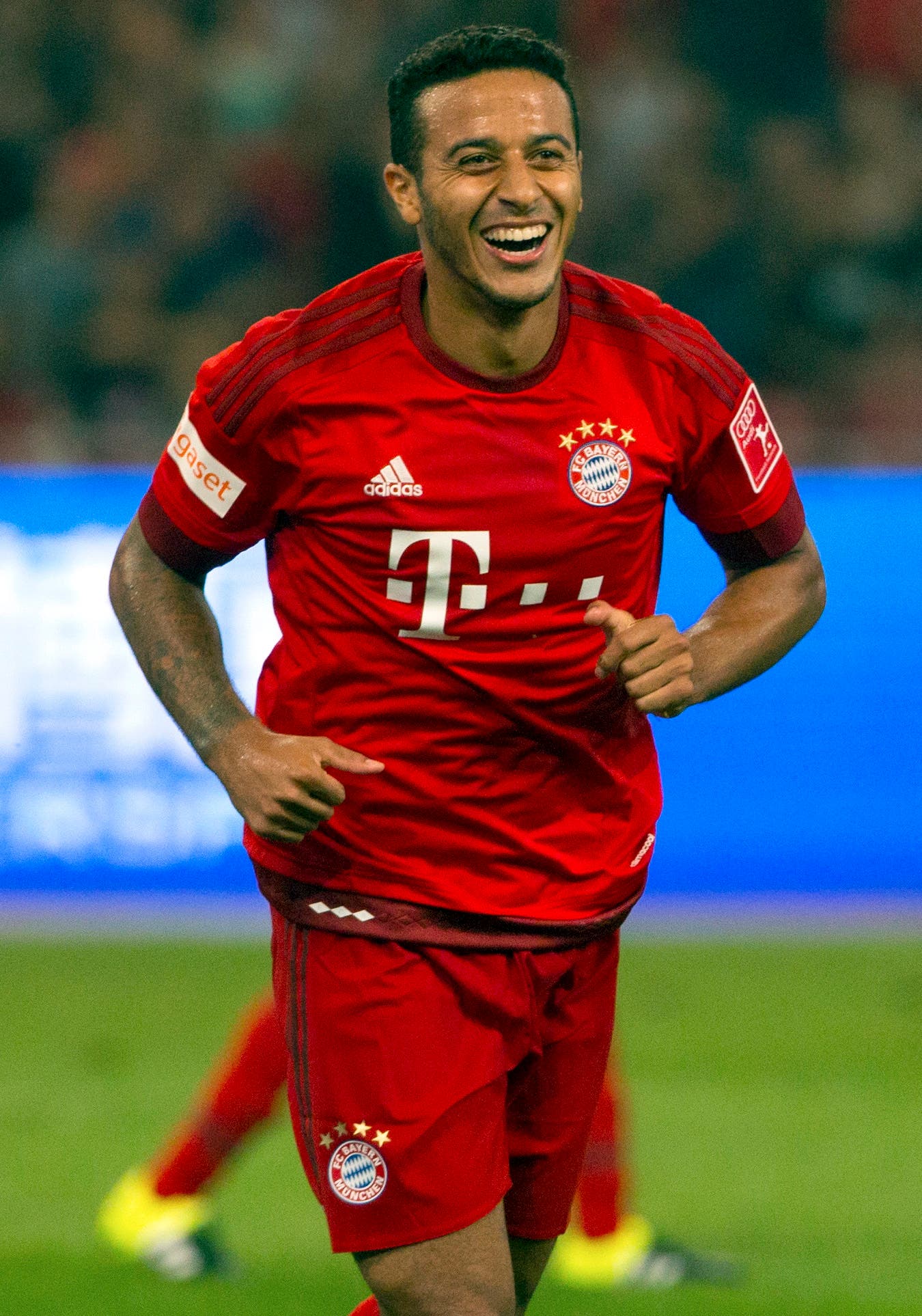 Bayern's Thiago cerebrates after scoring a goal in the second half of their friendly soccer match against Valencia in Beijing, Saturday, July 18, 2015. Bayern Munich beat Valencia, 4-1. (AP Photo/Mark Schiefelbein)
But establishing where the Spaniard is most effective has been a mini-conundrum - play him in the '10' and you lose the penetrative passing from deep. Play him in the '6' position and you limit creative options in attack if there are absentees.
What cannot be underestimated is the impact of other players on where Thiago players. If Xabi Alonso maintains his regular berth in front of the back-four, Thiago is almost surplus to requirements as a deep-lying playmaker.
Had Alonso not been such a firm favorite with Guardiola, Thiago's ability to draw opponents out of position from deep positions and split the lines with more penetrative passing would have been an asset in the Bundesliga.
Forcing others to listen
Bayern's midfield is stacked with various options - the dynamic, pace-setting David Alaba - the new recruit in Joshua Kimmich, the returning Dane Pierre-Emile Hojbjerg, the hard-working Sebastian Rode and then the likes of Alonso and Javi Martinez, who is back from long-term injury.
Of those, Thiago has the mental fortitude to steer Bayern towards glory this season. At first glimpse, Thiago doesn't appear to pack a punch, but he can abrasive and tenacious when he wants to be. Like any top-level sportsmen, he has that peerless ability to blank out distractions and make calculated decisions in high-pressure situations.
In the tempestuous German Cup clash at Bayer Leverkusen last season, Thiago stepped off the bench to play around 50 minutes, but went on to convert the winning penalty under pressure when a depleted side looked certain to drop out of the tournament.
Even when not in command of the German team, Thiago was pointing, instructing and orchestrating Bayern Munich's play from his first season at the club. Whenever he takes to the field, he forces others to listen.
In essence, on the field, he knows what Guardiola wants. The system has been rammed into him for the five or six years when he came through the ranks at the famed La Masia academy in Barcelona. But he has the bearings of a leader as well and when things aren't going his way, others know about it.
Without Schweinsteiger or, indeed, Philipp Lahm to overcrowd his talents in the packed midfield, the floor is now Thiago's. If he ever required a 'breakout' season to define his fledging career at the Allianz Arena, the next 12 months have mountains of potential for him.
That is, providing he stays fit.
SHOW MORE
Last Update: Wednesday, 20 May 2020 KSA 09:48 - GMT 06:48