Six times Formula One motor racing champion Lewis Hamilton has criticized his sport for its silence on the killing of George Floyd, an unarmed black man who died after a white US police officer knelt on his neck.

The death in Minneapolis triggered a wave of outrage and violent protests in the United States.

Hamilton, Formula One's first black world champion, spends much of his time in America and spoke out on the issue in an Instagram story on Sunday.

"I see those of you who are staying silent, some of you the biggest of stars yet you stay silent in the midst of injustice," wrote the Mercedes driver.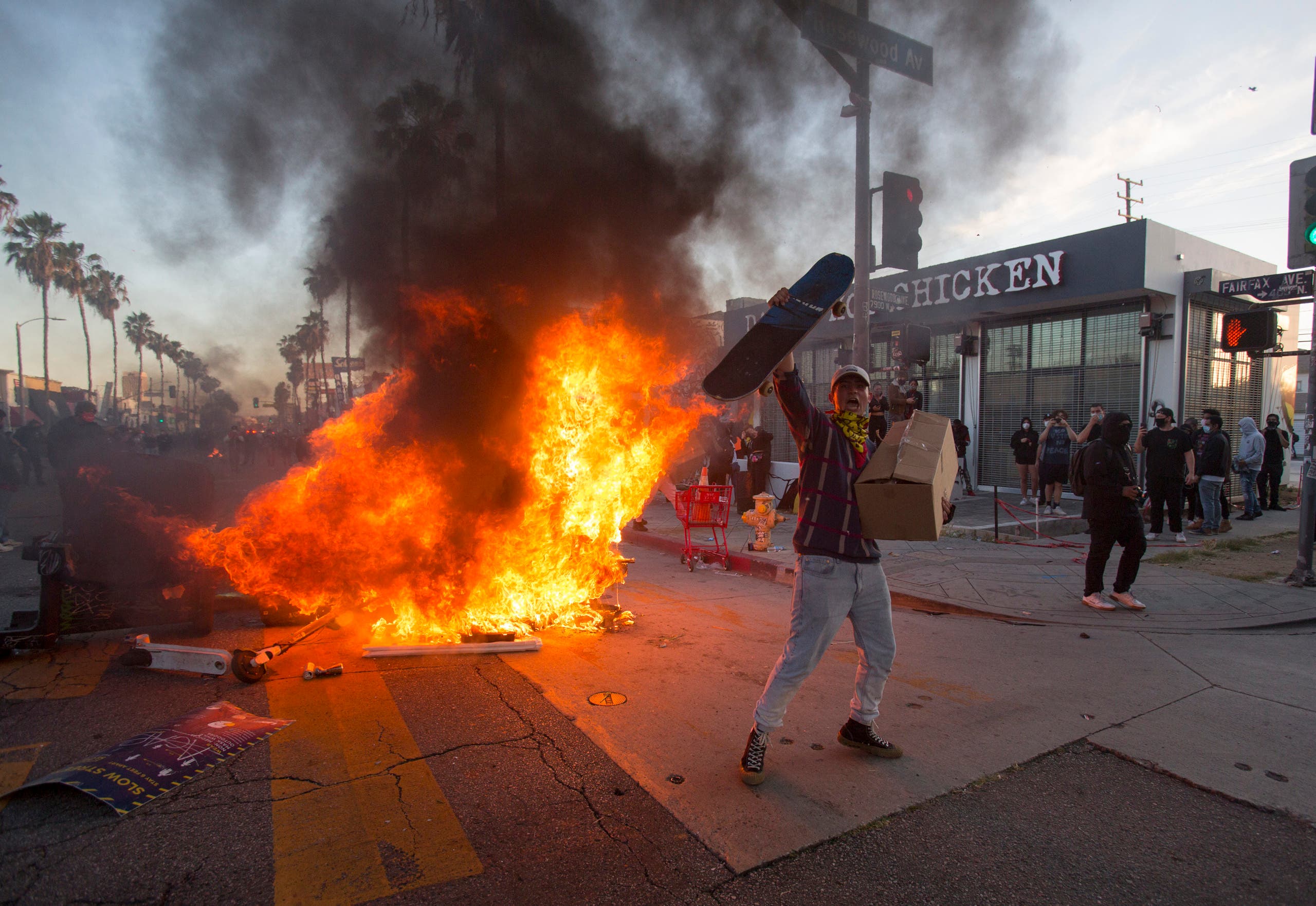 A protester shouts in front of a fire during a protest over the death of George Floyd in Los Angeles on May 30, 2020. (AP)
Watch: #WashingtonDC police fire tear gas to disperse protesters who attempted to climb onto a police vehicle, Al Arabiya's Bureau Chief @Nadia_Bilbassy reports.#GeorgeFloydProtestshttps://t.co/aBdH7fg5xw pic.twitter.com/siG9uXId7c

— Al Arabiya English (@AlArabiya_Eng) May 31, 2020
McLaren driver Lando Norris, Hamilton's compatriot, was one of those who did comment, adding a line to his profile on the Twitch streaming platform that said "sign the !BLM petitions #BLACKLIVESMATTER"

Canadian Nicholas Latifi, who is due to drive for Williams this season, said on Twitter 'This has to stop #JusticeForGeorgeFloyd."

Hamilton has spoken out before about the lack of diversity in motor racing.

"There really is the most minimal diversity within this sport and I really somehow want to be a part of shape-shifting that with Formula One," he said a year ago.
SHOW MORE
Last Update: Monday, 01 June 2020 KSA 05:43 - GMT 02:43