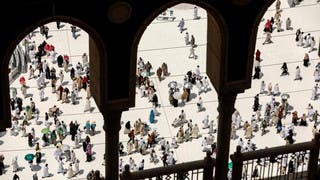 Sunday, 19 August 2018
Sped-up footage shared on Twitter by Saudi accounts has shown how quickly the cleaning of the Mataf (circumambulation area around the Holy Kaaba) has been carried out as millions of pilgrims descend on Mecca as Hajj begins. The systematic cleaning has previously set a world record.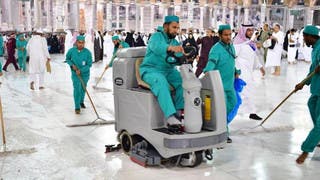 Wednesday, 13 June 2018
The Carpet Cleaning and Sterilization Administration at the Grand Mosque has achieved a new record time of 9 minutes and 47 seconds in cleaning the Mataf (circumambulation area around the Holy Kaabah) after Maghrib prayer of the 27th night of Ramadan, Saudi Press Agency reported on Tuesday.The General Administration for Services Affairs Director Muhammad Bin Musslih Al-Jabri confirmed the full success of the administration's plan for the 27thNight of Ramadan.The plan focused on systematic ...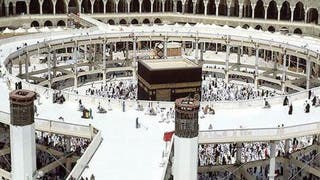 Thursday, 3 October 2013
The temporary mataf bridge that was installed during Ramadan has alleviated crowds of worshipers and increased the capacity for those wishing to perform tawaf (circumambulation of the Holy Ka'aba), Grand Mosque authorities said. Despite ongoing construction work in the Grand Mosque, worshipers, visitors, and pilgrims are performing their rituals in complete contentment, they said. The contracting company is continuing its work to complete the mataf expansion project on time. The mataf area ...